I love this colorful dinner recipe:  Ravioli Primavera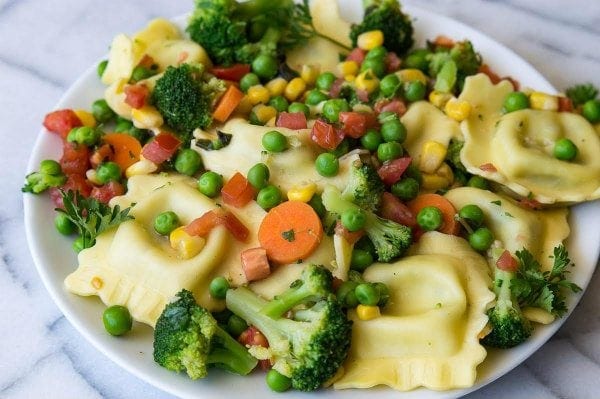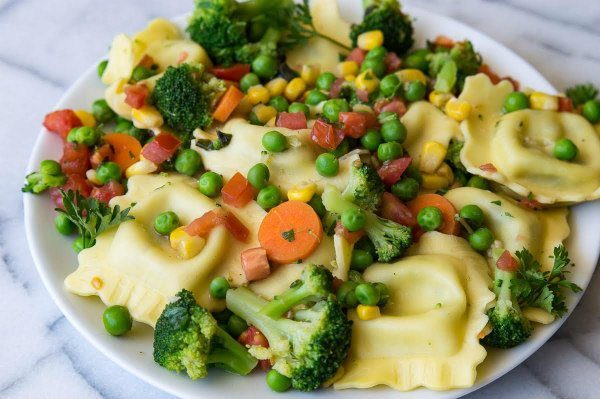 Health experts say you should eat the rainbow, right?  Their reasoning behind that, of course, is that if you're eating a rich variety of colors in your diet then you're probably getting a good intake of vegetables.
This ravioli recipe is perfect for that!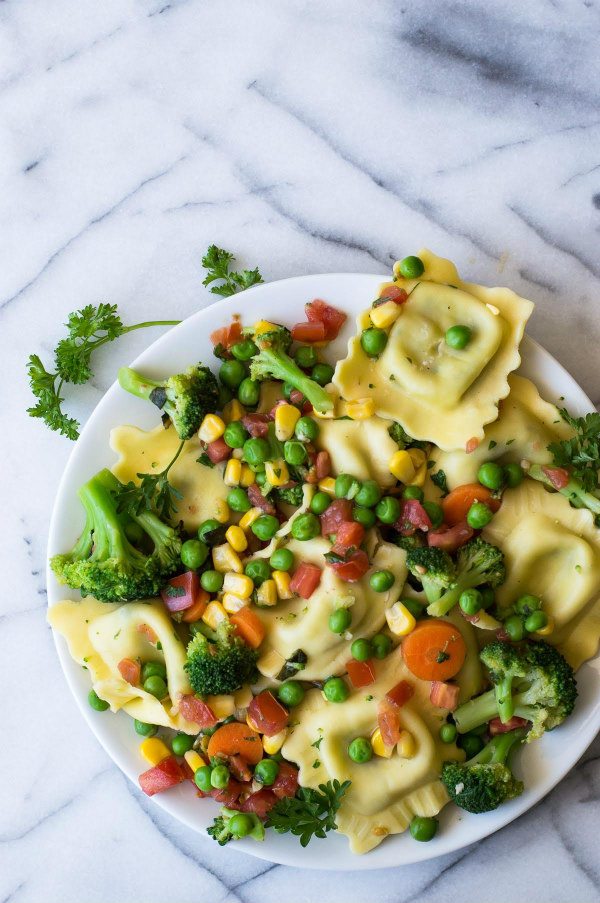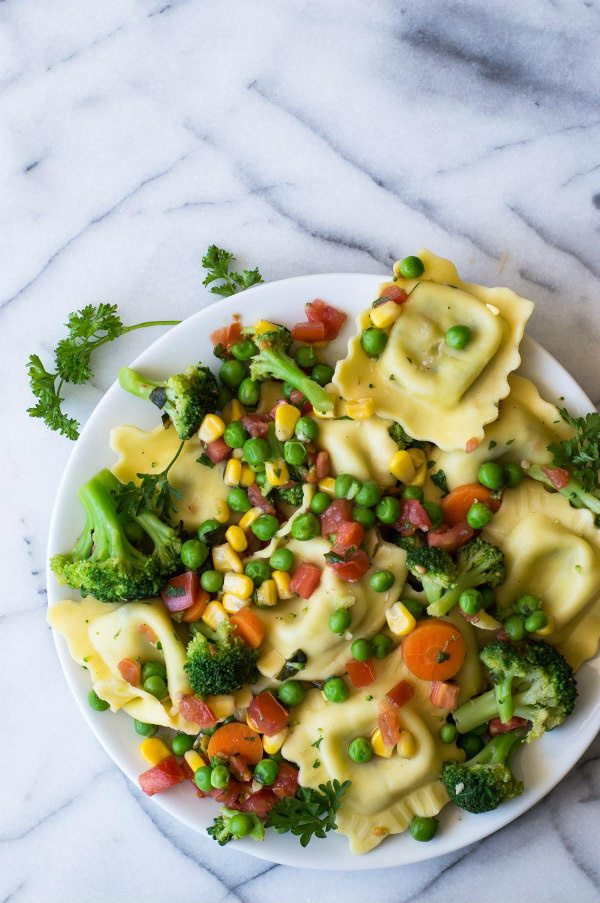 Spinach and cheese ravioli is combined with a wonderful vegetable-rich, light broth-based sauce.  It makes for a delicious dinner.
Top with a good dose of shredded Parmesan cheese, if you'd like!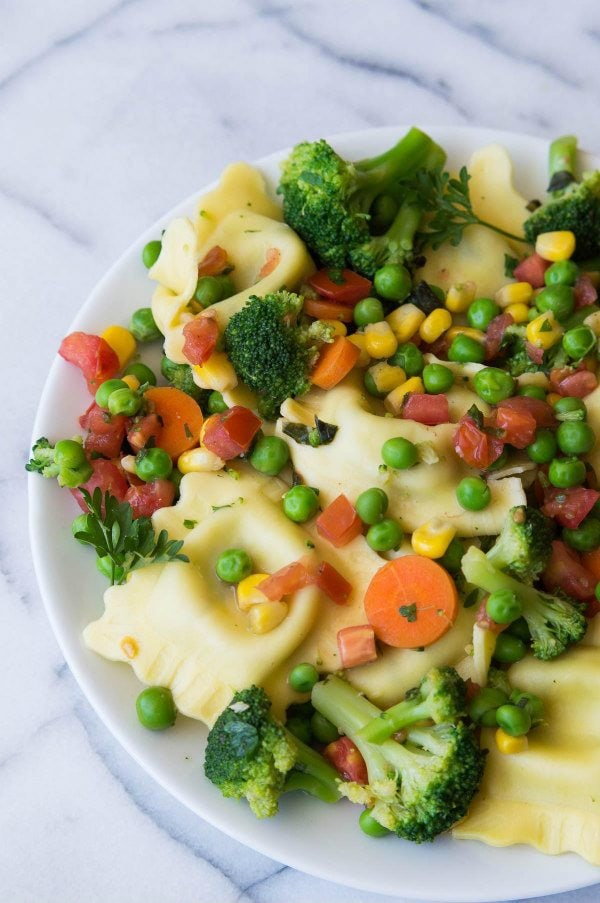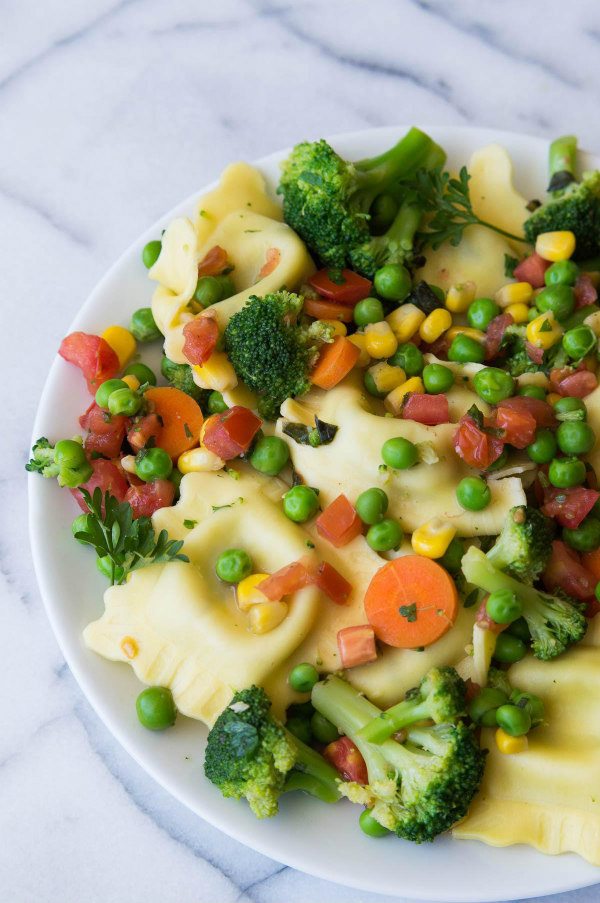 Ravioli Primavera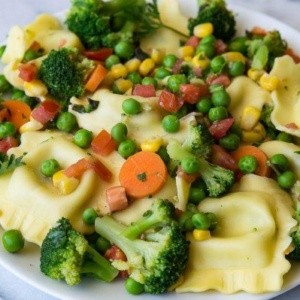 Yield:
4 servings
Prep Time: 25 minutes
Cook Time: 22 minutes
Ingredients:
12 ounces cheese and spinach ravioli
1 teaspoon olive oil
2 cloves garlic, minced
1 large carrot, sliced
1/3 cup chicken broth, divided
3 cups broccoli florets
1 1/4 pounds plum tomatoes, chopped
1 1/2 cups frozen peas
1 cup frozen corn
3 tablespoons chopped fresh basil (or 1/2 teaspoon dried)
2 tablespoons freshly chopped parsley
salt and pepper to taste
shaved or shredded Parmesan, optional
Directions:
Begin heating water in a medium pot for the ravioli. Cook the ravioli according to package directions.
Meanwhile, in a large skillet, heat the oil until hot (not smoking), over medium heat. Add the garlic and sauté, stirring until tender (2 minutes). Stir in the carrot and 2 tablespoons of the broth. Cook, stirring frequently, until the carrot is tender (about 5 minutes).
Add the broccoli and the remaining broth, stirring to coat. Stir in the tomatoes and 1/2 cup water and cook until broccoli is tender and sauce is slightly thickened, about 4 minutes. Stir in the peas, corn, basil, parsley, salt and pepper. Continue to cook until hot, about 2 minutes.
Transfer to a large bowl. Add the ravioli and toss. Serve in 4 shallow bowls. Top with Parmesan, if desired.
SOURCE: RecipeGirl.com