Best ravioli ever! > Goat Cheese Ravioli with Winter Pesto Sauce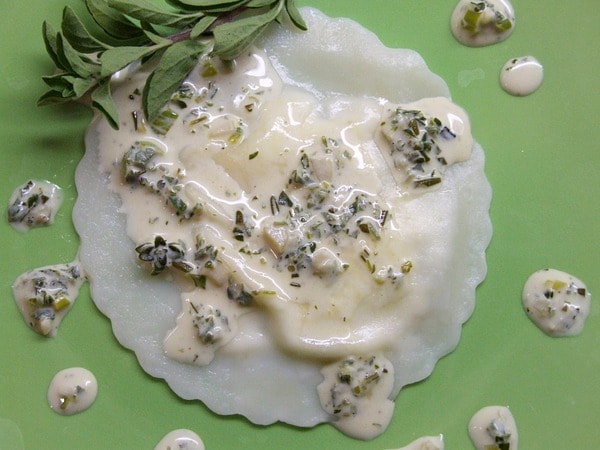 Goat Cheese Ravioli with Winter Pesto Sauce
WONDERFUL! We enjoy this immensely, and it's a perfect dinner for two!
Yield:
2 servings
Prep Time: 45 min
Cook Time: 35 min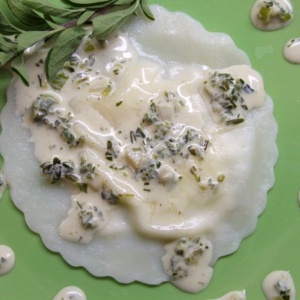 Ingredients:

RAVIOLI:
4 large garlic cloves, unpeeled
1 teaspoon olive oil
6 Tablespoons crumbled goat cheese
12 to 24 square or round gyoza / potsticker / wonton wrappers (any of those will be fine)
1 medium egg white, beaten to blend

PESTO SAUCE:
1 Tablespoon fresh oregano leaves
1 Tablespoon fresh thyme leaves
1 whole green onion
1 teaspoon fresh rosemary
1 medium garlic clove
1 teaspoon olive oil
1/2 cup canned low-salt chicken broth or canned vegetable broth
1/4 cup plus 1 Tablespoon whipping cream
freshly shaved Parmesan cheese for garnish (if desired)

Instructions:

1. For ravioli: Preheat oven to 325°F. Place garlic in heavy small skillet. Drizzle with oil and toss to coat. Roast in oven until garlic is very tender, about 25 minutes. Cool. Peel garlic. Combine with goat cheese in small bowl; mash with fork. Season with salt and pepper.

2. You can use 12 won ton wrappers if you plan to fold them in half to make the ravioli. Or you can use 24 wrappers if you plan to place two wrappers together and cut with a round pastry cutter. Either way is fine.

3. Place won ton wrappers on work surface. Spoon cheese mixture into center of wrappers. Brush edges of wrappers with egg white- with a brush, or use your fingers to rub it on. Fold over to form semicircle or triangle (depending on what shape your wrapper is), or place another wrapper on top. Press edges to seal and gently cup your hand on top to work the air pockets out of the ravioli. Rub on a little more egg white to make sure edges are sealed. If you're using a pastry cutter, cut out the ravioli and then use egg white to seal the edges. Place prepared ravioli in a single layer on a floured cookie sheet, cover tightly with plastic wrap and refrigerate until ready to use. (These can be made a day ahead.)

4. For pesto sauce: Finely chop first 5 ingredients together. Heat 1 teaspoon oil in heavy medium skillet over medium heat. Add herb mixture; sauté 1 minute. Add broth; increase heat to high and boil until liquid is reduced to 2 Tablespoon, about 3 minutes. Add cream. (This can be made a day ahead- cover and chill.)

5. Cook ravioli in large pot of boiling salted water until just tender, about 5 minutes. Drain and divide between 2 plates. Boil sauce to thicken slightly. Season with salt and pepper. Spoon over ravioli. Sprinkle with Parmesan, if desired.