My neighborhood's Gourmet Group met for holiday festivities last weekend, and I was in charge of dessert. Since I tend to be enamored with all things red velvet, I decided to go that route. I thought about making my Red Velvet Cheesecake. But since I prefer to make something new each year, I thought I might do a little experimenting with my favorite Red Velvet Bundt Cake recipe instead. Slicing it up and layering it into a trifle seemed like a good idea:  Red Velvet Cake Trifle.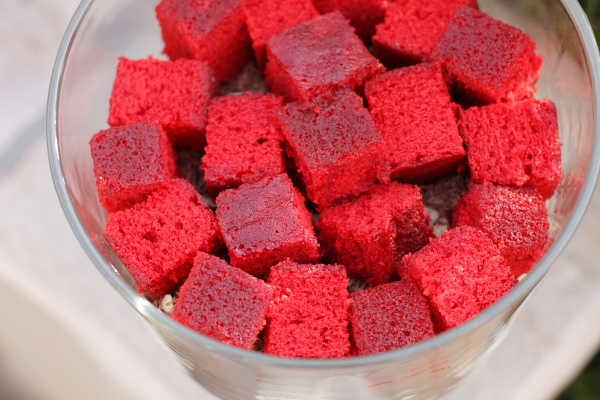 I sliced the cake into cubes and brushed it with a vanilla-scented simple syrup, just to keep it moist.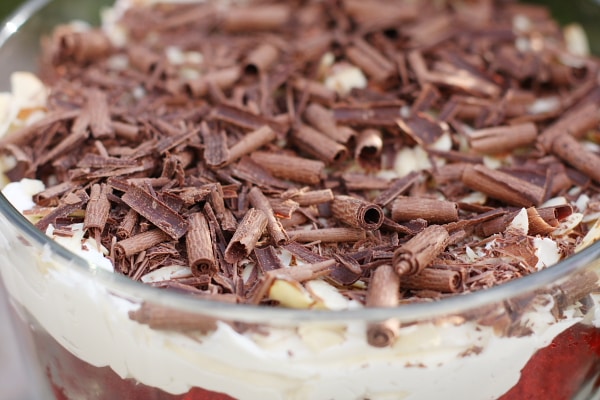 Layers of a sweetened, cheesecake whipped cream, sliced almonds and shaved dark chocolate came next.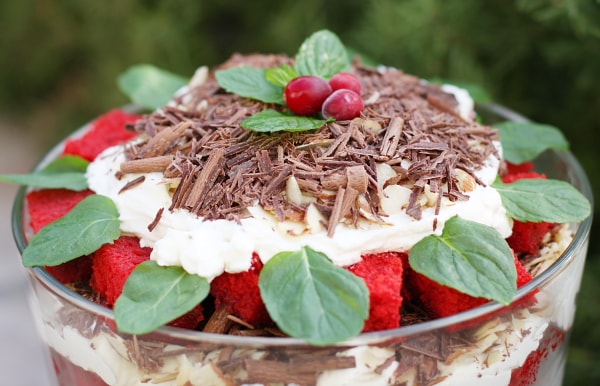 It was topped off with some mint leaves and a few cranberries, just for show.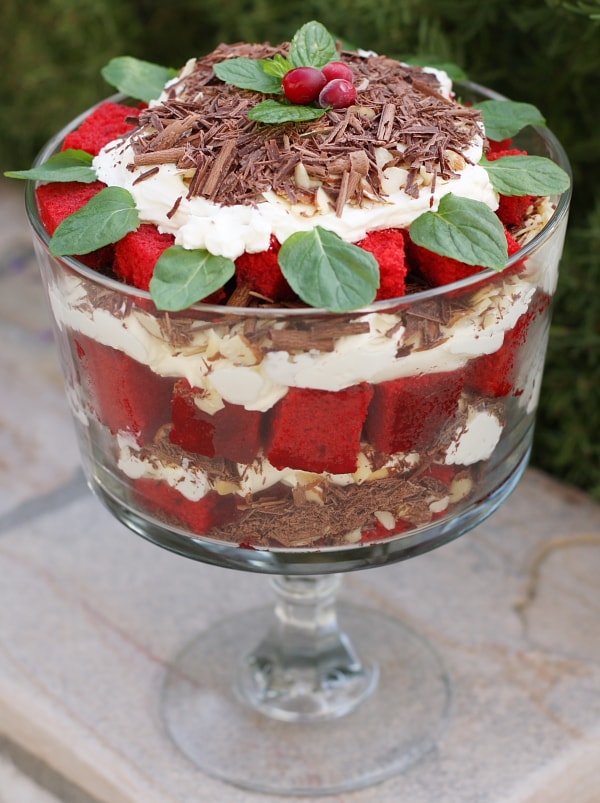 Layers upon layers, as tall as I could go… made earlier in the day and refrigerated until party time.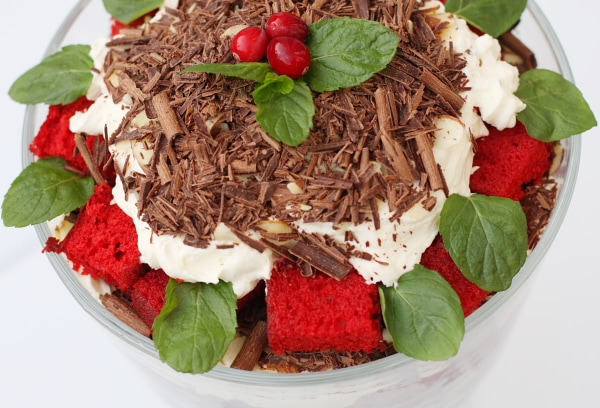 It turned out to be holiday-pretty. I came home from the party with an empty trifle dish, which is a pretty good indication that it was well received. Plates were scraped clean, and there were many compliments all around.  The cheesecake whipped cream was sweet and wonderful when scooped up with the red velvet cake, and I loved the hint of almond and chocolate flavors in there too.  As a lover of red velvet myself, I've declared this recipe a big-time keeper!
This recipe can be found here:  Red Velvet Cake Trifle
More red velvet recipe love:
Red Velvet Cheesecake by RecipeGirl
Red Velvet Cake Balls by Bakerella
Red Velvet Whoopie Pies by RecipeGirl
Red Velvet Cupcakes w/ Cream Cheese Frosting by Brown-Eyed Baker
Red Velvet Pancakes by Baking Bites
Gluten-Free Red Velvet Cake by Gluten-Free Cooking School