This recipe has been featured in a post on The Recipe Girl blog: No Bake Cookie Recipes- Rocky Road This treat is gluten-free adaptable– please see tips below the recipe…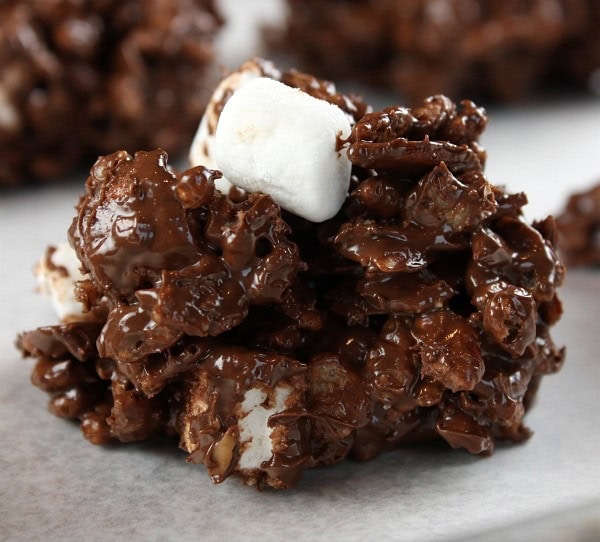 Rocky Road- No Bake Cookies
No oven needed for these treats! Chocolate chips are melted into Nutella and mixed with Rice Krispies, toasted almonds and marshmallows to make delicious bites of sweetness.
Yield:
About 30 cookies
Prep Time: 15 min
Cook Time: 5 min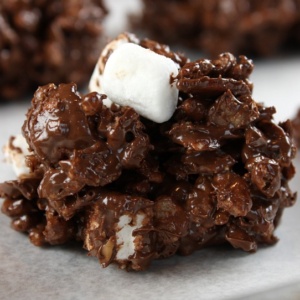 Ingredients:

3 cups Rice Krispies cereal
1 cup chocolate chips
3/4 cup Nutella
1 cup (4 ounces) sliced almonds, sprinkled lightly with salt & toasted
1 cup mini-marshmallows

Instructions:

1. Place cereal in a large bowl and set aside.

2. In a small saucepan set over low heat (or in a small bowl in the microwave), melt chocolate chips and Nutella together until all is melted and smooth. Pour the melted mixture over the cereal and let cool slightly. Stir in almonds and marshmallows. Drop by the Tablespoonful onto waxed paper or lightly greased parchment paper and chill until set.

Tips:

*If you are wishing to prepare this recipe as GLUTEN FREE, you absolutely can. Just be sure to use gluten free rice cereal, GF chocolate chips and GF marshmallows.