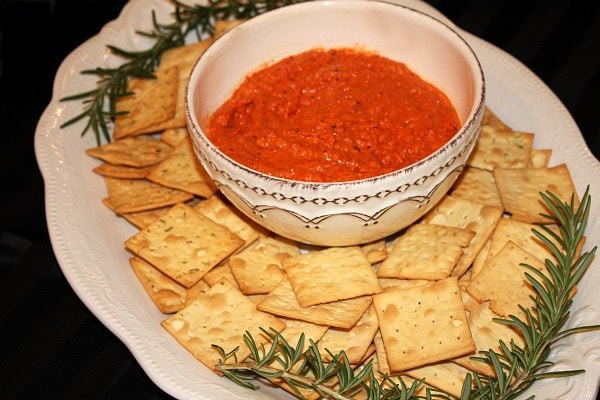 Romesco Roasted Red Pepper and Almond Spread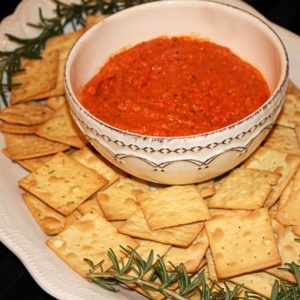 Yield: 1 1/2 cups Prep Time: 20 minutes
Ingredients:
1/2 cup sliced almonds
1/2 cup sundried tomatoes in oil, drained and oil reserved separately
1/4 teaspoon red pepper flakes
1 teaspoon minced fresh garlic
1 teaspoon very finely minced orange zest
extra virgin olive oil, if needed
3/4 cup coarsely chopped roasted red peppers
1 Tablespoon red wine vinegar
2 Tablespoons freshly squeezed orange juice
1/4 tsp. salt
Directions:
1. Preheat oven to 375 degrees F.
2. Spread almonds on rimmed baking sheet, and bake for about 4 minutes or until golden and lightly toasted. Let cool.
3. In a food processor, combine drained tomatoes, pepper flakes, garlic, orange zest, and cooled almonds. Process until smooth, about 1 minute.
4. Meanwhile measure oil drained from tomatoes, and add olive oil as needed to make 1/4 cup total. Add to the processor along with the roasted peppers, vinegar, orange juice, and salt, and continue processing until smooth.
5. The spread can be made up to 4 days in advance, covered, and refrigerated until needed. Let come to room temperature before serving.
Tips:
*This spread is excellent with manchego cheese, Spanish olives and rustic flatbreads.
*You may also toast almonds in a dry frying pan. Heat pan, and toss almonds until browned.
Source: Re-printed with permission from Sips and Apps