Sea Glass Jello is a fun sweet treat to make in the summertime!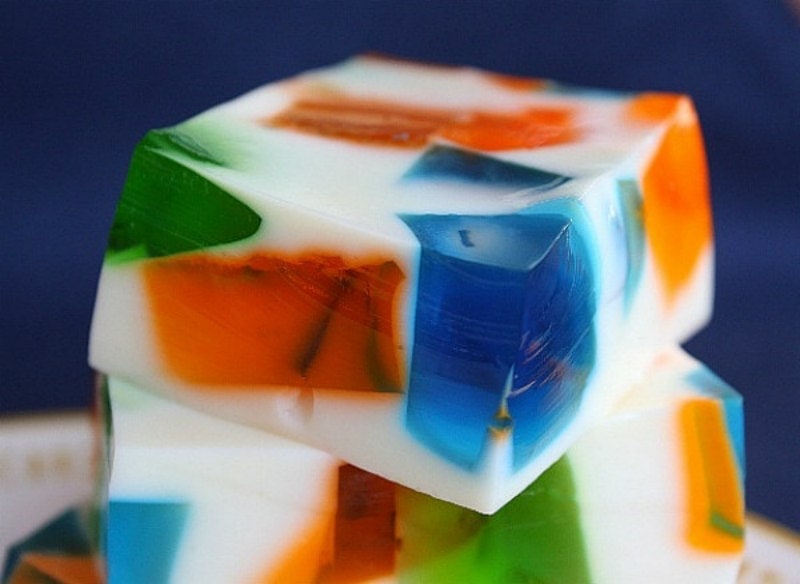 If you are looking for something a little different to make, this is a recipe to consider. This Sea Glass Jello dessert is both pretty and practical (you can pick it up and eat it). Kids love these hand-held sweet snacks, and adults are always surprised to find that they're rather delicious too!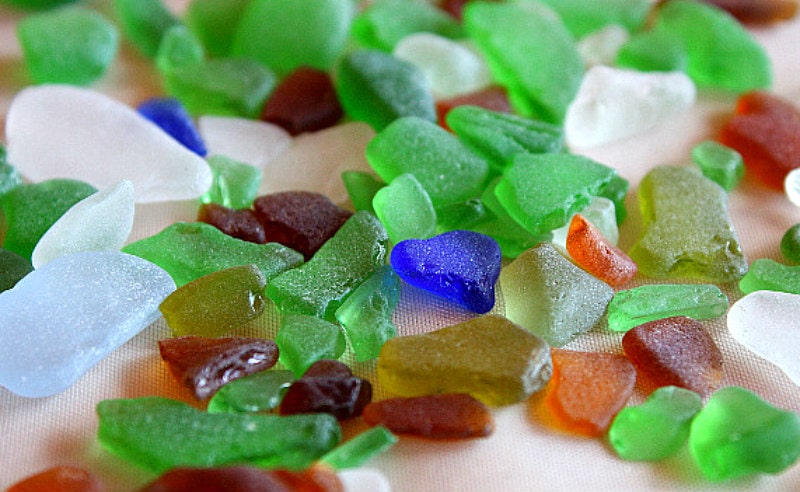 Sea Glass
Every summer my family and I head East to Boston's South Shore for a bit of rest and relaxation. One of our favorite activities to do together is hunt for sea glass on New England's beaches. On our living room mantle sits a jar of sea glass. We add a handful of collected glass to our "jar" every year and we glance at it often, thinking about our summer vacations past and future. It's just something we like to do, and if you live near beaches where ocean-tumbled glass washes ashore, perhaps you can relate. This is some of our collected loot from this year: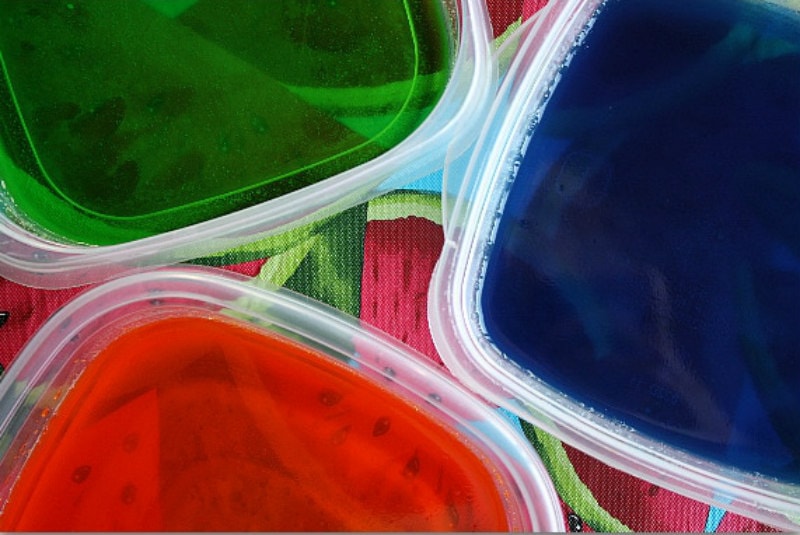 How to make Sea Glass Jello:
For this project, I decided to use the three colors that are most easily found in sea glass- orange (or amber), green, and blue (most treasured, but a little trickier to find!) Use three containers, and choose three flavors of Jello. Mix each box of Jello with 1 cup of hot water, and refrigerate until firm.
Once firm, you'll cut each container of Jello into small cubes (exact size doesn't matter… just rough cut cubes) and place them into a 9×13-inch pyrex pan. Be sure to mix up the colors so they're not all bunched together.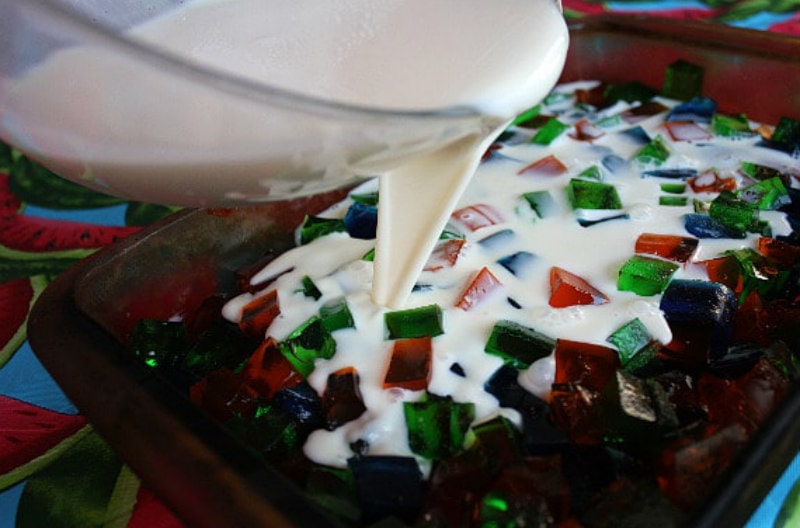 Next you'll combine two envelopes of plain gelatin in a bowl with 1/2 cup cold water, 1½ cups hot water and a can of sweetened condensed milk. Pour it over the jello cubes.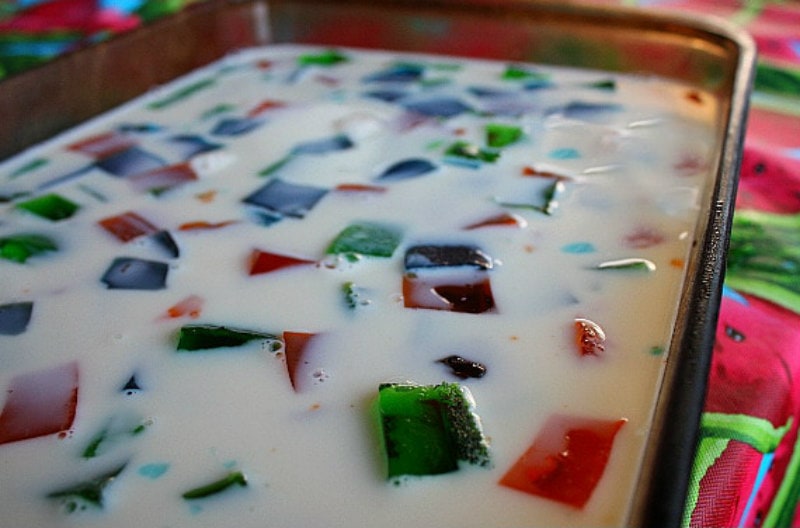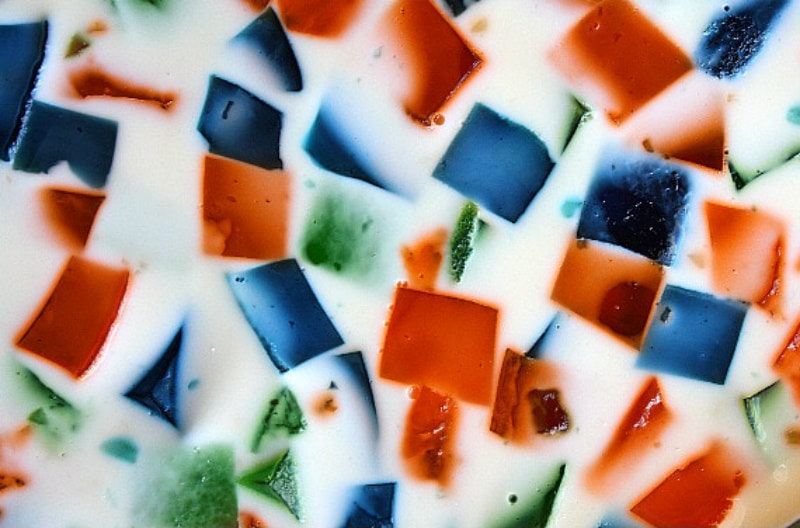 Refrigerate until firm (overnight is best). Cut into slices and place on a platter. These treats can be eaten hand-held.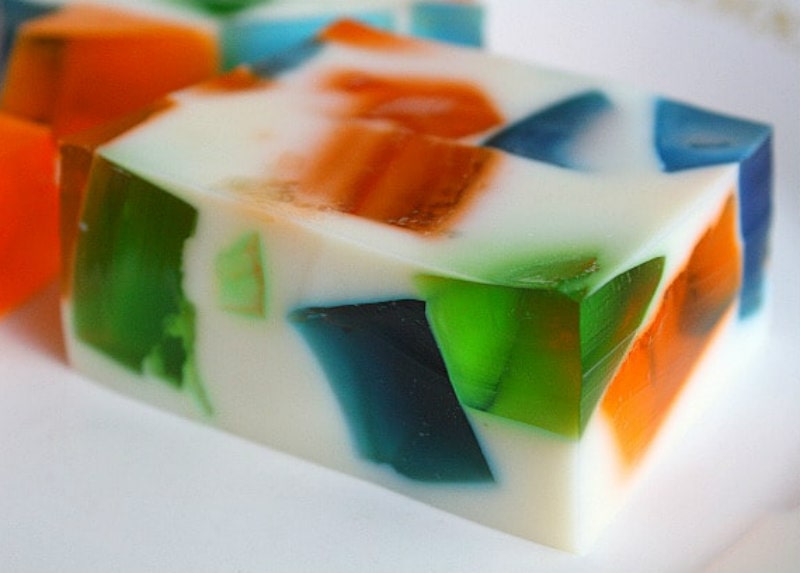 The sweetened condensed milk mixture is a lovely sweet gelatin that wraps itself around the fruity cubes of jello. These are indeed a favorite with children, but they are a fun one for adults too. Use any colors/flavors you'd like. Of course, I'd like to tell you that it's mandatory that these be made in the summer, but then again… they're a nice reminder any time of year of beaches and summer vacations ?
Favorite Summer Recipes:
Sea Glass Jello
Fun hand-held summer sweet treat!
Recipe Details
Ingredients
Three

3-ounce

boxes Jello or generic store-brand gelatin

(any flavors/colors you'd like)

One

14-ounce can

sweetened condensed milk

Two

.25-ounce envelopes

unflavored gelatin

(Knox brand, in the Jello aisle)
Instructions
In three separate containers (use rectangular plastic tubs or pyrex loaf pans), mix jello package with 1 cup of boiling water. Stir each until dissolved and then refrigerate until firm (at least 4 hours, or overnight).

Once the jello flavors are firm, use a sharp knife to cut the jello into small squares (½-inch or so).

Spray a 9x13-inch pyrex pan lightly with nonstick spray. Use a metal spatula to scoop out the jello squares and place them into the prepared pan. Mix the colors up so they're not bunched all together.

In a separate bowl, add ½ cup of cold water. Sprinkle in 2 envelopes of gelatin and stir. Add 1½ cups boiling water to the bowl and stir until dissolved. Stir in the sweetened condensed milk and let cool.

Pour the cooled white gelatin mixture over the cubes of jello and let it fill up the pan. Refrigerate overnight. Slice the jello into squares and serve. These are firm enough to serve on a platter as a hand-held dessert.
Nutrition
Serving:
1
serving
,
Calories:
96
kcal
,
Carbohydrates:
19
g
,
Protein:
3
g
,
Fat:
1
g
,
Saturated Fat:
1
g
,
Cholesterol:
6
mg
,
Sodium:
72
mg
,
Potassium:
61
mg
,
Sugar:
18
g
,
Vitamin A:
44
IU
,
Vitamin C:
1
mg
,
Calcium:
47
mg
,
Iron:
1
mg