This recipe has been featured in a how-to post on The Recipe Girl blog: Sea Glass Jello- handheld, summertime, sweet treat.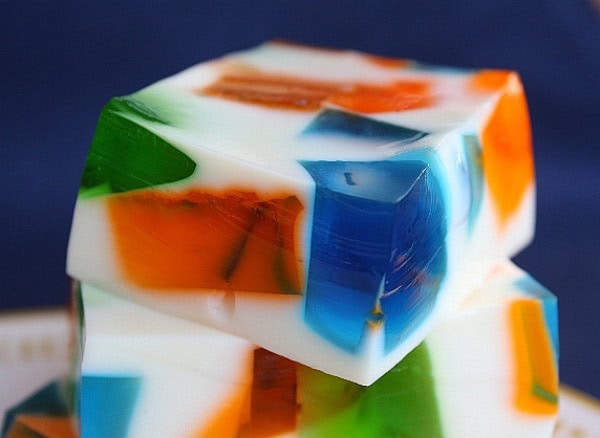 Sea Glass Jello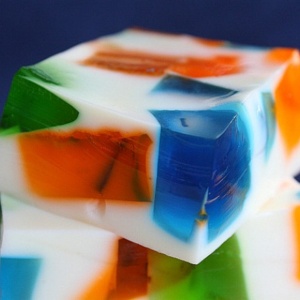 One of my family's favorite activities to do together in the summer is search for sea glass on New England beaches. That was the inspiration for this summertime treat. Kids love these hand-held sweet snacks, and adults are always surprised to find that they're rather delicious too!
Yield:
24 squares
Prep Time:45 min + chill time
Ingredients:
3 (3 ounce) boxes Jell-O or generic store-brand gelatin (any colors you'd like)
1 (14 ounce) can sweetened condensed milk (substitutions will not work)
2 envelopes unflavored gelatin (Knox brand, in the Jell-O aisle)
Directions:
1. In three separate containers (use rectangular tupperware or pyrex loaf pans), mix jello package with 1 cup of boiling water. Stir each until dissolved and then refrigerate until firm (at least 4 hours, or overnight).
2. Once the jello flavors are firm, use a sharp knife to cut the jello into small squares (1/2-inch or so).
3. Spray a 9x13-inch pyrex pan lightly with nonstick spray. Use a metal spatula to scoop out the jello squares and place them into the prepared pan. Mix the colors up so they're not bunched all together.
4. In a separate bowl, add 1/2 cup of cold water. Sprinkle in 2 envelopes of gelatin and stir. Add 1 1/2 cups boiling water to the bowl and stir until dissolved. Stir in the sweetened condensed milk and let cool.
5. Pour the white gelatin mixture over the cubes of jello and let it fill up the pan. Refrigerate overnight. Slice the jello into squares and serve. These are firm enough to serve on a platter as a hand-held dessert.
Tips:
*Because I wanted to copy the look of what is usually found in sea glass, I used orange, lime and blueberry jello. The blueberry jello only comes in a 6-ounce package, so you'll need to divide it in half. You can certainly use whatever flavors you'd like.