Sweet and Sour Summer Vegetables are a quick and easy refrigerator pickling recipe- no canning skills needed!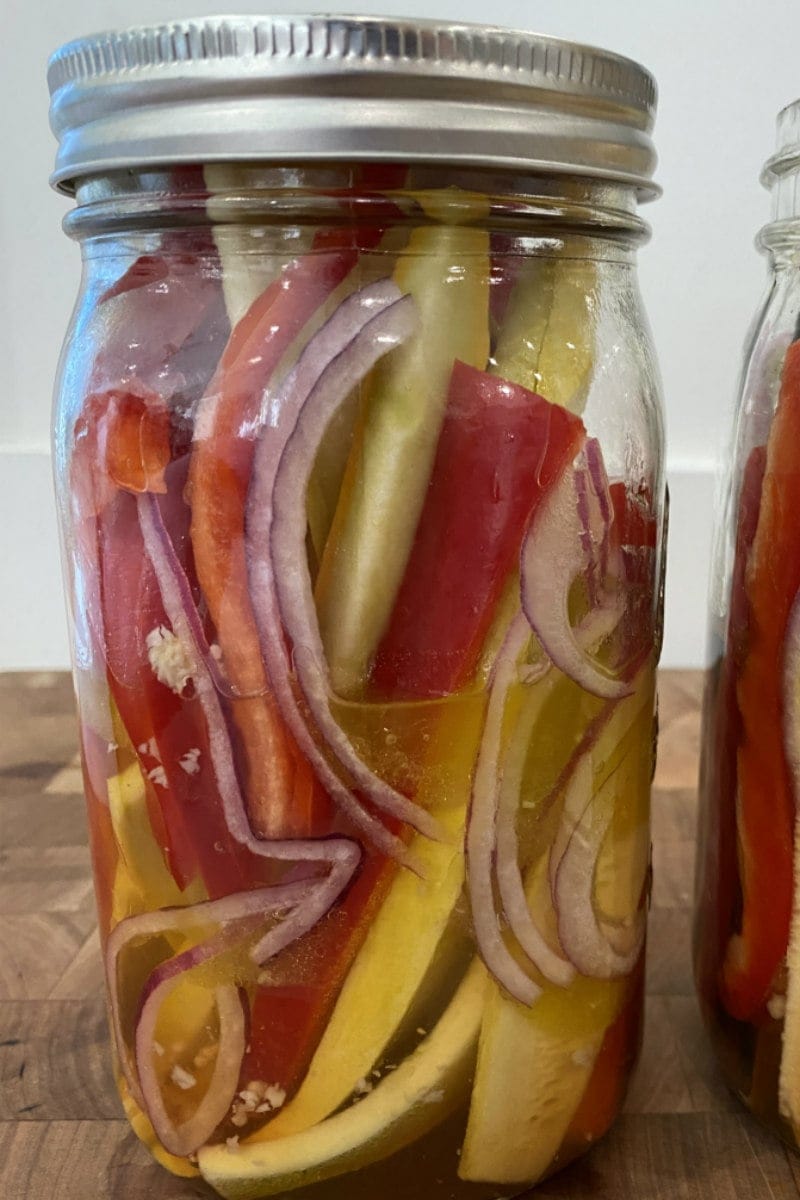 Take advantage of the availability of summer vegetables, and make this easy summer snack. We've been enjoying happy hour most nights during all of this time at home this summer, and snacks like this have been nice to have around. Sweet and Sour Summer Vegetables are something nice and light to munch on. And if you're a fan of pickled things, you will probably enjoy these.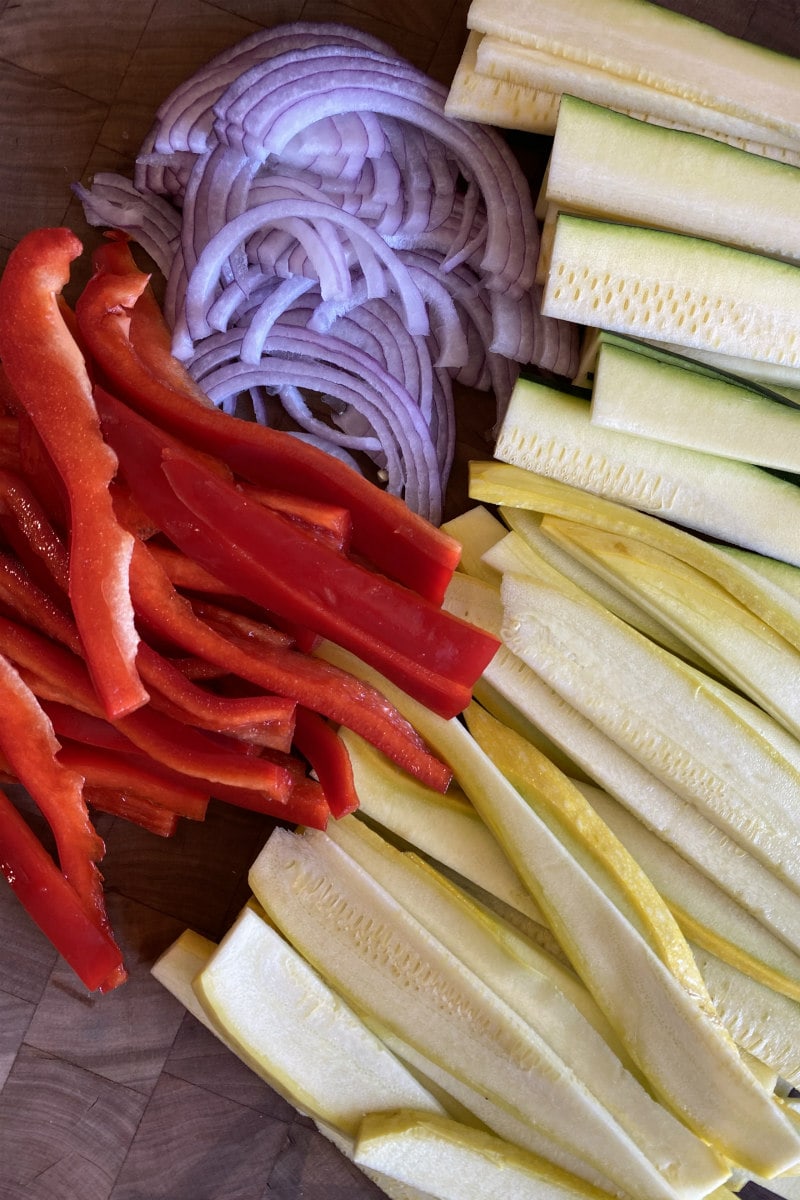 What are the best summer vegetables to use for pickling?
zucchini
yellow squash
red bell pepper
red onion
I found this to be a really nice mix for this recipe, but if you have other ideas for veggies that might work then feel free to experiment!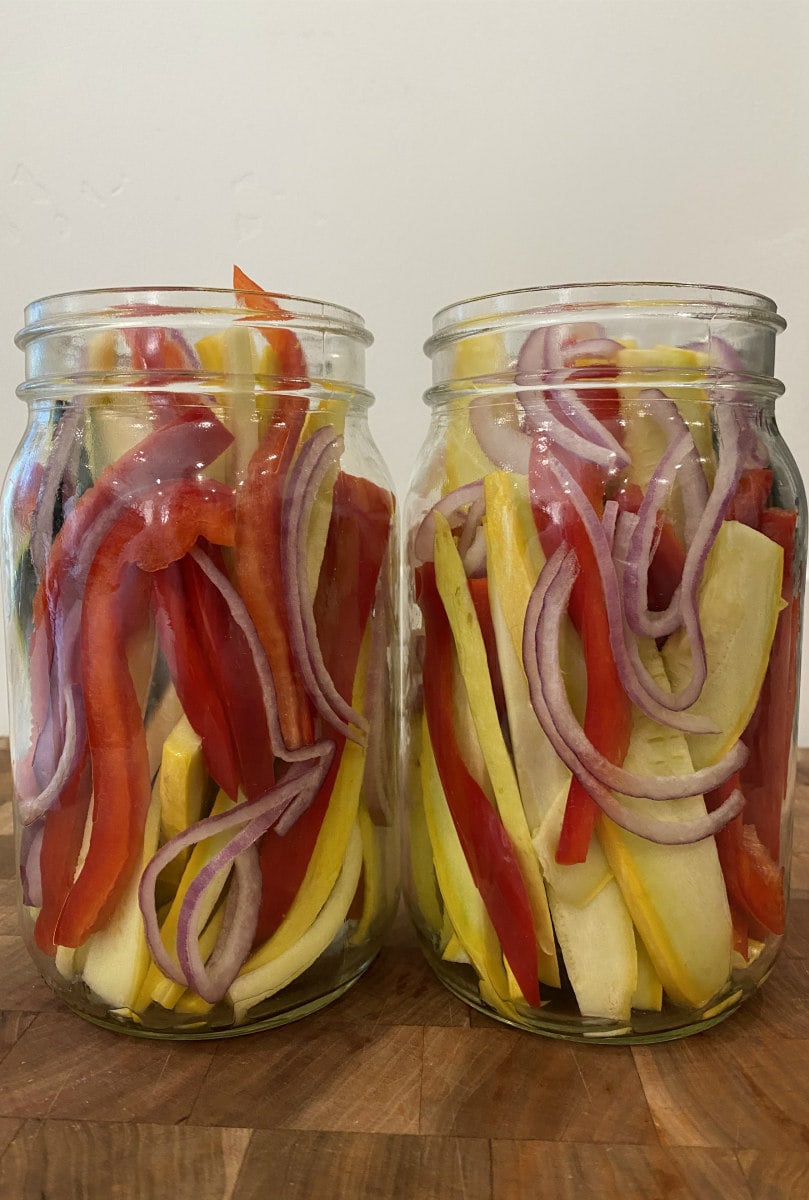 How to make Sweet and Sour Summer Vegetables:
The first thing you'll do is cut all of the vegetables. The zucchini and yellow squash are cut into thin slices. The red bell pepper is seeded and cut into thin slices too. And the red onion is sliced thinly. Then the veggies are packed into two 1-quart jars. If you don't have 1-quart jars, just use whatever works for you. They'll even be fine in a plastic container with a tight lid.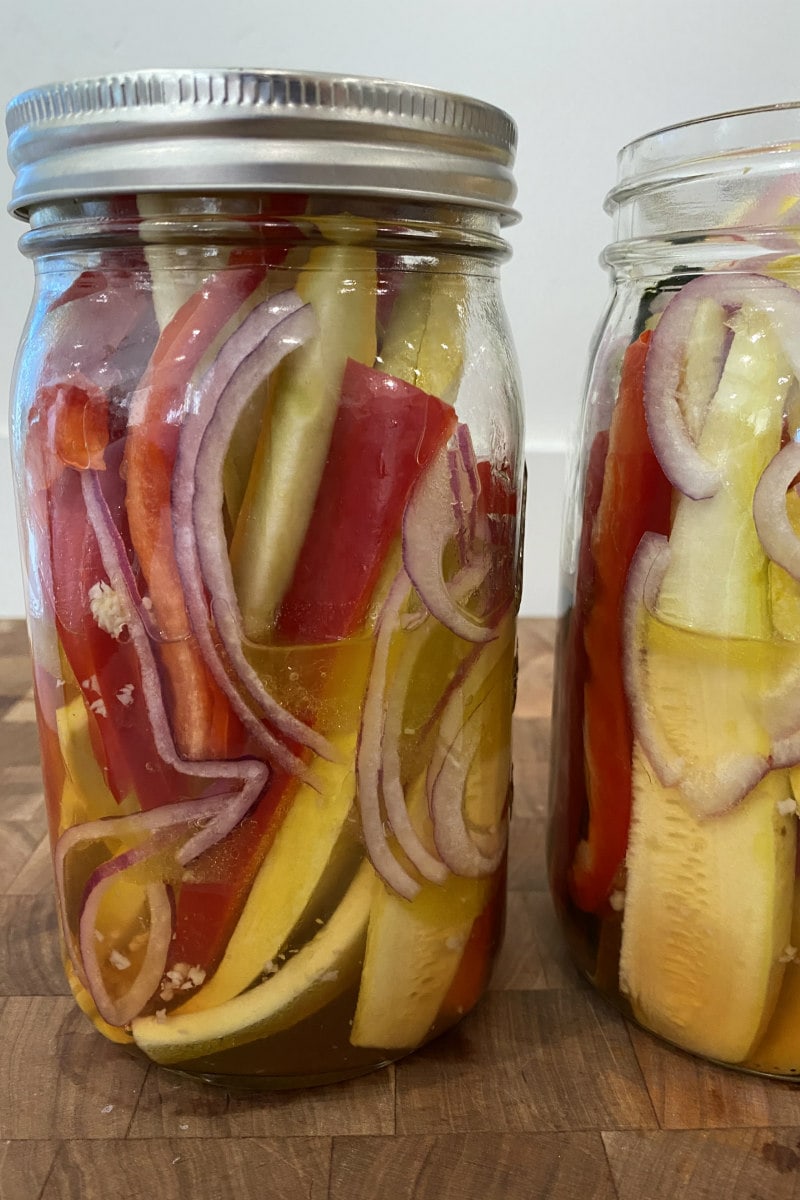 The marinade is made on the stove. It's a simple mix of red wine vinegar, sugar, salt, olive oil and garlic. The mixture is divided between the two jars. You will not fill up the jar with the marinade. That's okay.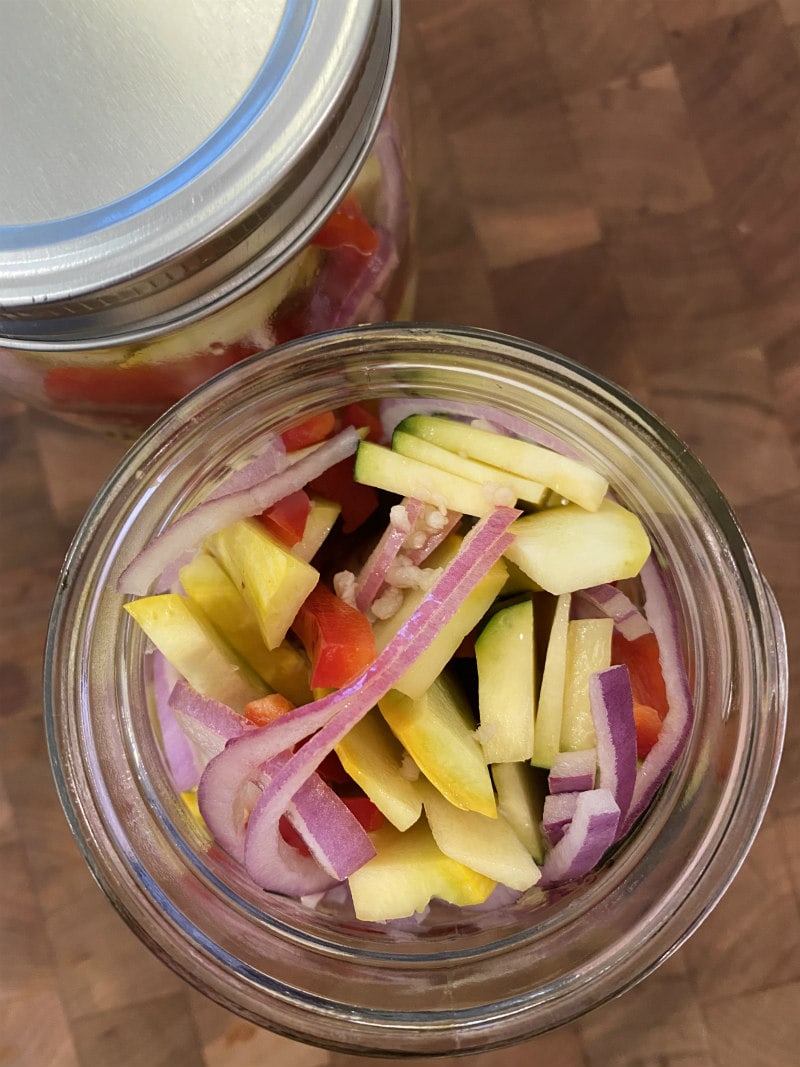 Then put the lids on the jars and screw them tightly.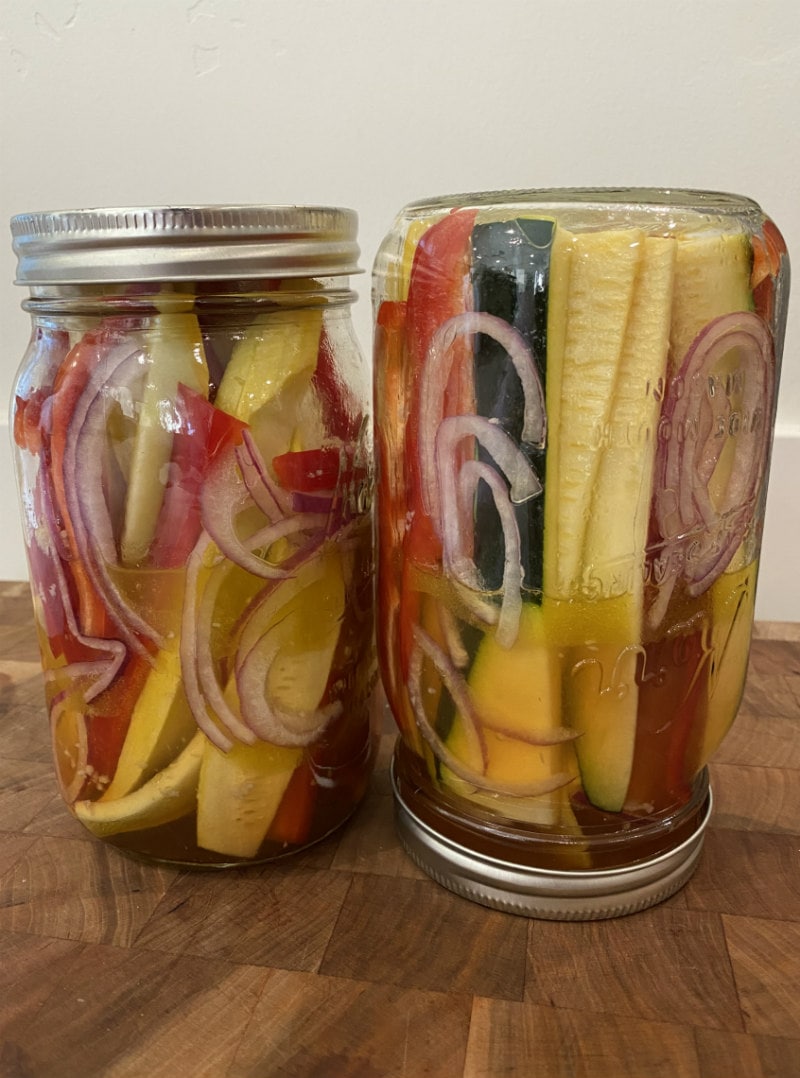 The quick-pickling process takes about 4 hours. Refrigerate the Sweet and Sour Summer Vegetables and turn the jars upside down every 30 minutes or so. This will ensure that the veggies are getting pickled evenly.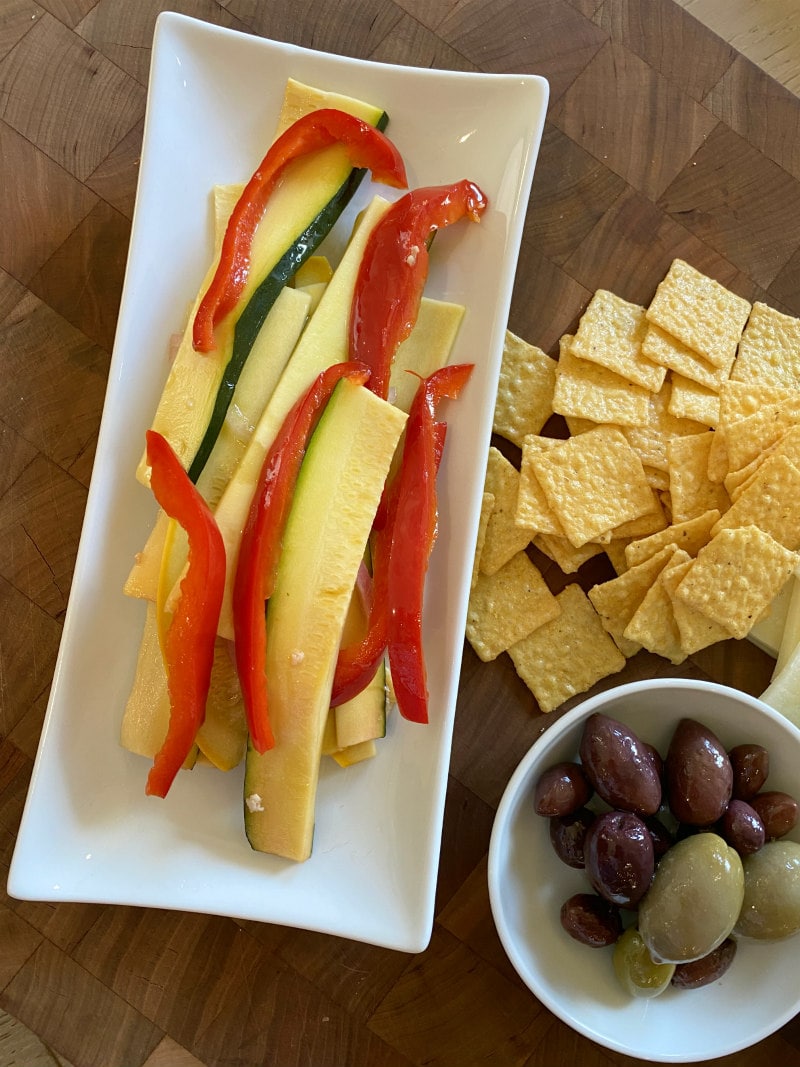 After 4 hours (or more… or overnight), you'll drain the marinade from the veggies and transfer the veggies to a different container so you can keep them refrigerated and ready to munch on all week long. You really don't want to keep them stored in the marinade in the jar because the veggies will continue to take on the flavor of the marinade and might get too saturated with the vinegar if left in it too long. Drain them, and they'll be just right- a little sweet from the sugar and a little sour from the vinegar. Enjoy!
Here are a few more pickling recipes you might like to try:
Sweet and Sour Summer Vegetables
A quick refrigerator pickling of summer vegetables.
Recipe Details
Ingredients
3

medium

zucchini,

sliced thinly

3

medium

yellow squash,

sliced thinly

1

large

red bell pepper,

seeded and thinly sliced

1/2

medium

red onion,

thinly sliced

1½

cups

red wine vinegar

1/3

cup

granulated white sugar

1/4

cup

extra virgin olive oil

1/2

teaspoon

salt

2

medium

garlic cloves,

minced
Instructions
Place the vegetables into two 1-quart jars with tight fitting lids.

In a small saucepan, combine remaining ingredients except the garlic. Bring the mixture to a boil, remove from heat and then stir in the garlic. Divide the mixture between the two jars and pour over the vegetables, close the jars tightly, and let sit for at least 4 hours, turning the jar upside-down every hour (so half the time, it's standing on its lid).

Taste one of the veggies. If the flavor appears to be strong enough to you, drain the vegetables and serve chilled or at room temperature. If you'd like a stronger flavor, keep them in the jar a bit longer. These can be made a day in advance; keep covered and chilled, turning upside down when you think of it. The longer you keep them in the jar with the marinade, the stronger the flavor will be, so I recommend draining when ready to serve and just keeping the drained veggies in a covered container in the refrigerator to munch on during the week. They will keep for 5 to 7 days.
Notes
*If you do not have quart jars, you can use empty and clean mayonnaise jars or something similarly sized.
*Nutritional info and WW points are likely better than what is being shared here. Numbers were computed assuming consumption of olive oil and sugar-- but there is likely a lot of that left behind when you drain the marinade.
Nutrition
Serving:
1
serving
,
Calories:
108
kcal
,
Carbohydrates:
12
g
,
Protein:
2
g
,
Fat:
6
g
,
Saturated Fat:
1
g
,
Sodium:
126
mg
,
Potassium:
364
mg
,
Fiber:
2
g
,
Sugar:
10
g
,
Vitamin A:
749
IU
,
Vitamin C:
42
mg
,
Calcium:
24
mg
,
Iron:
1
mg
,
Blue WW Smartpoints:
4
,
Green WW Smartpoints:
4
,
Purple WW Smartpoints:
4