This Simple Pumpkin Tiramisu recipe is the perfect choice when you're looking for a dessert that is so very easy to make. So if you want an easy pumpkin dessert recipe, this is it!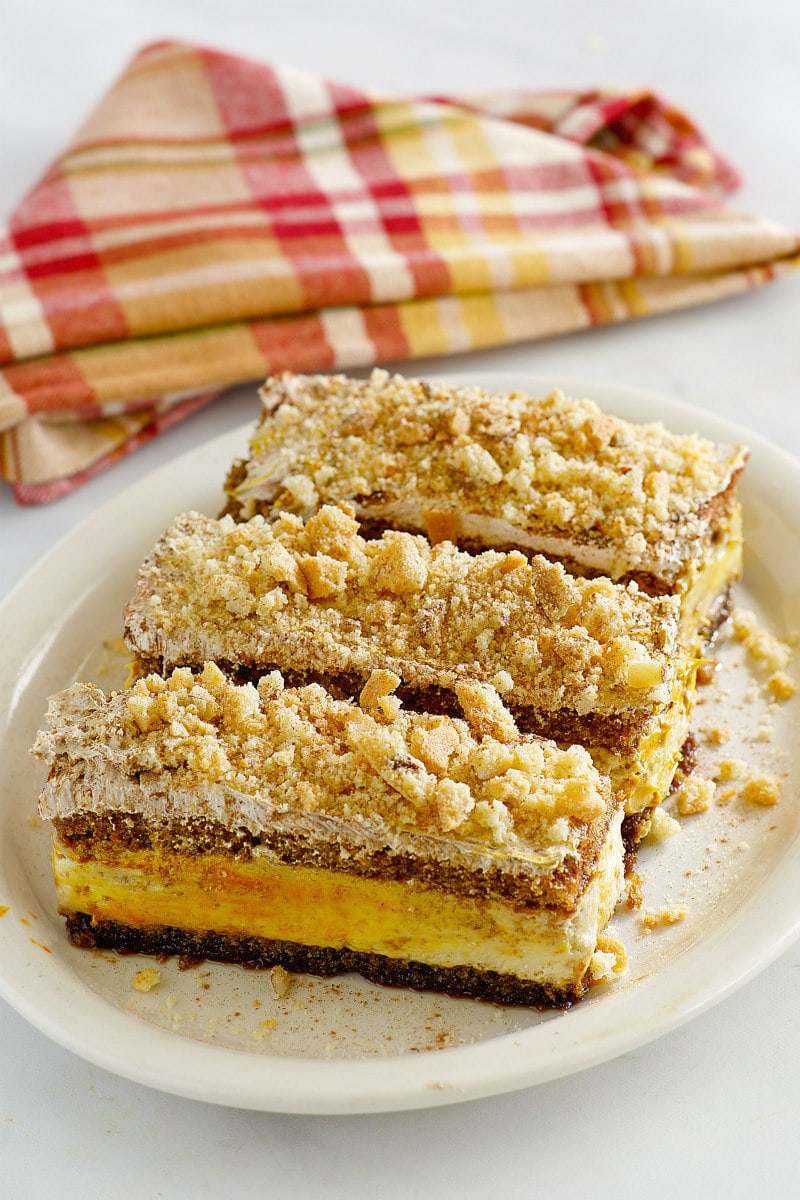 What is Tiramisu?
Classic Tiramisu is a coffee or espresso flavored dessert. Soft ladyfingers are soaked in coffee and are typically layered with a sweet mascarpone mixture and powdered chocolate. My recipe for Tiramisu Italiano is more like the Italian classic recipe (though it calls for using Kahlua and sweet Marsala wine).
This Simple Pumpkin Tiramisu is nothing at all like classic tiramisu. The recipe still calls for ladyfingers, but they're soaked in rum instead of coffee. And the filling is a sweet pumpkin mascarpone mixture. My Strawberry Tiramisu is another non-traditional recipe- calling for brandy and fresh strawberries.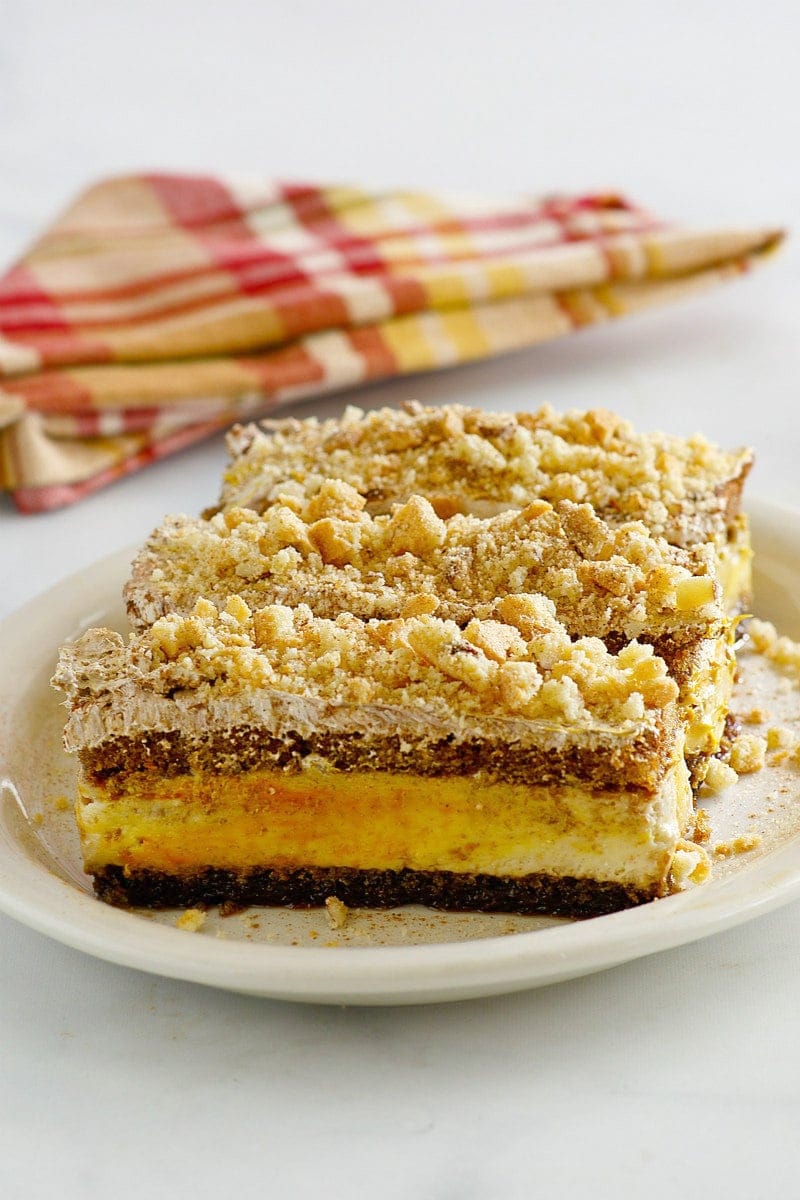 Simple Pumpkin Tiramisu
You'll need just eight ingredients to prepare this dessert. Add whipping cream, pumpkin puree, rum, sugar and pumpkin pie spice to your shopping cart. You'll need a tub of mascarpone cheese too. It's usually located near the more gourmet cheese section in your market. Amaretti Cookies and Ladyfingers can usually be found in a regular market too, or you could make life easier for yourself and just order them on Amazon: Ladyfingers and Amaretti Cookies (affiliate links).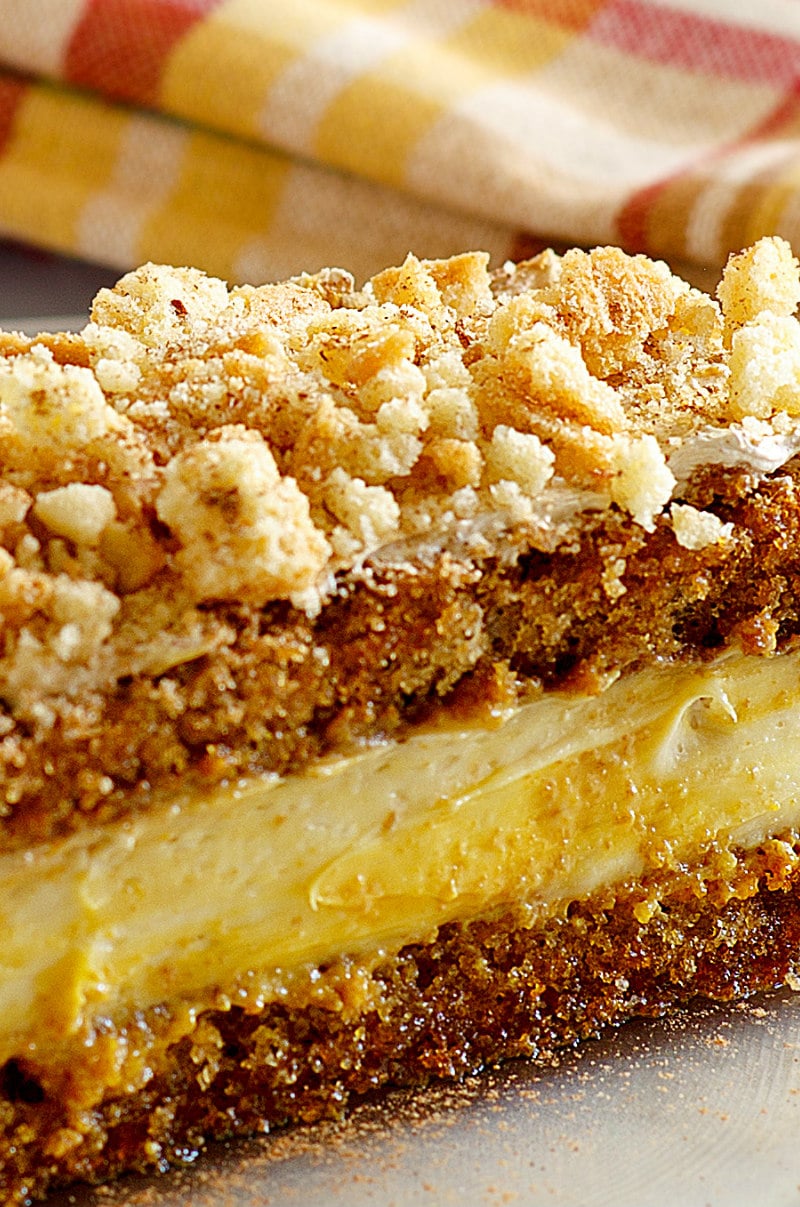 How do you make Simple Pumpkin Tiramisu?
The first thing you need to decide before you make this recipe is whether or not you have the right pan. You have a couple of choices. Use a 9-inch springform pan, or use a 9-inch square pan (affiliate links). The difference is this: if you use a springform pan, you'll be able to remove the sides of the pan and end up with a round dessert to cut in wedges. With a square pan, you'll cut square or rectangular slices and scoop them out of the pan.
The filling is made from whipping cream and adding sugar, mascarpone cheese, pumpkin puree and pumpkin pie spice. You'll want to eat it by the spoonful! To assemble the dessert, the ladyfingers are sliced in half– and half of them are snuggled into the bottom of the pan you're using. Rum is drizzled on top. Half of the filling is spread on top. Then you repeat with the rest of the ladyfingers, rum and filling. The dessert is wrapped tightly with plastic wrap and foil, and then it's chilled overnight. Just before serving, you'll sprinkle the whole dessert with crumbled amaretti cookies, and it's ready to enjoy!
Can you make this dessert ahead of time:
Yes. In fact, you actually have to make this dessert ahead of time. It needs to chill overnight after assembling.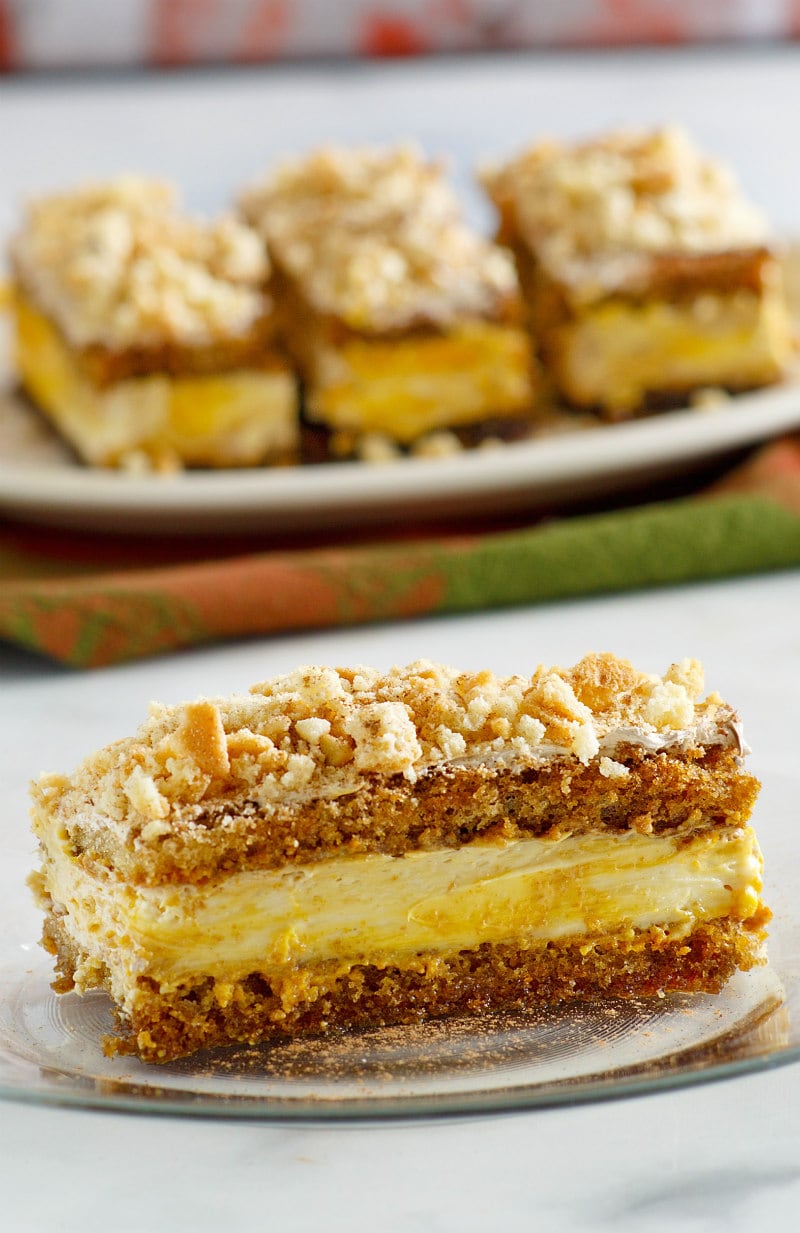 Try serving this dessert at your next dinner party or adult gathering. Since it contains plenty of rum, keep it away from the kids. And make sure that none of your guests are avoiding alcohol before deciding on making Simple Pumpkin Tiramisu. Everyone is going to love it!
If you're looking for additional pumpkin dessert recipes, you may also wish to try Pumpkin Cheesecake, Pumpkin Pie Dessert Lasagna, Pumpkin Sheet Cake or Pumpkin Cheesecake Cake.
Simple Pumpkin Tiramisu
This simple pumpkin tiramisu only requires 8 ingredients. It's so delicious!
Recipe Details
Ingredients
1 1/2

cups

chilled whipping cream

3/4

cup

granulated white sugar

8

ounces

mascarpone cheese

15

ounces

canned unsweetened pumpkin puree

3/4

teaspoon

pumpkin pie spice

6

ounces

ladyfingers,

cut in half

4

tablespoons

rum,

divided

2

ounces

crushed amaretti cookies
Instructions
Use an electric mixer to beat the whipping cream and sugar in a large chilled bowl until peaks form. Add the mascarpone, pumpkin and spice; beat just until the filling is smooth.

Line the bottom of a 9-inch springform pan with 2 3/4-inch sides with one 3-ounce package halved ladyfingers, overlapping and crowding to fit. Sprinkle with 2 Tablespoons of rum. Spread half of the filling over the ladyfingers.

Repeat with the other package of halved ladyfingers, rum and remaining filling. Smooth. Wrap tightly with plastic, then foil.

Chill overnight. To unmold, run a knife around the inside edge of the pan. Release the pan sides; sprinkle with amaretti cookies.
Notes
If you don't own a springform pan, you can use a 9-inch square pan. You'll just have to cut servings and scoop them out of the pan- since you can't remove the sides.
Mascarpone cheese (Italian cream cheese) and amaretti cookies (Italian macaroons) are available at many supermarkets (including Trader Joes) and Italian markets.
If you don't have pumpkin pie spice on hand, it's ok to use 1/4 teaspoon each of cinnamon, cloves and nutmeg.
Nutrition
Serving:
1
serving
,
Calories:
497
kcal
,
Carbohydrates:
43
g
,
Protein:
6
g
,
Fat:
31
g
,
Saturated Fat:
19
g
,
Cholesterol:
136
mg
,
Sodium:
86
mg
,
Potassium:
166
mg
,
Fiber:
2
g
,
Sugar:
25
g
,
Vitamin A:
9445
IU
,
Vitamin C:
2.5
mg
,
Calcium:
94
mg
,
Iron:
1.6
mg