Here's an easy slow cooker soup:  Tuscan Sausage and Bean Soup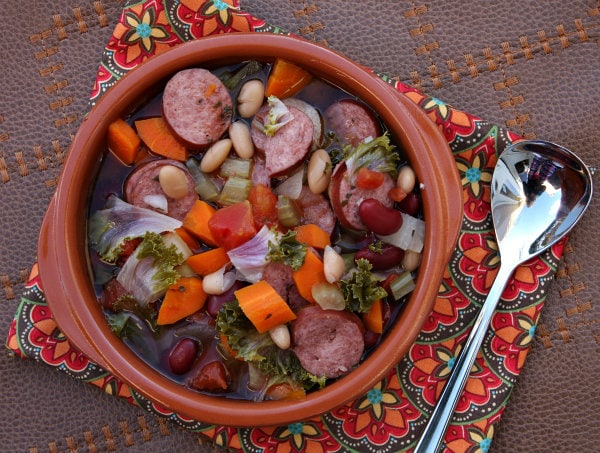 It's such a great invention, really… a pot that you can throw a bunch of stuff in and let it do all of the cooking for you. At the end of the day, you take off the lid and dinner is ready for your family. What could be better, right? The idea is fabulous but I don't always find that the recipes turn out all that great.
Many readers have asked that I expand my slow cooker recipe section, and I'm working on it. I promise… I'm trying really hard to find recipes that are worthy of posting and sharing with the world. And I found one!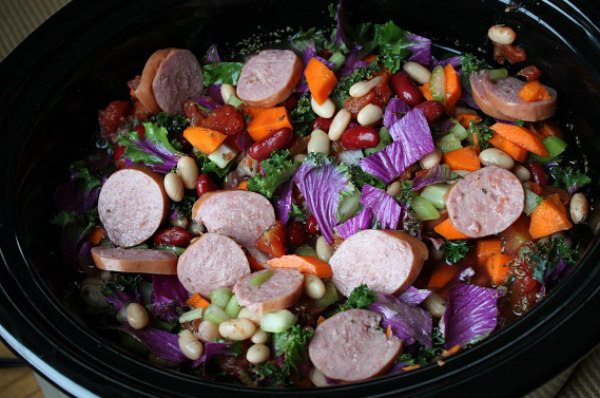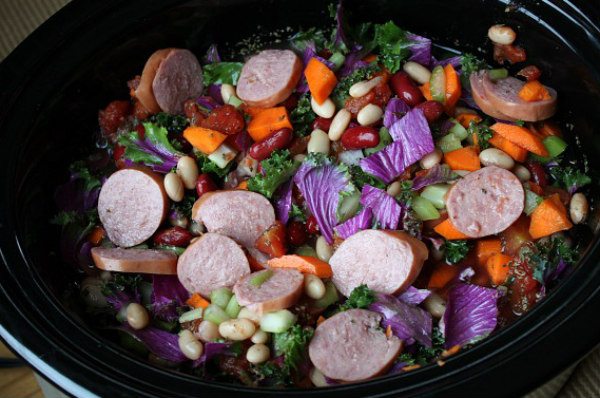 This soup is quite delicious and it really can't get much easier. Just dump all of the ingredients into the slow cooker and let it do its thing for 8 to 10 hours.  It's filled with turkey kielbasa, chopped veggies (onion, carrot, celery, kale, tomatoes) and beans.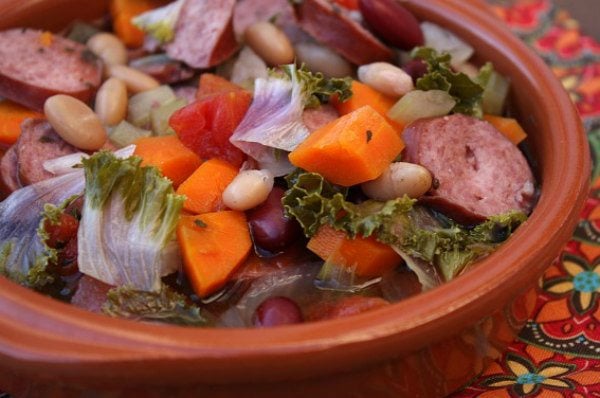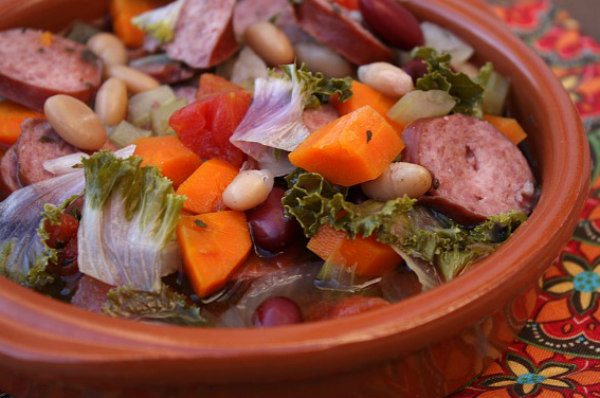 The recipe came from a Weight Watcher's cookbook (of all places!), and it's a major keeper. It's quite filling at 1 1/2 cups per serving, and if you are on the Weight Watcher's plan then you will be able to note the Weight Watchers points in the recipe below.  This recipe happens to be naturally gluten-free (just be careful of purchasing GF sausage).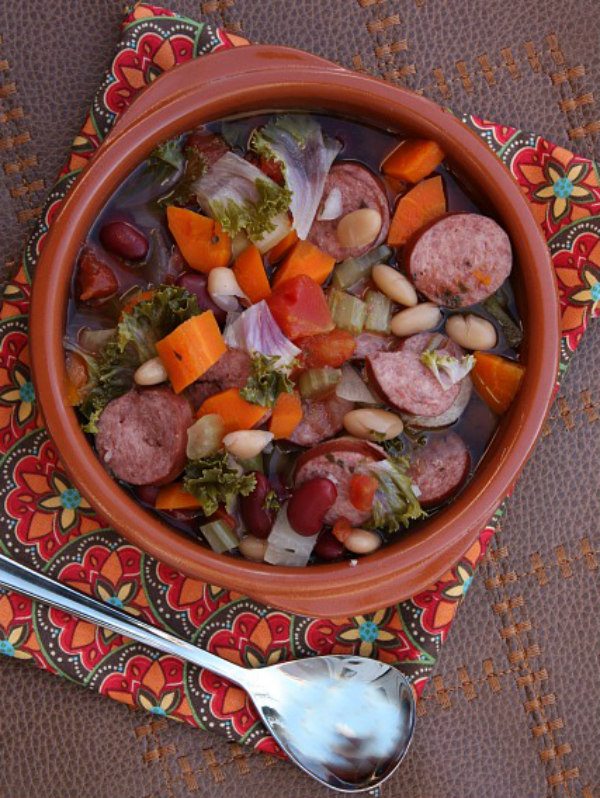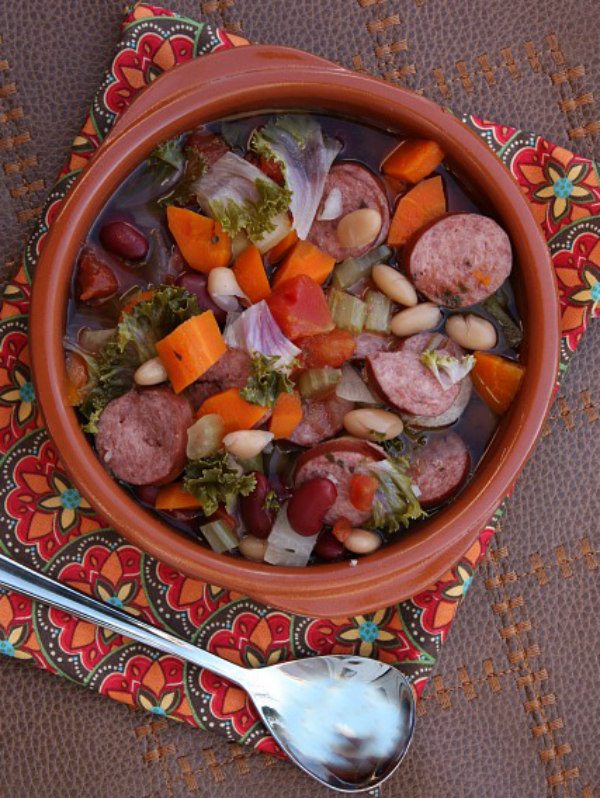 You absolutely do NOT have to be on a diet to enjoy this recipe. Soup is perfect for a chilly day, and although it's pretty sunny here in Southern California, we have our share of (what we deem to be) chilly evenings. Soup warms the soul and is a welcome dinner to be waiting for you and your family at the end of a busy day.  My family gobbled this one up, and they were completely unaware that this was such a healthy soup.
Slow Cook Tuscan Sausage and Bean Soup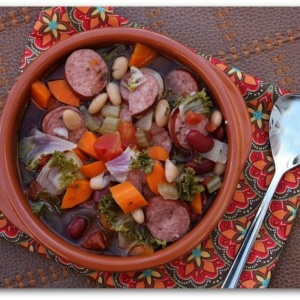 Yield:
6 servings (1 1/2 cups per serving)
Prep Time: 15 minutes
Cook Time: 8 hours
Ingredients:
One (12-ounce) link of turkey kielbasa sausage, cut into 1/4-inch-thick rounds
2 cloves garlic, minced
1 small onion, chopped
1 large carrot, peeled and roughly chopped
1 large stalk celery, chopped
1/2 medium bunch kale, stems removed, & leaves chopped (about 4 cups)
3 cups fat-free low-sodium chicken broth
One (15.5-ounce) can red kidney beans, rinsed & drained
One (15.5-ounce) can great Northern beans, rinsed & drained
One (14.5-ounce) can Italian seasoned diced tomatoes
1/2 cup dry red wine (or water)
1 teaspoon dried basil
shredded Parmesan cheese, optional
Directions:
In a slow cooker, combine all ingredients except Parmesan. Stir to combine.
Cover and cook on low until the vegetables are tender, 8 to 10 hours.
Tips:
If you are preparing this recipe as Dairy Free, skip the addition of Parmesan cheese.
If you are preparing this recipe as Gluten-Free, make sure you add in sausage, beans and broth that are free of gluten.
Nutrition:
Nutritional Information per serving- no cheese (Serving size:

1 1/2 cups) 

Calories:

241, 

Fat:

5g, 

Saturated Fat:

5g, 

Sodium: 1258mgg, Fiber:

8g, 

Protein:

19g, 

Cholesterol:

37mg, 

Carbohydrates:

31g

Weight Watchers POINTS:  SmartPoints:  9, Points Plus: 6, Old Points Program: 4