Slow Cooker Fresh Corn Chowder
Here's an easy recipe to celebrate summer corn:  Slow Cooker Fresh Corn Chowder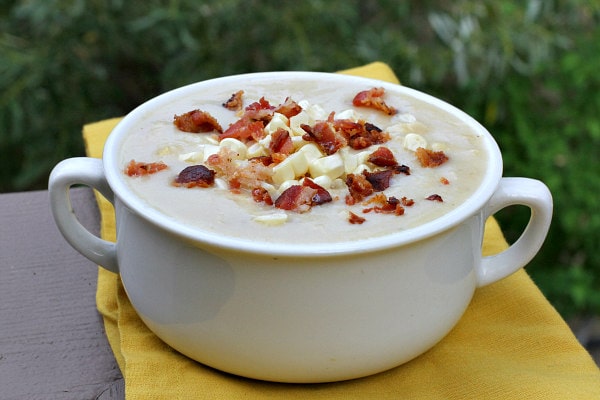 Since my kiddo is pretty much obsessed with corn on the cob all year long, I try to make sure that I get my hands on as much as fresh, sweet corn as possible during the summer.  And right now, my slow cooker is my very best friend.  I've been hauling it out a couple of times a week to help me make dinner since it's sooo tough to make dinner when kids are involved in after-school activities.  I need easy dinner ideas, and this is one of those!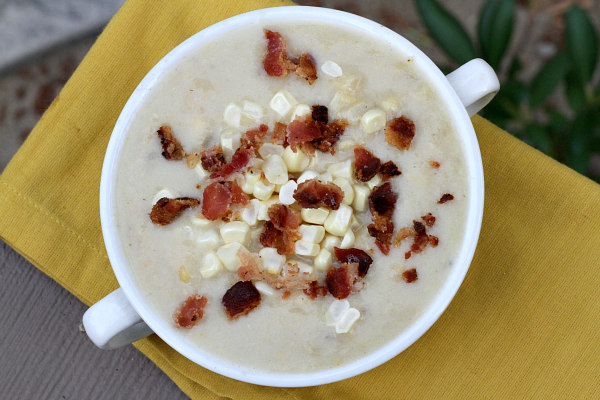 This slightly creamy fresh corn chowder is topped with a bit of crumbly bacon.  Everything is better with bacon!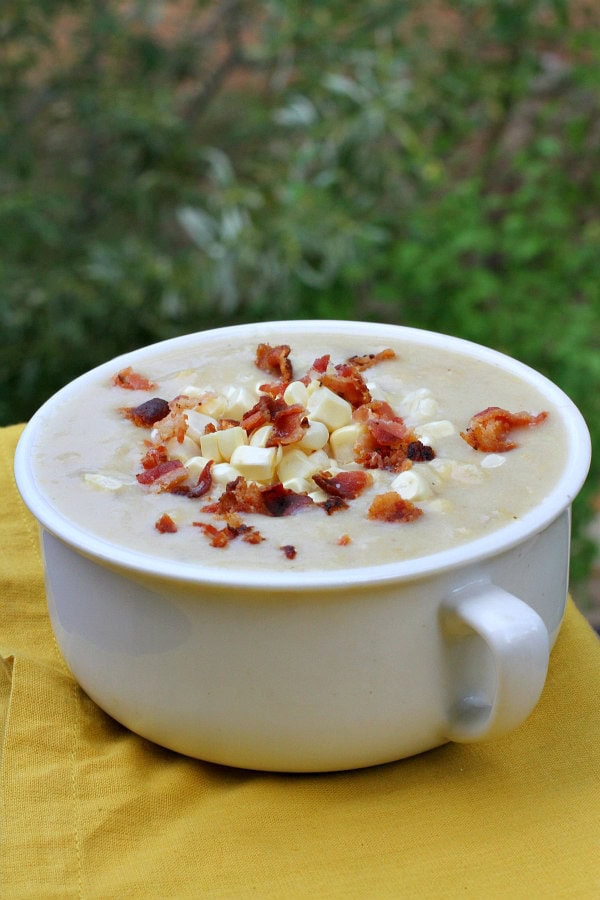 Hurry and make some corn chowder before all of that fabulous summer corn is all gone!
Yield: 12 servings
Prep Time: 25 minutes
Cook Time: 8 hours
Slow Cooker Fresh Corn Chowder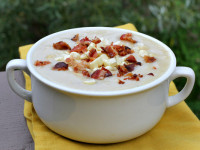 Ingredients:
1 tablespoon olive oil
1/2 cup chopped onion
2 cups chopped red potatoes (skin on)
3 1/2 cups sweet fresh corn (cut off the cob)
1 Tablespoon worcestershire sauce
2 cups water
1 Tablespoon granulated white sugar
1 Tablespoon seasoned salt
16 ounces chicken broth
1 cup whole milk or half & half
1/4 cup (1/2 stick) butter
1 tablespoon cornstarch or tapioca starch
6 slices bacon, cooked and crumbled (for topping)
Directions:
In large skillet, heat the olive oil and add the onion and potatoes to the skillet (alternately, you can saute the onions and potatoes in the bacon grease instead). Sauté for 5 minutes.
Place the onion and potatoes into a slow cooker. Add the corn, worcestershire sauce, water, sugar, salt and chicken broth.  Stir to combine the ingredients.
Cover and cook on low for 7 hours.
Remove half of the mixture and place into a blender or food processor. Blend until puréed and return to crockpot. Add milk and butter. Take out a little bit of liquid and whisk the cornstarch into it.  Add the cornstarch mixture to the slow cooker.  Cover and cook on high for an additional hour.  Sprinkle individual servings with bacon.
You should need about 5 cobs of corn for this recipe.
SOURCE: RecipeGirl.com
Here are a few more chowder recipes you might enjoy:
3 Responses to "Slow Cooker Fresh Corn Chowder"
Leave a Comment