This recipe for Slow Cooker Ginger and Orange- Glazed Pot Roast is sure to be a family favorite (it is in my family!)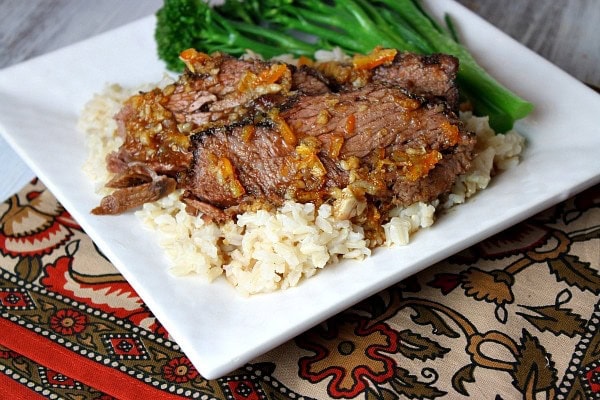 Picture this:  It's 4:00pm and the kids are home from school.  Everyone in the family is asking what's for dinner, and you have no idea because you have not planned ahead and there is absolutely nothing on the menu.  You start thinking up alternative ideas like grilled cheese, "breakfast for dinner," or maybe that box of mac n' cheese and some chopped up hot dogs.  Has this ever happened to you?  I sure hope so since it happens to me all the time.  I get so busy with my day that sometimes I completely forget that I'm supposed to be planning some sort of nutritional meal for my family for dinner.  UGH.  This is the reason I love my slow cooker.  It saves the day on busy days.  This recipe is a no-brainer, and your slow cooker does all of the work for you.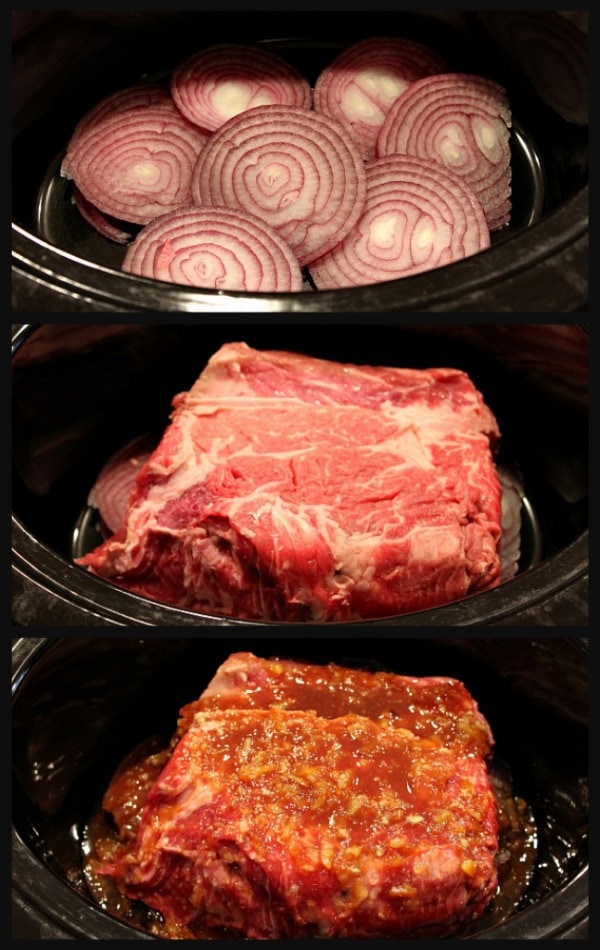 Onions on the bottom of the slow cooker, then a roast, then a simple orange- ginger marinade.  That's totally it.  8 hours later… toward the end of its cooking time, put some rice on the stove and a vegetable too.  Slice the beef, serve with the sauce, and everyone is happy you made dinner.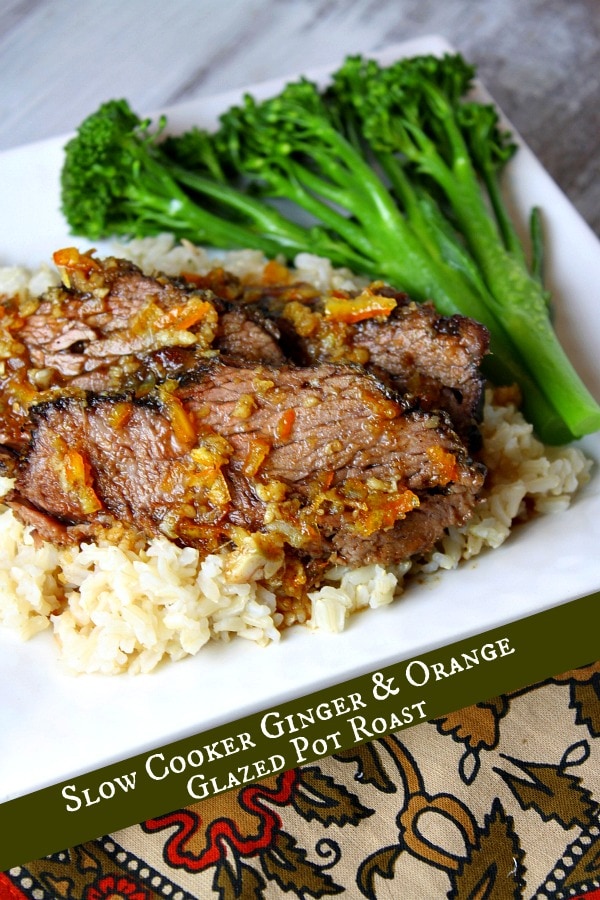 My son's 12-year-old friend was over the day that I made this… he took a peek at my plated meal (which I was photographing) and said that he hoped he was having the same thing for dinner at his house!  I guess that was a nice compliment!  My boys loved this meal, and it was so fantastically easy that I'll definitely be making it again.  Tender meat? … totally.
Slow Cooker Ginger and Orange Glazed Pot Roast
Yield:
4 servings
Prep Time: 15min
Cook Time: 8 hour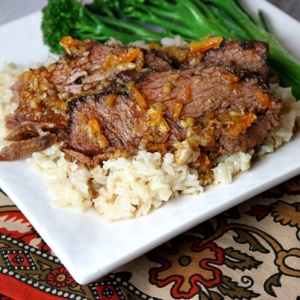 Ingredients:

One 3 to 4 pound top or bottom round beef roast
1 large red onion, sliced
1 cup orange marmalade
1/3 cup water
2 tablespoons rice vinegar
1 tablespoon soy sauce
2 teaspoons five spice powder
2 teaspoons grated fresh ginger
1/2 teaspoon Tabasco sauce
2 cloves garlic, minced
steamed rice for serving, if desired

Instructions:

1. Trim the fat as much as possible from the roast. Layer the onion slices in the bottom of your slow cooker. Place the trimmed beef roast on top of the onion.

2. Mix the cooking marinade: in a medium bowl, whisk together the marmalade, water, vinegar, soy sauce, five spice, ginger, Tabasco and garlic. Pour the marinade over the beef.

3. Cover and cook on low-heat setting for 8 to 10 hours. Remove the beef from the sauce and slice. Serve over rice. Drizzle with sauce from the slow cooker.

Tips:

*If you are preparing this recipe as gluten-free, just be sure to use brands of orange marmalade and soy sauce that are known to be GF.