This Snickers Chocolate Chip Skillet Cookie is moist, chocolatey and full of Snickers! When served warm and with a scoop of ice cream, it's pretty irresistible too.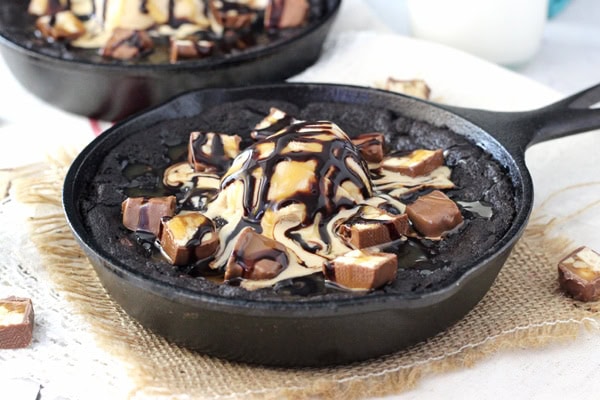 My husband is a big cookie guy. I'm all about the cake, but as soon as I make cookies, I have to hide them from him so that they don't disappear. I can hardly get pictures of them before they are half eaten.
And I'd say it's hard to argue that there's anything better than a warm cookie, fresh out of the oven. One of the great things about skillet cookies is that's how they are supposed to be served – warm and amazing!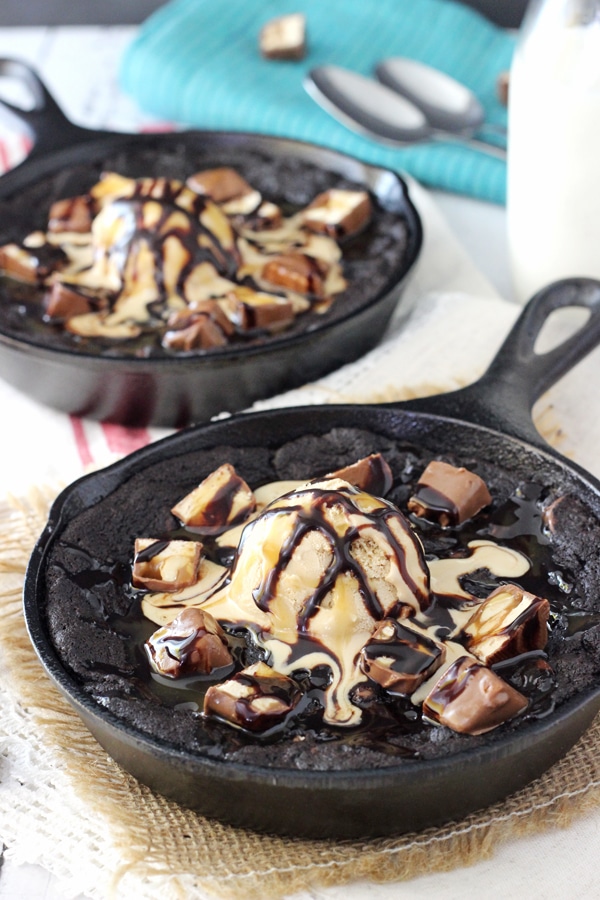 These skillet cookies are so easy to make too. Just make the cookie dough, divide it between the skillets and bake. I used two 5 inch skillets, but it would probably work well in an 8 inch skillet also, if you wanted to make one big one.
Once these came out of the oven (and photos were taken, of course), my husband and I grabbed spoons and dug into one. So incredibly good! The warm, gooey chocolate cookie, the Snickers, the caramel ice cream on top – to die for.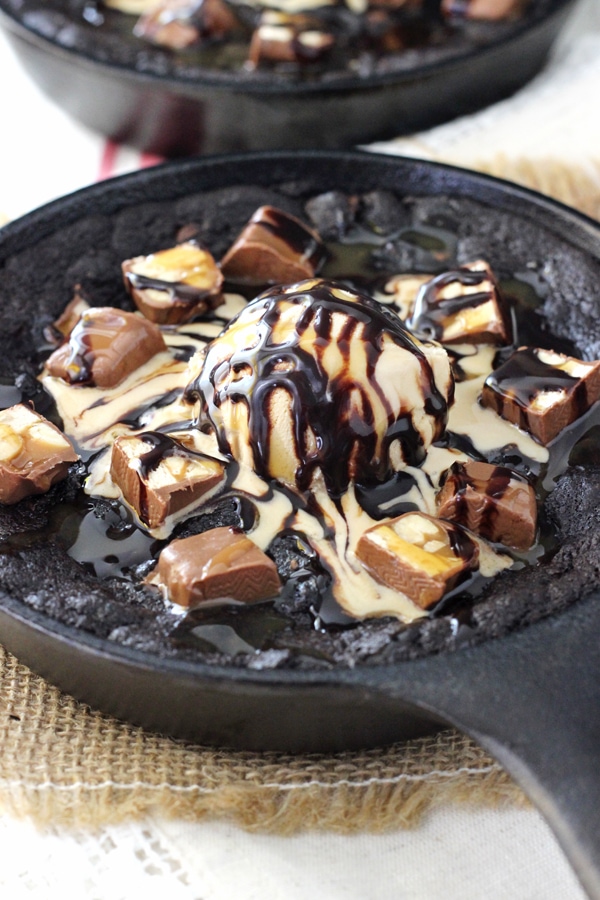 And honestly, it's rich. The hubs and I could barely finish one. You could easily serve 4 to 6 people with the two cookies. I put the other in the fridge and our nieces ate it a couple days later. I warmed it up and added more ice cream and even they couldn't finish it – and they're 8 and 10 years old. Is it just me or do kids normally have a bottomless pit in their stomachs when in comes to dessert?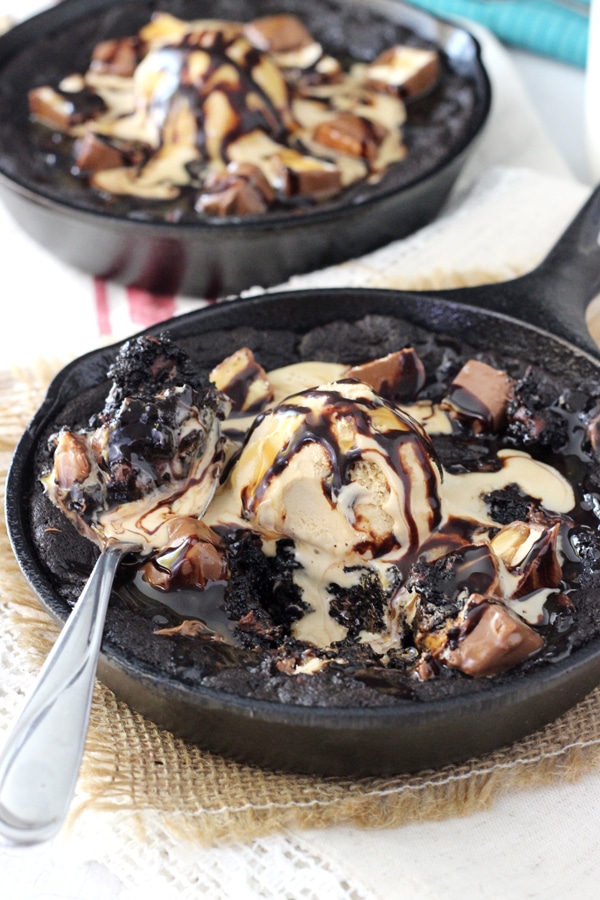 The rest of my family was ok with the fact that they didn't finish it – it meant that they all could grab the spoons and finish it off. There were lots of satisfied moans going on. That's what I call a successful dessert! 🙂
Snickers Chocolate Chip Skillet Cookie
Yield:
2 to 6 servings
Prep Time: 15 minutes
Cook Time: 20 to 25 minutes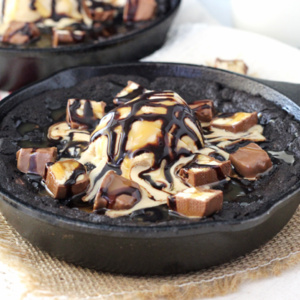 Ingredients:

1/2 cup (1 stick) salted butter, at room temperature
1/4 cup lightly packed brown sugar
1/2 cup granulated white sugar
1 large egg white
1/2 teaspoon vanilla extract
3/4 cups all purpose flour
1/3 cup unsweetened cocoa (I use Hershey's Special Dark)
3/4 teaspoon baking soda
1/2 cup semi sweet chocolate chips
1/2 cup chopped Snickers candy bars
ice cream, for topping, optional

Instructions:

Preheat the oven to 350 degrees F. and prepare two 5 inch skillets by wiping them with a little bit of butter.
Use an electric mixer to cream the butter and sugars together until light and fluffy, about 3 to 4 minutes.
Mix in the egg white and vanilla extract.
Add the flour, cocoa and baking soda and continue to mix until combined.
Stir in the chocolate chips and chopped Snickers. The dough will be thick.
Divide the cookie dough between the two skillets and press evenly into skillets.
Bake for 20 to 25 minutes. The edges should look done. The center might look a little undercooked, but that's ok. It'll cook a little more as it cools.
Allow the cookie to cool for about 10 to 15 minutes, then add a scoop of ice cream and serve.
SOURCE:  RecipeGirl.com
HERE ARE A FEW MORE SNICKERS DESSERT RECIPES YOU MIGHT ENJOY: