Welcome Fall by hosting a cozy night in with friends, and serve up this Soup Dinner Party Menu.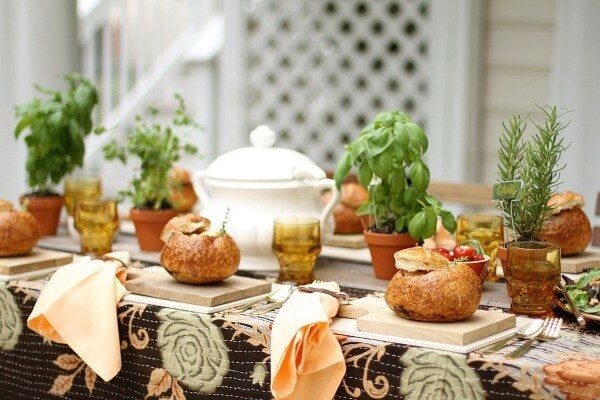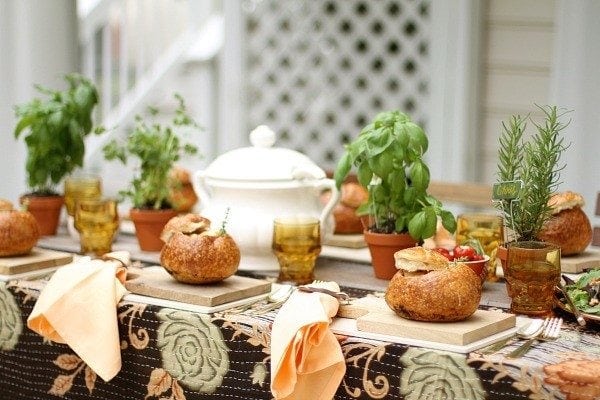 I love Fall and all that comes with it: cooler weather, colorful foliage, snugly blankets, and of course, warming comfort food. With that in mind I created a delicious soup party that's casual in feel, but inviting and stylish enough to make it special.
For this party I set up the patio for entertaining. Here in Virginia, Fall is the perfect time to be outside as it's no longer humid and unbearably hot like the summer months. The table is set with lots of earthy and nature-inspired elements so they blend right in to the surroundings.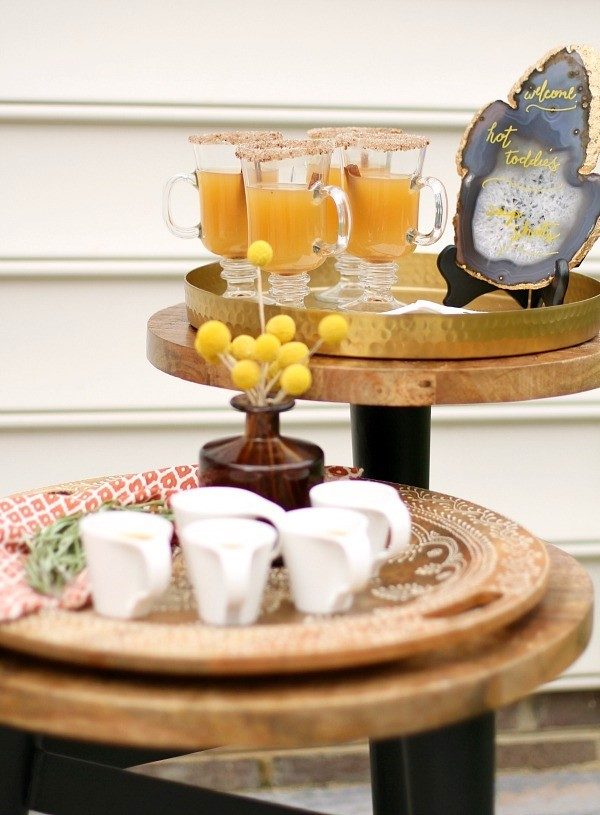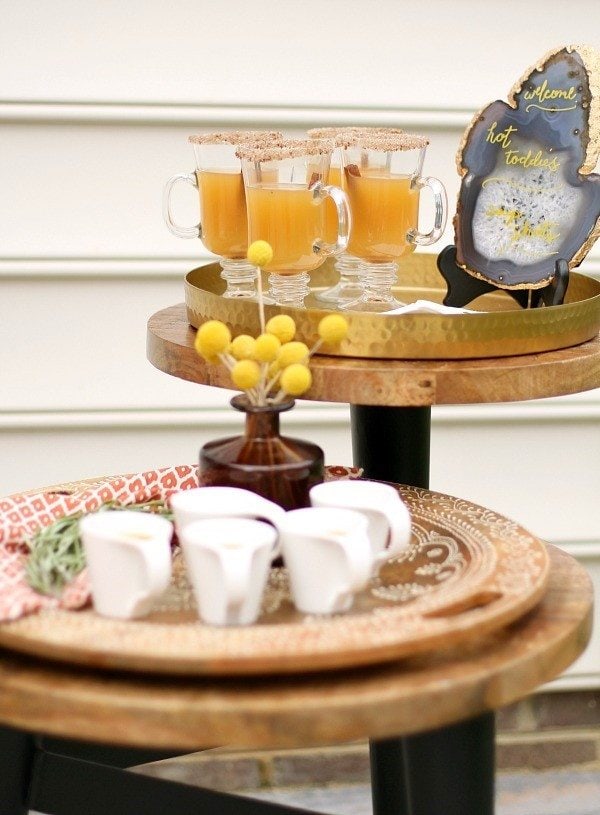 To welcome guests, I like to have a table or bar set up with a signature cocktail. In this case I went with a spiced apple hot toddy for its warmth and spicy flavor. In addition, this soup dinner party menu includes a soup shot to help whet the appetite. This is simply butternut squash soup served in demitasse cups.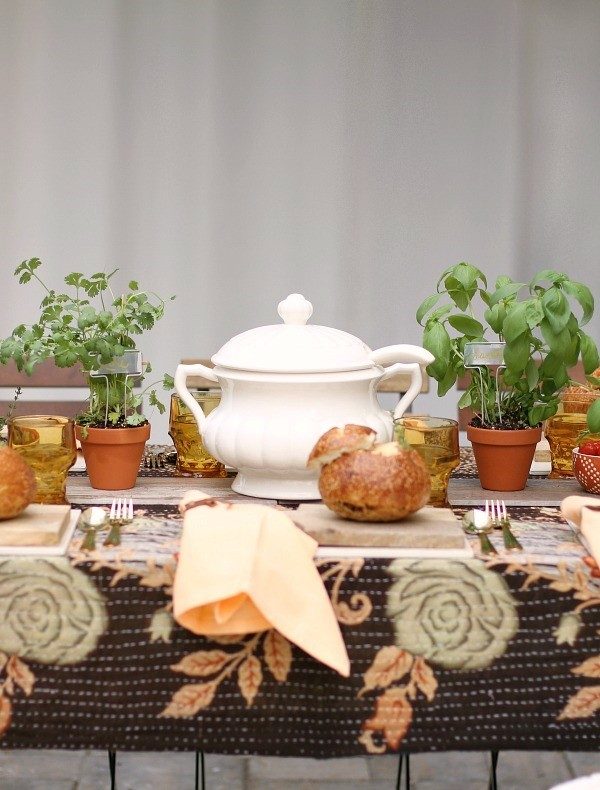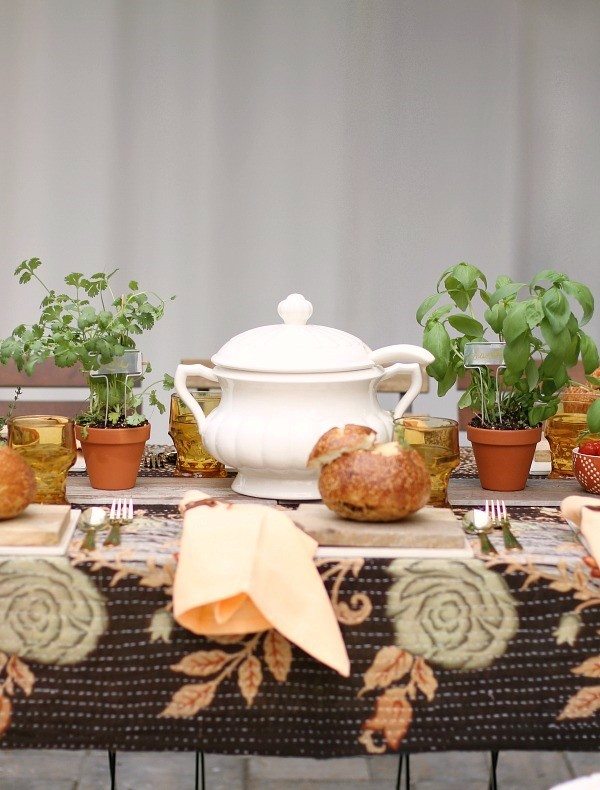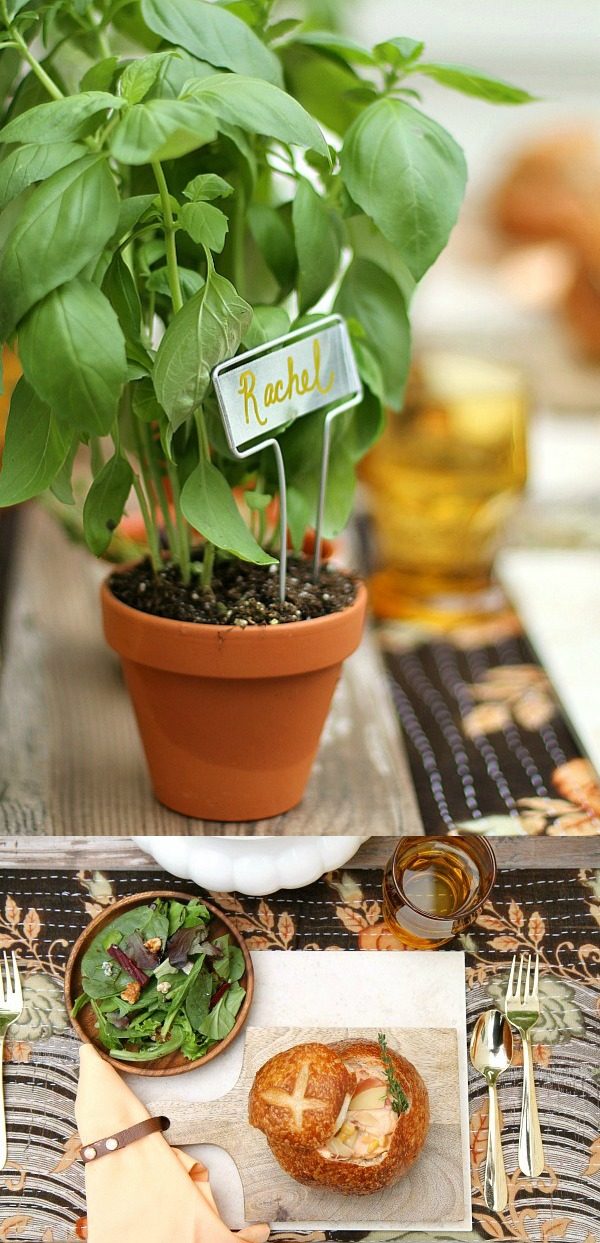 To keep the cozy feeling, cover the table in a lightweight quilt or throw, and use a soup tureen as the centerpiece. Instead of traditional flowers, add potted herbs to the table. They can double as party favors and/or place cards for guests.
Since the main course is soup, I've chosen two similar recipes, but with different flavor profiles: smoked chicken chowder, and seafood chowder. In lieu of ceramics, I picked up some bread bowls from Panera and used them. This adds an unexpected and special touch to a party at home.
Another twist on the table decor is the use of ceramic tiles instead of plates. These are extras we had leftover from home design projects, and they work perfectly in this way. They're actually used more like chargers than plates.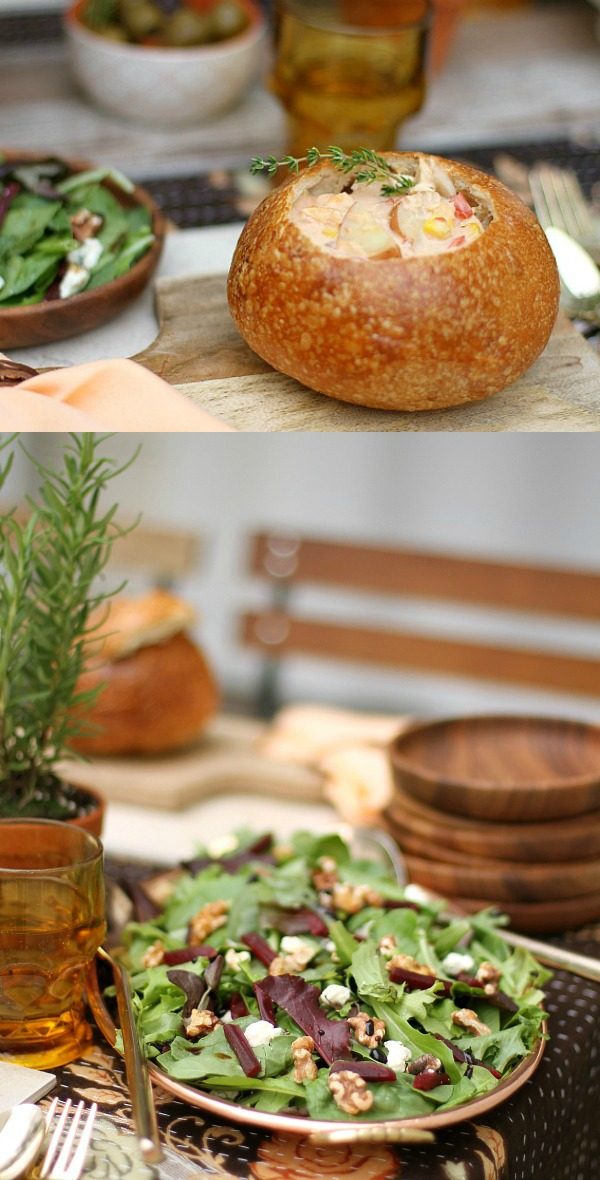 Hosting a dinner party is all about balance when it comes to planning the menu. This roasted beet salad with blue cheese is a light & fresh accompaniment to the hot, hearty soup.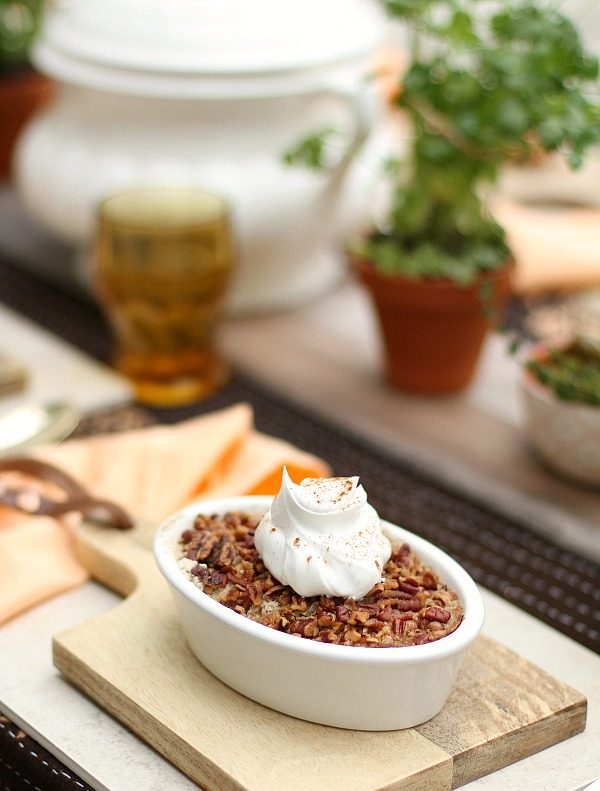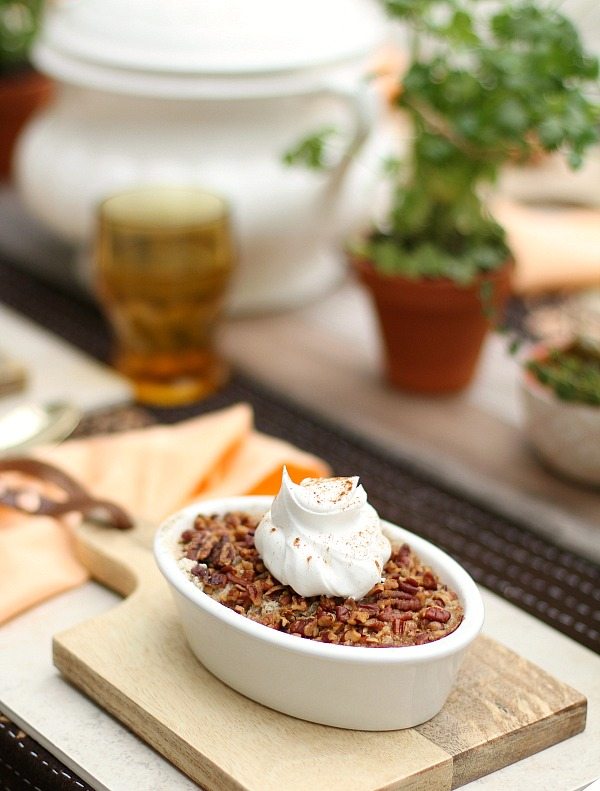 Who's ready for dessert?! Nothing says "Fall" like pumpkin flavored dessert, and this one is a classic. I used my go-to recipe for pumpkin pie dump cake and prepared it in individual baking dishes so each guest has their own. Top it off with fresh whipped cream or ice cream.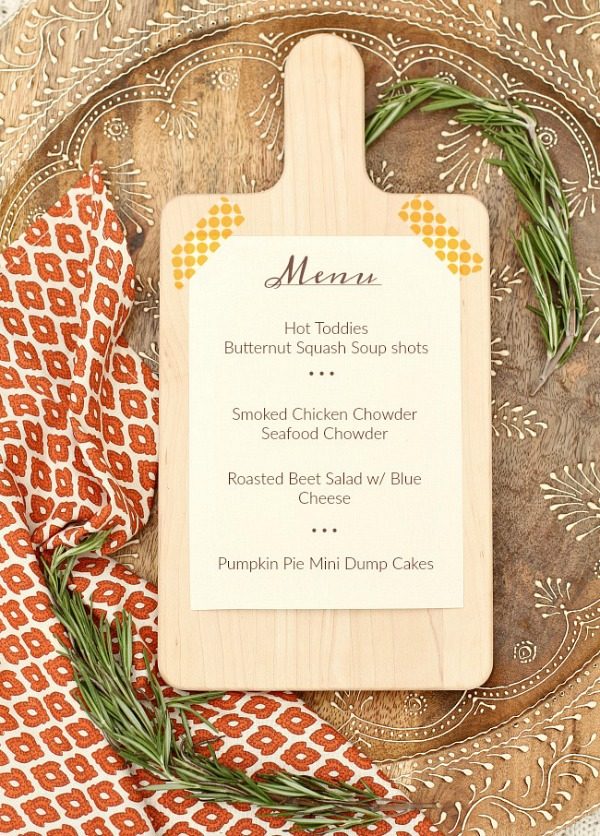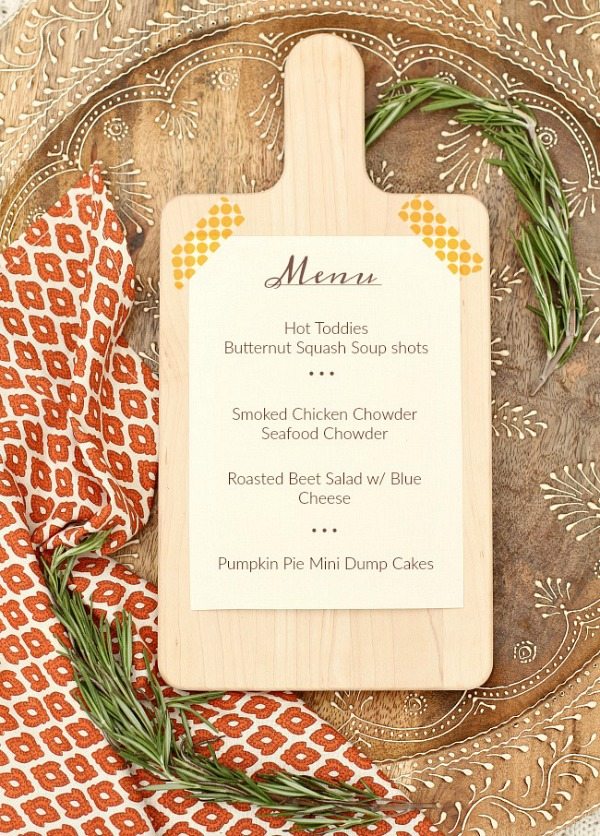 Show off your soup dinner party menu by attaching it to a wooden cutting board, using decorative tape. Get the recipes for this party below.
Welcome guests with a Spiced Apple Hot Toddy and Butternut Squash Soup shots.
Serve Smoked Chicken Chowder and Seafood Chowder in bread bowls.
Accompany with Roasted Beet Salad with Blue Cheese and Easy Maple Balsamic Reduction.
Finish with mini Pumpkin Pie Dump Cake for dessert.