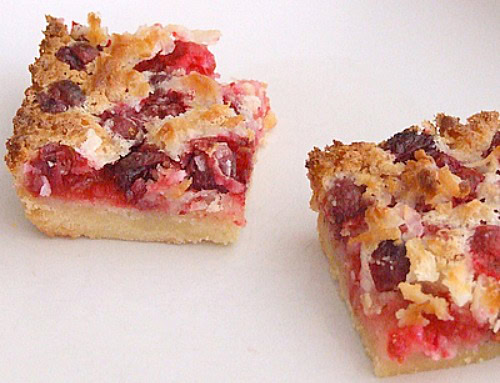 To-Die-For Cranberry-Coconut Squares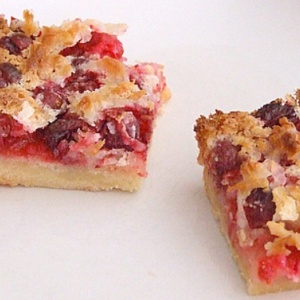 I served these at a Girl's Happy Hour party and the guests could not even tell that there was coconut in the bars. They are almost like a lemon bar recipe with cranberries.
Yield:
16 servings (16 bars)
Prep Time:20 minutes
Cook Time:50 to 55 minutes
Ingredients:
BASE:
1/4 cup butter, softened
1/4 cup granulated sugar
1 cup all-purpose flour
pinch of salt
TOPPING:
1 cup granulated white sugar
2 Tablespoons all-purpose flour
1/2 teaspoon baking powder
pinch of salt
1 large egg
1 large egg white
1/4 cup fresh lemon juice
1 1/2 cups fresh or frozen (unthawed) cranberries
1/2 cup shredded coconut
powdered sugar for sprinkling (optional)
Directions:
1. Preheat oven to 350°F. Spray 8x8-inch pan with nonstick spray.
2. Prepare base: In a medium bowl, beat butter and sugar until creamy. Stir in flour and salt until well combined and crumbly. Press into the bottom of prepared pan. Bake about 12 minutes until just barely golden around the edges.
3. Prepare topping: In the same bowl (no need to wash it) combine sugar, flour, baking powder and salt. Add egg and egg white, lemon juice and stir until well-blended and smooth.
4. Smooth cranberries and coconut evenly over the base. Pour lemon filling over top. Bake 40 to 45 minutes until golden and set. Cool completely in the pan on a wire rack.
5. Sprinkle with powdered sugar, if using, before cutting into squares.
Nutrition:
Nutrition Facts- Amount Per Serving of one bar:
Calories 140, Calories From Fat (25%) 35.54, Total Fat 4g, Sat Fat 2.5g, Cholesterol 20.84mg, Sodium 86.16mg, Potassium 37.80mg, Carbohydrates 25g, Dietary Fiber 0.76g, Sugar 17.13g, Net Carbs 24.16g, Protein 1.68g
WW POINTS per serving:
Points Plus Program: 4 Old Points Program: 3