Here is one of the recipes I created for a project I did in collaboration with McCormick Spices– a refresh on the classic Sloppy Joe recipe: Turkey Sloppy Joe Sliders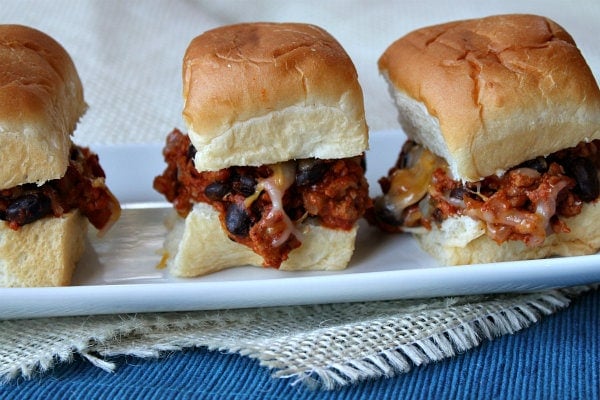 My freshened up recipe uses ground turkey instead of ground beef, there is no oil, sugar, ketchup or salt added, and I used a nice blend of spices to really pump up the flavor so you don't miss any of that other stuff.

Here's the very simple step-by-step: Cook the ground turkey in a skillet, then add tomato sauce and apple cider vinegar.

Then spice it all up!  One of the keys to refreshing some of your regular-rotation recipes is to try taking out some of the extra fat, sodium and sugar that is typically added to a recipe, and use spices to boost the flavor instead.
For me, sauteed onions ALWAYS are a good idea.  Saute some onions in a pan that has just been sprayed with a little nonstick spray.  Once they are done browning, add a couple of tablespoons of water and let the onions simmer in the water to soften until the liquid has evaporated.  Then they are perfect to add to your Sloppy Joe's.

My Mom always added beans to her taco filling.  It was her little secret for extending the filling to feed four hungry mouths in our house.  I added beans here too- black ones, but you can add any beans you'd like.  That extra fiber is good stuff.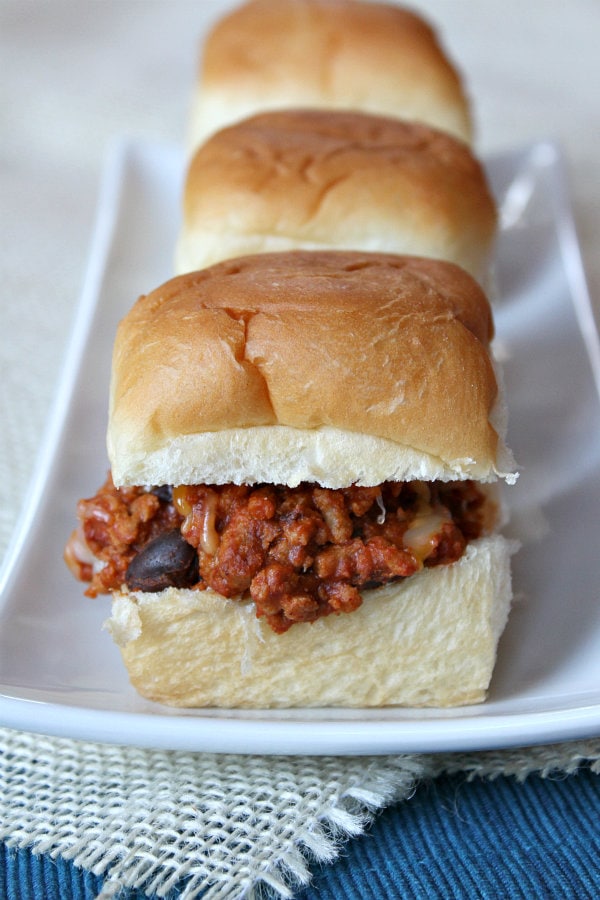 My kiddo is quite fascinated with the little soft Hawaaian rolls, so we opted for those as our slider rolls with a little cheese melted in there too.  Use any rolls you'd like, and if you'd prefer to make them bigger- it's completely okay to use burger buns instead.
If you need to keep this gluten-free, you can always serve the Sloppy Joe mixture over rice, quinoa or a baked potato too.  This is a recipe that you can feel good about feeding your family, since there are no mystery ingredients.  It's so simple to make too.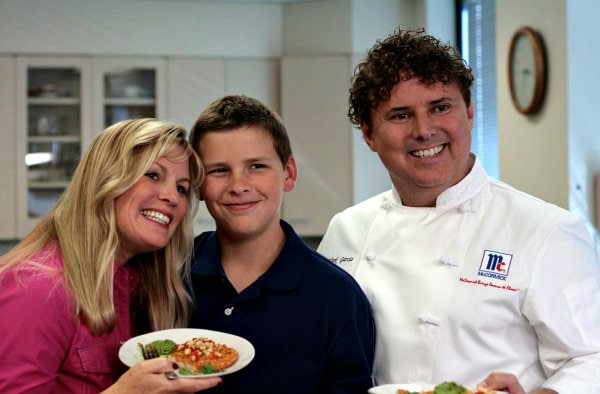 Sneak peek:  Here I am with my son Brooks (RecipeBoy.com) in the McCormick kitchens (along with Chef Mark Garcia- Director of McCormick Kitchens).
Turkey Sloppy Joe Sliders
Yield:
8 sliders (or 4 burger-sized Joe's)
Prep Time: 20 minutes
Cook Time: 20 minutes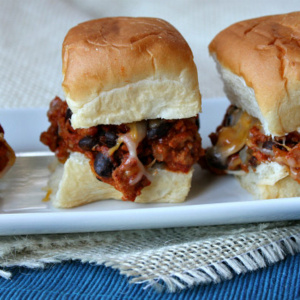 Ingredients:

1.25 pounds ground turkey (93% or 99% lean)
One 15-ounce can tomato sauce
2 tablespoons cider vinegar
1 tablespoon cornstarch
1 teaspoon smoked paprika
1 teaspoon ground cumin
1/2 teaspoon celery salt
1/2 teaspoon garlic powder
1/2 teaspoon chili powder
1/2 cup finely chopped sweet onion (1/2 medium)
1 cup canned black beans, rinsed
sliced Smoked Gouda or other cheese, optional
8 slider-sized Hawaiian rolls, cut in half (or other small rolls)

Instructions:

Spray a large skillet with nonstick spray. Heat over medium-high. Add turkey, using a spatula to break it up. Cook 4 to 5 minutes, or until cooked through.
Add tomato sauce and vinegar to the turkey. Continue to simmer over medium-high heat. In a small bowl, mix cornstarch, paprika, cumin, celery salt, garlic powder, and chili powder. Stir the spices into the turkey mixture, and continue to simmer 7 to 10 minutes, or until the sauce has reduced slightly and thickened.
Spray a small nonstick skillet with nonstick spray. Add onion and cook over medium heat until the onion begins to brown, stirring often, 4 to 5 minutes. Add 2 tablespoons of water and continue to cook until onions are softened and water has evaporated, 2 to 3 minutes.
Stir onions and beans into the turkey mixture. Divide the mixture between the slider buns. If topping with cheese, give the bottom buns with meat and cheese piled on top a quick warming under the broiler to melt the cheese. Add bun tops and serve.

Tips:

To prepare this recipe as dairy-free, leave off the cheese.
To prepare this recipe as gluten-free, just be sure to use a brand of black beans that is known to be GF, and serve the Sloppy Joe mixture over rice, quinoa or a baked potato instead of on a roll.

Nutrition:

WEIGHT WATCHERS Freestyle SmartPoints per slider (using 99% fat-free turkey, a Hawaiian roll and no cheese): 4 points
If you choose to eat the sloppy joe mixture only, or serve it over zoodles instead of inside a bun-- the point count will be ZERO points.
SOURCE: RecipeGirl.com
Disclosure: I worked with McCormick to develop this recipe.