Pork Medallions with Olive-Caper Sauce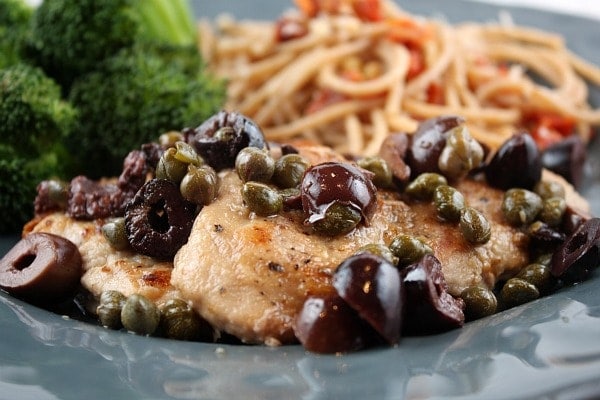 Print Recipe
PORK MEDALLIONS W/ OLIVE- CAPER SAUCE
www.RecipeGirl.com
PORK:
1 lb. pork tenderloin, trimmed
1/2 tsp. salt
1/2 tsp. black pepper
1/4 cup all-purpose flour (or a little more)
1 Tbsp. extra-virgin olive oil, divided
SAUCE:
1/2 cup dry white wine
1/2 cup fat-free, low sodium chicken broth
1/2 cup coarsely chopped pitted kalamata olives
2 Tbsp. capers
1. Prepare pork: Cut pork crosswise into 8 pieces. Place each pork piece between 2 sheets of wax paper; pound to 1/4-inch thickness using a meat mallet or rolling pin. Sprinkle both sides of pork with salt and pepper.
2. Place flour in a shallow bowl. Dredge pork in flour, turning to coat; shake off excess.
3. Heat 1/2 Tbsp. olive oil in medium nonstick skillet over medium-high heat. Add half of pork; cook 2 minutes on each side or until pork is done. Remove pork from pan; keep warm. Repeat procedure with the remaining oil and pork.
4. Prepare sauce: Add wine and broth to pan, and bring to a boil, scraping pan to loosen browned bits. Stir in olives and capers; cook 4 minutes or until slightly thick. Serve sauce over pork.
Serves: 4 (Serving size: 2 pork medallions, 2 Tbsp. sauce and 1 1/2 tsp. parsley)
Nutritional Information:
Calories:  212
Fat:  8.1g
Protein:  25.5g
Carbohydrates:  8.1g
Fiber:  .9g
Cholesterol:  74mg
Sodium: 894 mg
WW POINTS: 5
Source: Adapted from Cooking Light's Simple Suppers
One Response to "Pork Medallions with Olive-Caper Sauce"
Leave a Comment