This recipe has been featured in a post on The Recipe Girl blog: A Filling & Healthy Choice. See tips below for adapting this recipe to be gluten-free.
Yield: 8 servings (1 1/4 cups per serving)
Prep Time: 30 min
Cook Time: 60 min
Total Time: 90 min
Confetti Chili
This healthy chili recipe is more than just a pretty bowl of chili- it's filling and delicious, and best of all... it's low in calories too!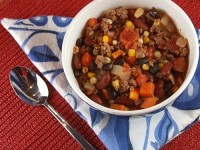 Ingredients:
1/2 Tablespoon olive oil
1 small onion, diced (1 cup)
1 medium red bell pepper, seeded & diced (1 cup)
1 medium carrot, diced (1/2 cup)- no need to peel
2 teaspoons ground cumin
1 teaspoon ground coriander
1 pound lean (90% lean or higher) ground beef
1 (28 ounce) can no-salt added crushed tomatoes, with their juices
2 cups water
1 canned chipotle chile in adobo sauce (seeded & minced), + 2 teaspoons of the sauce
1/2 teaspoon dried oregano
1 (15.5-ounce) can black beans (drained & rinsed)
1 (15.5-ounce) can kidney beans (drained & rinsed)
1 1/2 cups frozen corn kernels
salt & freshly ground black pepper to taste
Directions:
1. Heat oil in large pot over medium heat. Add onion, bell pepper and carrot; cover and cook, stirring occasionally, until softened, about 10 minutes. Add cumin and coriander and cook, stirring for 1 minute. Add ground beef; raise heat to high and cook, breaking up the meat with a spoon, until the meat is no longer pink. Stir in tomatoes, water, chipotle + adobo sauce, and oregano; bring to a boil. Reduce heat to medium-low and cook, partially covered, stirring from time to time, for 30 minutes.
2. Stir in the beans and continue cooking, partially covered, 20 minutes longer, until the chili is nicely thickened. Stir in the corn and cook until heated through. Season with salt & pepper and serve.
Tips:
*If you are preparing this recipe as GLUTEN FREE, make sure you purchase a brand of chipotles in adobo sauce that are GF. The La Costena brand is noted as gluten-free.
Nutritional Information per serving:
Serving size: 1 1/4 cups
Calories per serving: 251
Fat per serving: 4.74g
Saturated Fat per serving: 1.53g
Fiber per serving: 10.66g
Protein per serving: 21.15g
Cholesterol per serving: 35.15mg
Carbohydrates per serving: 33.43g
WW POINTS per serving:
WW Points: Points Plus 6 Old WW Program 6
Leave a Comment