Yield: 2 loaves
Prep Time: 20 min
Cook Time: 1 hr, 15 min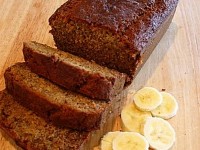 Ingredients:
4 cups all-purpose flour
1 teaspoon baking soda
2 teaspoons baking powder
1 teaspoon salt
1/2 teaspoon ground cinnamon
1 cup granulated white sugar
1 cup brown sugar, packed
1 cup butter, at room temperature
2 large eggs
2 cups mashed ripe bananas
1/2 cup + 2 Tablespoons milk
2 teaspoons vanilla extract
Directions:
1. Preheat oven to 325 degrees F. Grease and flour two 9x5" loaf pans.
2. Sift together flour, baking soda, baking powder, salt and cinnamon.
3. In a large bowl, cream sugar and butter. Beat eggs slightly, and mix into the creamed mixture with the bananas. Mix in sifted ingredients until just combined. Stir in milk and vanilla.
4. Spread batter into prepared loaf pans, and bake for 75 minutes.
Tips:
Tip from a reader: use Smart Balance 67% version instead of butter and use 1% milk.
*Nut lovers can add 1 cup of chopped walnuts when adding the milk.
3 Responses to "Best Banana Bread"
Leave a Comment