Easy Apple Cinnamon Muffins
Here's a recipe for fall mornings:  Easy Apple Cinnamon Muffins
Yield: 12 muffins
Prep Time: 15 minutes
Cook Time: 20 minutes
Easy Apple Cinnamon Muffins
Just like it says... easy... and full of yummy apple chunks.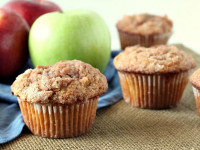 Ingredients:
MUFFINS:
1 cup all-purpose flour
1/2 cup whole wheat flour
1/2 cup granulated white sugar
1/2 cup brown sugar, packed
1/2 teaspoon salt
2 teaspoons baking powder
2 teaspoons ground cinnamon
1/3 cup vegetable or canola oil
1 large egg
1/3 cup milk
2 medium apples, peeled, cored and chopped
TOPPING:
1/4 cup granulated white sugar
2 Tablespoons all-purpose flour
2 Tablespoons butter, softened
1 teaspoon ground cinnamon
Directions:
Preheat oven to 400°F. Grease a 12-cup muffin tin or line with paper muffin liners.
In a medium bowl whisk together dry ingredients. Add oil, egg and milk and stir just until combined. Fold in apples. Divide batter between the 12 muffin cups.
In a small bowl, mix topping ingredients, blending together with a pastry cutter or fork. Sprinkle over unbaked muffins.
Bake 15 to 20 minutes, or until a toothpick inserted in center of muffin comes out clean.
Tips:
*To lighten up the recipe a bit, fill the 1/3 cup measuring cup with 1/2 applesauce and 1/2 oil. The muffins will turn out just as moist.
*This recipe may also be made with white whole wheat flour in place of traditional whole wheat flour.
SOURCE: RecipeGirl.com
19 Responses to "Easy Apple Cinnamon Muffins"
Leave a Comment