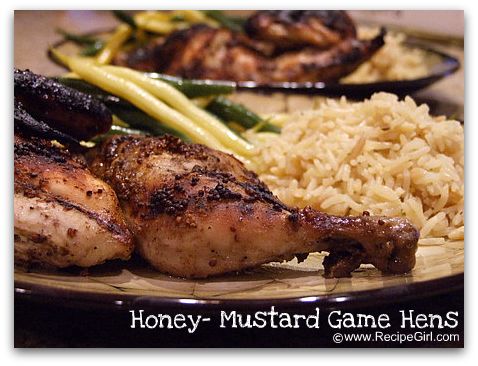 HONEY- MUSTARD GAME HENS
www.RecipeGirl.com
Three 1½-pound Cornish hens
½ tsp salt
½ tsp pepper
¼ cup course-grained mustard
2 Tbs Riesling or other dry white wine
1 Tbs honey
½ tsp pepper
¼ tsp ground mace
¼ tsp ground cloves
1. Remove and discard giblets and necks from hens. Rinse hens under cold water; pat dry. Remove skin; trim excess fat. Split hens in half lengthwise. Sprinkle salt and ½ teaspoon pepper over hen halves; set aside.
2. Combine mustard and next 5 ingredients in a small bowl; set aside.
3. Prepare grill or broiler. Place hen halves, meaty sides up, on grill rack or rack of a broiler pan coated with cooking spray; cook 15 minutes on each side or until juices run clear, basting occasionally with mustard mixture.
Servings: 6
Serving Size: 1/2 game hen
Nutrition Facts
Amount Per Serving
Calories 163.61
Calories From Fat (27%) 43.38
Total Fat 4.85g
Saturated Fat 1.03g
Cholesterol 108.75mg
Sodium 412.00mg
Potassium 346.49mg
Carbohydrates 3.95g
Dietary Fiber 0.23g
Sugar 2.88g
Net Carbohydrates 3.72g
Protein 24.78g
WW POINTS: 4
Recipe Source: Cooking Light
PRINT THIS RECIPE using your browser's 'print' function. It's automatically formatted to print recipe & picture only.
RATE THIS RECIPE[ratings]