Lightened-Up Slow Cooker Beef Stroganoff
I promise I haven't abandoned my stove. It's just that this time of year is perfect for experimenting with the 'ol slow cooker, and I've been on a bit of a streak finding some recipes worthy of crockpotting. The latest:  Slow Cooker Beef Stroganoff (a lightened up version).
Here's what you'll need: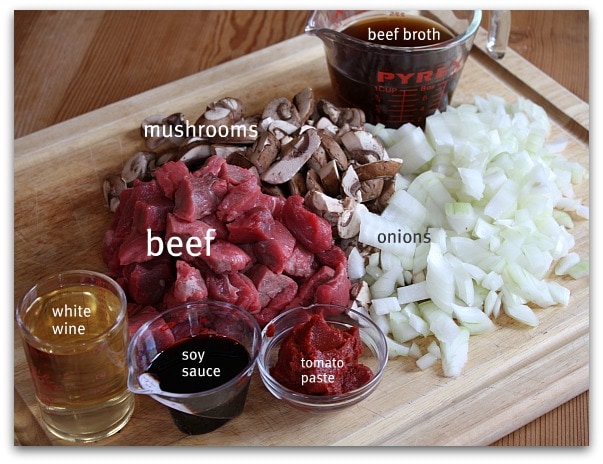 This is one of those super easy no-brainer slow cooker recipes. All of this stuff just gets dumped into the pot.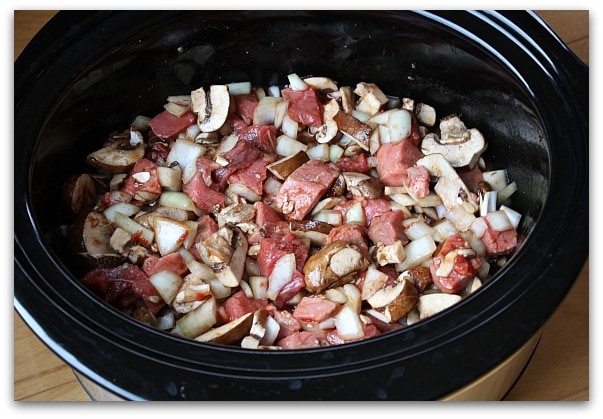 Give it a stir and let the slow cooker simmer for several hours.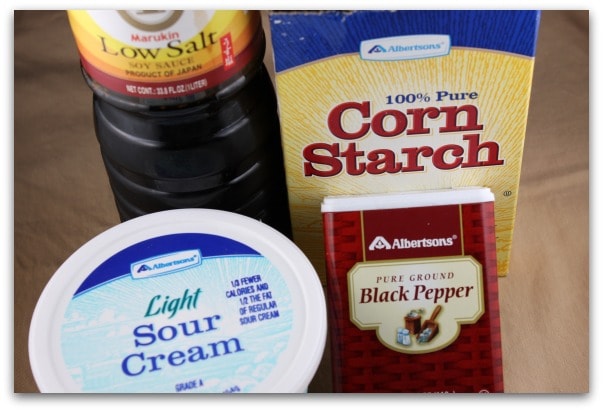 When you're just about ready for dinner, you're going to mix up the stuff that's going to make it a "stroganoff."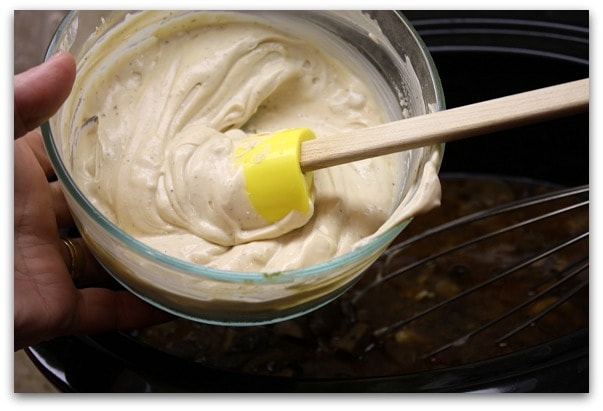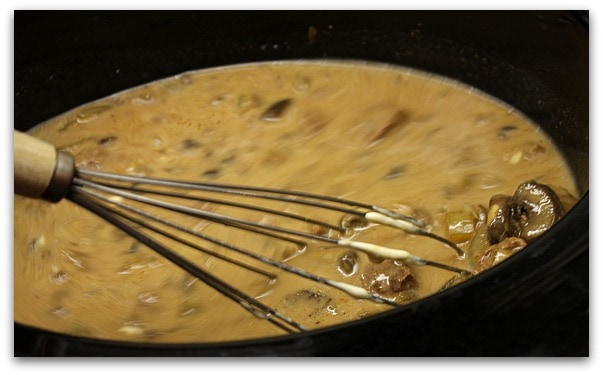 Stir it into the hot, cooked beef mixture and let the slow cooker thicken up the sauce for about 30 minutes while you make the base for your stroganoff:    egg noodles, whole wheat pasta, rice, or something else…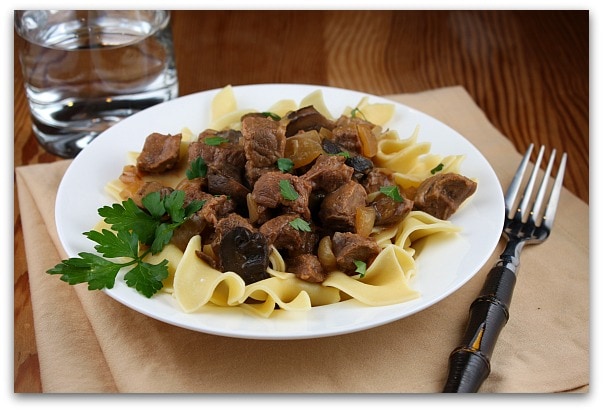 And then you'll have this! I loved that this cooked while our family was at my son's basketball game one evening last week. When I got home, I had time to finish the sauce and cook the noodles while my boys were cleaning up for dinner. It was good, hearty comfort food, and it was both light and filling. This recipe is another slow-cooker keeper (I told you I'd find a few)!
Yield: 6 servings
Prep Time: 20 min
Cook Time: 5 hr, 30 min
Slow Cooker Beef Stroganoff
This dish is gluten-free adaptable- please see notes at the end of the recipe.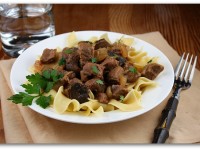 Ingredients:
1 1/2 pounds beef chuck steak, trimmed & cut into 1/2-inch cubes
1 pound sliced cremini mushrooms
2 small onions, finely chopped
2 Tablespoons tomato paste
1 cup low-sodium beef broth
1/2 cup white wine
4 Tablespoons low-sodium soy sauce, divided
1 cup reduced-fat sour cream
2 Tablespoons cornstarch
1/4 teaspoon black pepper
cooked egg noodles, whole wheat pasta or rice, for serving
chopped Italian parsley, for garnish (optional)
Directions:
1. Combine beef, mushrooms, onions, tomato paste, broth, wine and 3 Tablespoons soy sauce in the bowl of a slow cooker. Cover and cook on HIGH for 4 hours or on LOW for 6 hours, or until beef is tender.
2. In a small bowl, stir together sour cream, remaining 1 Tablespoon soy sauce, cornstarch and black pepper; whisk into the hot meat mixture and cook an additional 30 minutes or until sauce has thickened slightly. Serve over pasta or rice and garnish with parsley, if using.
Tips:
*To prepare this recipe as GLUTEN FREE, be sure to use GF beef broth and soy sauce, and serve over GF pasta or rice.
Nutritional Information per serving: (meat only- count pasta or rice separately)
Serving size: 1/6th of the recipe
Calories per serving: 246
Fat per serving: 8g
Saturated Fat per serving: 3g
Fiber per serving: 1g
Protein per serving: 26g
Cholesterol per serving: 78mg
Carbohydrates per serving: 1g
WW POINTS per serving:
Points Plus Program: 6 Old Points Program: 5
More crockpot recipes on the blogs that look worthy of trying:
Super Garlic Chicken Legs for the Slow Cooker by Dine and Dish
Chicken Fajitas in the Crockpot by Kalyn's Kitchen
Crockpot Curry with Coconut Milk by Gluten Free Goddess
Healthy Butternut Squash Crockpot Chili by Jersey Bites
Crockpot Jambalaya by Food Renegade
26 Responses to "Lightened-Up Slow Cooker Beef Stroganoff"
Leave a Comment