This Baked Pasta recipe utilizes whole wheat pasta, ground turkey and plenty of cheese.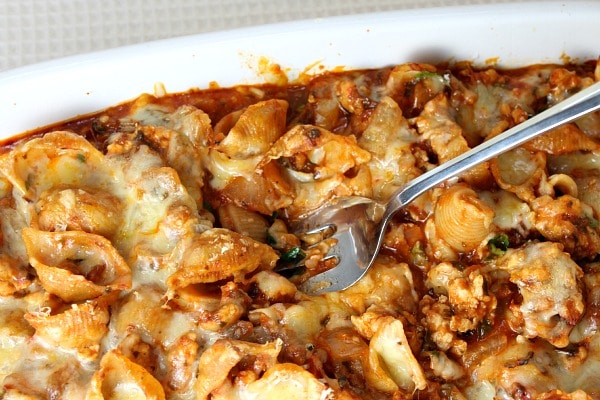 There's an old saying in our house… "If there is nothing for dinner, then pasta is what's for dinner." Seriously, sometimes I get caught at 5 o'clock without any plans to feed my family a good dinner, and pasta is an acceptable fallback. I try to keep things like ground beef, turkey and sausage in the freezer, jars of marinara and different varieties of pasta in the pantry, some veggies in the crisper, and plenty of cheese in the much-loved cheese drawer. If I have these basics available, whipping up a quick pasta meal is not a problem.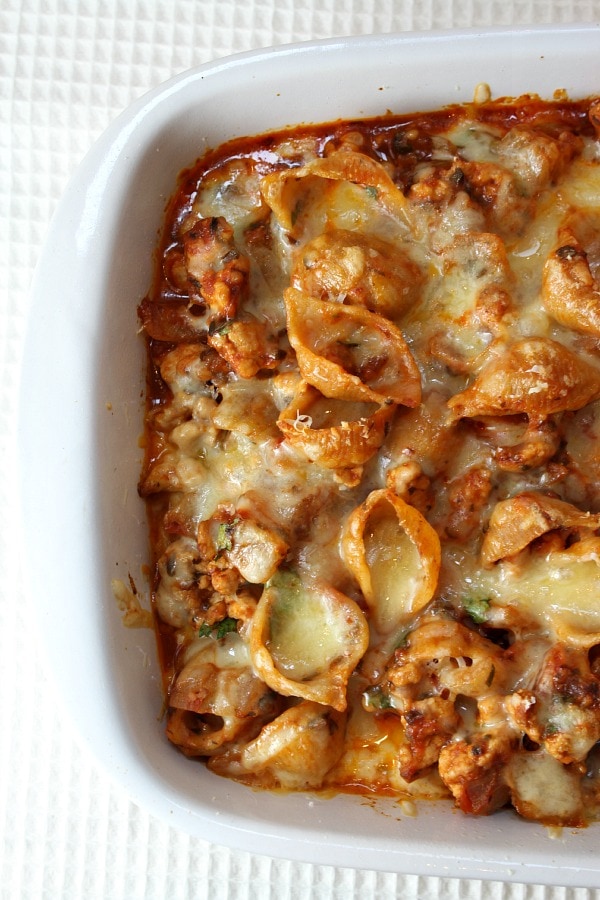 My friend Maria from the blog Two Peas and Their Pod recently shared a brand of whole wheat pasta with me that she loves: Delallo. I hadn't tried it before (my boys usually say they don't care much for whole wheat pasta) so I picked up their whole wheat shells at my local market and decided to give them a shot.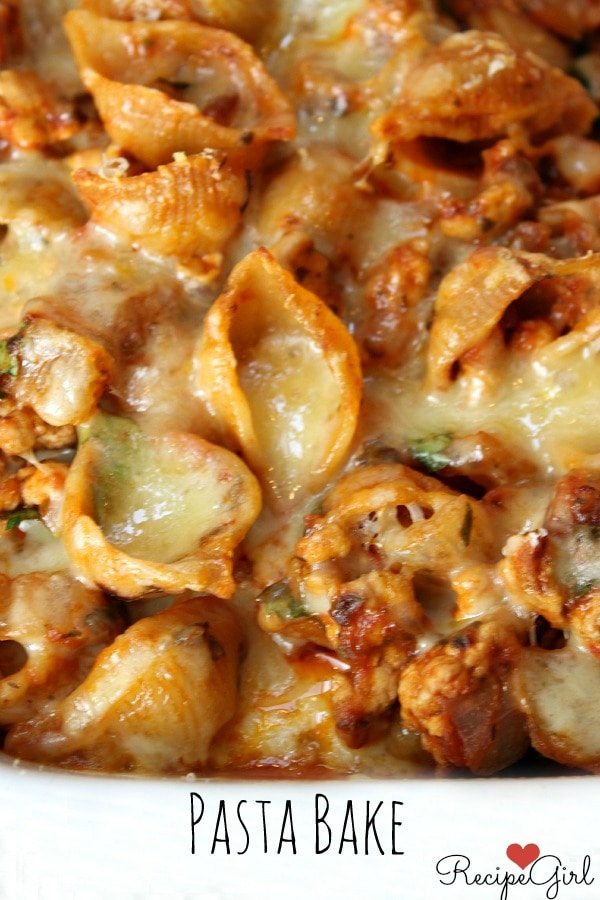 It turns out the whole wheat shells worked perfectly in this recipe- combined with sauteed onions, ground turkey, marinara and a very flavorful Monterey Jack cheese. I asked my boys if they liked the pasta, and they actually said that they LOVED the pasta. Then I broke the news that it was whole wheat. They enthusiastically agreed that I can make Delallo whole wheat pasta for them any time. I'm so happy I found this brand. Oh yeah, and this isn't a sponsored post or anything, I'm just sharing a brand that you might like to try too.
Cheesy Turkey Baked Pasta

Yield: 4 generous servings

Prep Time: 20 min

Cook Time: 20 min

Ingredients:

1 tablespoon olive oil
1 medium onion, chopped
2 large garlic cloves, minced
1/4 teaspoon red pepper flakes
3/4 pound ground turkey (10% fat)
4 cups cooked whole wheat pasta shells (see *Tips below)
2 1/2 cups marinara sauce (bottled or homemade)
1/4 cup chopped fresh parsley
1 1/2 cups shredded Monterey Jack cheese (divided)
1/4 cup grated fresh Parmesan cheese

Directions:

1. Preheat the oven to 375 degrees F. Spray a 3-quart casserole dish with nonstick spray.

2. In a large pan, heat the oil over medium-heat and add onion, garlic and red pepper flakes. Saute until onions have softened, about 4 minutes. Crumble in the ground turkey and cook until the turkey is browned, about 5 minutes. Stir in the pasta, marinara sauce, parsley and 1 cup of the cheese. Spoon the pasta mixture into the prepared dish. Sprinkle remaining 1/2 cup of cheese on top and the Parmesan cheese too.

3. Bake until cheese is melted and bubbly, about 20 minutes.

Tips:

*I'm not always such a fan of whole wheat pasta, but I really like the Delallo Foods brand- we used their whole wheat shells for this recipe. Delallo is in select stores, but you can always find it at Whole Foods Market.
*4 cups of cooked pasta equates to about 2 cups dried.
*Use a good cheese for this recipe- I used a very flavorful Monterey Jack. Sometimes Jack can be quite mild. You can also use Swiss, Provolone or Mozzarella (or a blend!)