Filet Mignon with Mushroom- Cabernet Sauce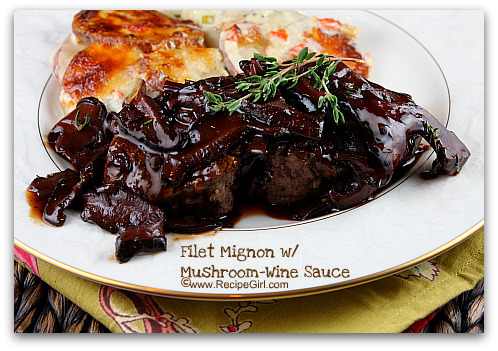 FILET MIGNON W/ MUSHROOM- CABERNET SAUCE
www.RecipeGirl.com
MUSHROOM SAUCE:
1 tsp. butter
2 Tbsp. finely chopped shallots
1/4 lb. fresh shiitake mushrooms, stems removed
1/2 cup Cabernet Sauvignon
1/3 cup beef broth
STEAKS:
1 tsp. butter
Two 4-ounce filet mignon steaks (about 1-inch-thick)
1/2 Tbsp. low-sodium soy sauce
1 tsp. cornstarch
1/4 cup Cabernet Sauvignon
1/2 cup beef broth
1/2 tsp. dried thyme
fresh thyme sprigs for garnish, optional
1. Prepare mushroom sauce: Melt butter in a nonstick skillet over medium heat. Add shallots and mushrooms; saute for 4 minutes. Add wine and beef broth; cook for 5 minutes, stirring frequently. Remove mushrooms with a slotted spoon; place in a bowl. Increase heat to high, cook wine mixture until reduced to about 1/4 cup (about 5 minutes). Add to mushrooms in bowl; set aside. Wipe pan with a paper towel.
2. Prepare filets: Sprinkle pepper over steaks. Melt butter in pan over medium heat. Add steaks; cook 3 minutes on each side. Reduce heat to medium-low; cook 1 1/2 minutes on each side or until desired degree of doneness. Use an instant read thermometer if you have one- Place on a platter; keep warm.
3. Combine soy sauce and cornstarch in a small bowl; set aside. Add wine and beef broth to the skillet; scrape skillet to loosen browned bits. Bring to a boil; cook 1 minute. Add mushroom mixture, cornstarch mixture, and dried thyme; bring to a boil, and cook 1 minute, stirring constantly. Serve sauce with steaks. Garnish with thyme sprigs, if desired.
Serves: 2
Source: Adapted from Cooking Light
PRINT THIS RECIPE using your browser's 'print' function. It's automatically formatted to print recipe & picture only.
RATE THIS RECIPE[ratings]
2 Responses to "Filet Mignon with Mushroom- Cabernet Sauce"
Leave a Comment