This recipe is featured in a menu on the site- Sicilian Dinner Party. This dish is gluten-free adaptable– please see notes below the recipe.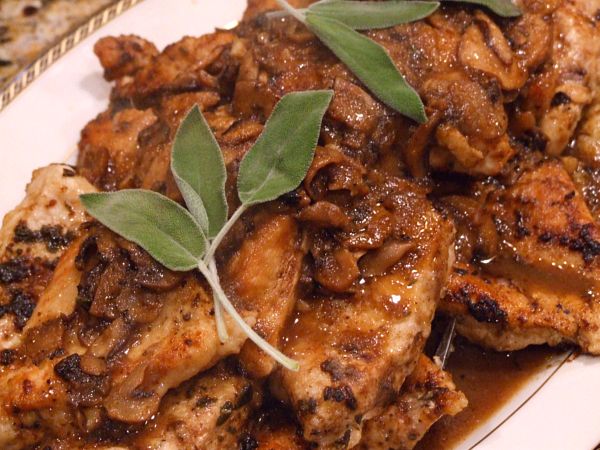 Yield: 4 servings
Prep Time: 35 min
Cook Time: 25 min
Chicken Marsala
Really great chicken recipe. Turns out really moist, and we love the sauce.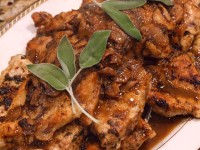 Ingredients:
4 halves skinless, boneless chicken breast, each sliced in half horizontally
all-purpose flour
6 Tablespoons (3/4 stick) butter
1 Tablespoon chopped fresh sage
1 cup dry Marsala
1 cup low-sodium chicken broth
fresh sage leaves, for garnish (optional)
Directions:
1. Sprinkle chicken with salt and pepper. Dust with flour; shake off excess.
2. Melt 3 Tablespoons of butter in a large skillet over medium-high heat. Add chopped sage; sauté 1 minute. Add half of the chicken. Sauté until brown and cooked through, about 3 minutes per side.
3. Transfer chicken to platter. Repeat with remaining butter and chicken. Tent platter with foil to keep chicken warm.
4. Add Marsala and broth to skillet; bring to boil, scraping up any browned bits. Boil until sauce is reduced to 1/2 cup, about 10 minutes. Season with salt and pepper; spoon over chicken. Garnish with fresh sage leaves; serve.
Tips:
*If you are preparing this recipe as GLUTEN FREE, just be sure to use a brand of chicken broth that is designated as gluten free. And use GF flour in place of all-purpose.
One Response to "Chicken Marsala"
Leave a Comment