Fresh thyme is perfect for this Apple Thyme Chicken.
Herbs can grow outdoors year round here in Southern California. I have good luck with sage, mint, rosemary, lavender, chives & thyme. They all grow like weeds, and I feel so sustainable when I'm able to utilize what is growing on our land. The thyme happens to be planted right underneath an area where our main sprinkler systems are housed. The inevitable dribble helps keep the thyme healthy and growing.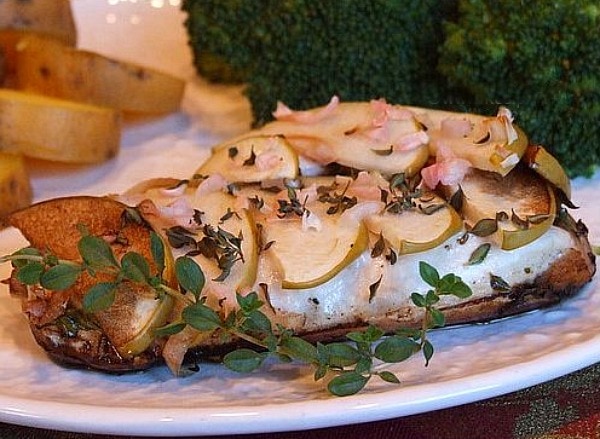 This wonderfully simple recipe is perfect for a lower fat, lower calorie dinner.   The chicken breasts are simply salted & peppered, covered with sliced apples, and drizzled with balsamic vinegar and a sprinkle of fresh thyme & shallots.
The apples ooze a bit of their juices during baking, and that mixes with the balsamic for a small amount of syrupy sauce to spoon over the chicken before serving.
The chicken remains tender and moist- as long as it's not overbaked.  I like to plug in a remote meat thermometer and pull it out at 165 degrees F.  Baking time should be 20 to 30 minutes, depending on the thickness of your chicken breasts.  If you pound out the breasts so that they're a similar thickness, they'll cook more evenly and will all be done at the same time.
This one was a big hit with the family because, well… who doesn't like apples?  Baked sliced sweet potatoes and steamed broccoli round out this easy dinner.  The chicken is 270 calories and counts as 1 Weight Watchers Freestyle SmartPoint.
Yield: 4 servings
Prep Time: 15 minutes
Cook Time: 30 minutes
Apple Thyme Chicken
Apples and balsamic pair nicely to make this very flavorful chicken dish...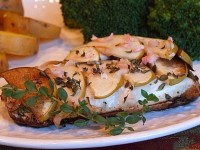 Ingredients:
4 large boneless skinless breasts (about 2 pounds)
butter flavored cooking spray
salt & pepper to taste
1 medium Granny Smith apple, cored & very thinly sliced
1 minced shallot
1 tablespoon fresh thyme leaves
1/4 cup balsamic vinegar
Directions:
Preheat oven to 375 degrees F. Lightly spray 9x13" dish with cooking spray.
Rinse chicken breasts and pat dry. Sprinkle chicken with salt and pepper. Place in a single layer in the prepared dish.
Arrange apple slices over and around chicken. Sprinkle with shallot and thyme; pour balsamic vinegar on top.
Bake for 20 to 30 minutes, until chicken is opaque throughout; cut to test.
Arrange chicken on platter and spoon apples and juices on top. Garnish with fresh thyme, if desired. Serve immediately.
Tips:
1 teaspoon dried thyme may be substituted for 1 Tablespoon fresh.
Pounding out the chicken breasts so that they're a bit more even in thickness assures more even cooking.
Nutritional Information per serving (Serving size:

1 chicken breast) 

Calories:

270, 

Fat:

3g, 

Saturated Fat:

.75g, 

Sugar:

3.25g, 

Fiber:

.75g, 

Protein:

52.5g, 

Cholesterol:

131mg, 

Carbohydrates:

5.7g

WEIGHT WATCHERS POINTS per serving: Freestyle SmartPoints: 1, Points Plus Program: 6, Old Points Program: 6
SOURCE: RecipeGirl.com
Here are a few more chicken recipes you might enjoy:
Comments