Olive and Goat Cheese Spread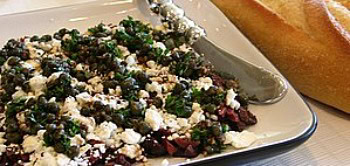 Olive and Goat Cheese Spread
Serves: 6 Prep Time: 15 minutes, plus marinating time
I was delightfully surprised how wonderful this recipe turned out. My guests devoured this very quickly!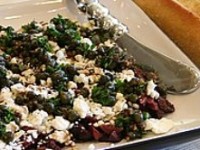 Ingredients:
1 cup kalamata olives, chopped
4 ounces goat cheese
1/2 Tablespoon dried oregano
1 Tablespoon freshly chopped Italian parsley
1 large clove garlic, minced
2 Tablespoons capers
3 Tablespoons extra-virgin olive oil
1 Tablespoon balsamic vinegar
fresh ground pepper to taste
Directions:
1. On a serving plate, crumble goat cheese over olives and set aside.
2. In another bowl, whisk remaining ingredients together to make dressing. Pour the dressing over the goat cheese and olives and let marinate at room temperature for at least an hour to allow the flavors to blend.
Leave a Comment