This recipe has been featured in a post on The Recipe Girl blog: St. Patrick's Day Recipes.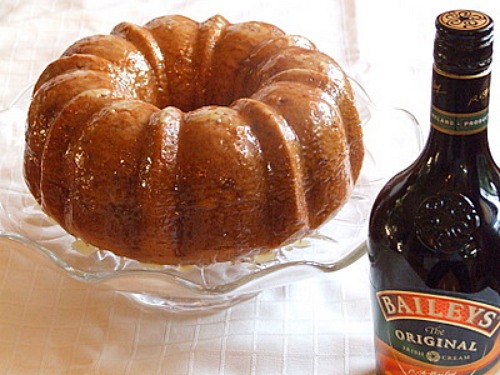 Yield: 12 servings
Prep Time: 15 min
Cook Time: 1 hour
Irish Cream Bundt Cake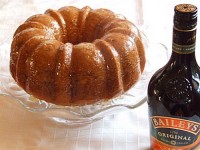 Ingredients:
CAKE:
1 cup chopped pecans
1 package yellow cake mix
3.4oz. package instant vanilla pudding mix
4 large eggs
1/4 cup water
1/2 cup vegetable or canola oil
3/4 cup Irish Cream liqueur
GLAZE:
1/2 cup (1 stick) butter
1/4 cup water
1 cup granulated white sugar
1/4 cup Irish Cream liqueur
Directions:
1. Preheat oven to 325°F. Grease and flour 10-inch bundt pan. Sprinkle chopped nuts evenly over bottom of pan.
2. In a large bowl, combine cake and pudding mixes. Add eggs, water, oil and liqueur. Beat for 5 minutes at high speed. Pour batter over nuts in pan.
3. Bake 60 minutes, or until a toothpick inserted in center of cake comes out clean. Cool for 10 minutes in the pan.
4. Prepare glaze while cake is cooling in pan. Combine butter, water and sugar in small saucepan. Bring to a boil and continue boiling for 5 minutes, stirring constantly. Remove from heat and stir in Irish Cream.
5. Invert cake onto serving dish. Prick top and sides of cake. Spoon glaze over top and brush onto sides of cake. Allow to absorb glaze; repeat until all glaze is used.
7 Responses to "Irish Cream Bundt Cake"
Leave a Comment