Foster's Market Blueberriest Muffins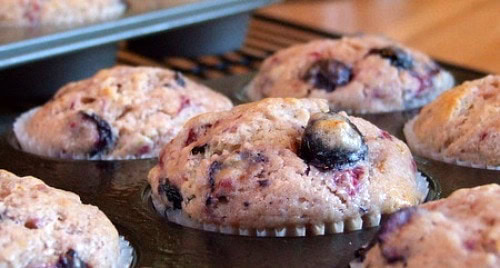 Yield: 20 to 24 regular-sized muffins
Prep Time: 25 min
Cook Time: 25 min
Foster's Market Blueberriest Muffins
This one is on my list of "favorite muffins ever."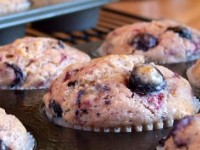 Ingredients:
3 cups all-purpose flour
1 cup white granulated sugar
2 teaspoons baking powder
1/2 teaspoon salt
1 teaspoon ground cinnamon
1/2 cup (1 stick) unsalted butter, melted
3 large eggs
3/4 cup milk
grated zest and juice of one lemon
2 1/2 cups fresh (or frozen) blueberries
Directions:
1. Preheat oven to 375°F. Line 24 large muffin cups with paper liners and spray the top part of the pan lightly with vegetable oil spray.
2. Combine or sift together flour, sugar, baking powder, salt and cinnamon in large bowl.
3. Whisk together butter, eggs, milk, lemon zest, and lemon juice in a separate bowl until well combined.
4. Place 1 cup of the blueberries in the bowl of a food processor fitted with a metal blade and pulse several times until coarsely chopped. Stir the chopped berries into the egg mixture.
5. Add the egg mixture to the flour mixture and stir just until the dry ingredients are moist and blended (do not over mix). Fold in remaining whole blueberries.
6. Scoop the batter into the prepared muffin tins with a large ice cream scoop. The batter should come to the top of the paper liner or pan.
7. Bake 25 to 30 minutes (shorter if using regular-sized muffin tins), until golden brown and a toothpick inserted in the center comes out clean.
8. Remove from oven and cool for about 5 minutes before turning muffins out of the pan. Serve warm or at room temperature.
Tips:
*If using frozen blueberries, use them while they're still frozen; it helps hold the shape of the muffin (otherwise, the batter will become too watery).
*Sub raspberries, blackberries or strawberries for some of the blueberries in the recipe to make a mixed-berry muffin.
Leave a Comment