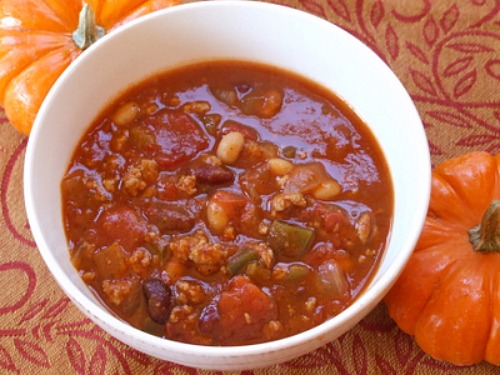 Yield: 8 servings
Prep Time: 20 min
Cook Time: 1 hr
Turkey- Pumpkin Chili
Nice recipe for a cold day! We serve this chili with shredded sharp cheddar sprinkled on top. Melted and yummy!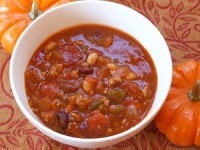 Ingredients:
1 pound lean ground turkey
3/4 cup chopped onions
1/2 cup chopped green bell peppers
2 cloves garlic, minced
2 (14.5 ounce) cans diced tomatoes, with liquid
1 (15 ounce) can pure pumpkin pureé
1 (15 ounce) can kidney beans, with liquid
1 (15 ounce) can Great Northern beans, with liquid
1 (15 ounce) can tomato sauce
1 (4 ounce) can diced green chiles
2 teaspoons ground chili powder
1 1/2 teaspoons ground cumin seed (or more to taste)
1 teaspoon salt
1/2 teaspoon ground black pepper
1 1/2 teaspoons oregano
1/2 cup water
Directions:
1. Brown meat in large pot. Remove meat and place on paper towels to remove excess fat. Wipe any remaining fat from the pot and coat pot with cooking spray.
2. Sauté onion, bell pepper and garlic; sauté until tender. Return meat to pot. Add all remaining ingredients and stir to combine. Simmer 30 minutes to 1 hour. If chili is too thick for you, add more water, and adjust seasonings as needed.
Tips:
Nutritional Information per serving:
Serving size: Recipe divided into 8 equal portions
Calories per serving: 276
Fat per serving: 6g
Saturated Fat per serving: 1.5g
Sugar per serving: 4g
Fiber per serving: 5.25g
Protein per serving: 20g
Cholesterol per serving: 45mg
Carbohydrates per serving: 39g
WW POINTS per serving:
Points Plus Program: 7 Old Points Program: 7
3 Responses to "Turkey- Pumpkin Chili"
Leave a Comment