This recipe has been featured in a post on The Recipe Girl blog: Summer Muffin Recipes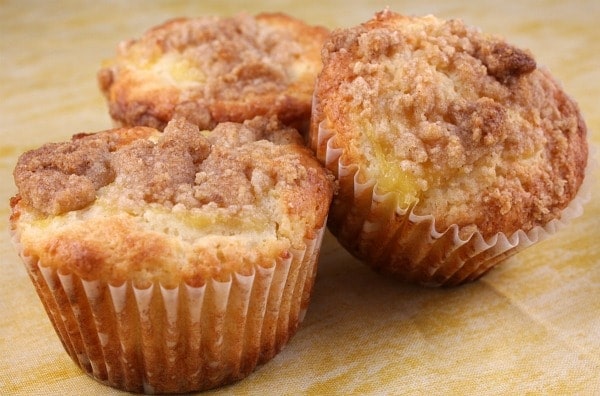 Yield: 12 muffins
Prep Time: 15 min
Cook Time: 25 min
Pineapple Muffins
These are a fresh and wonderful breakfast muffin. The pineapple is not overwhelming... it adds a wonderful, sweet flavor with a delicious crumbly topping too.
Ingredients:
MUFFINS:
2 cups all-purpose flour
1/2 cup granulated white sugar
1 Tablespoon baking powder
1/2 teaspoon salt
1 (8-ounce) can crushed pineapple (save the juice)
1 large egg
3/4 cup milk (nonfat is fine)
1/4 cup butter, melted
TOPPING:
1/4 cup butter, melted
1/4 teaspoon ground cinnamon
1/3 cup (packed) brown sugar
1/2 cup all-purpose flour
Directions:
1. Preheat oven to 375 degrees F. Grease 12 muffin tins or line with paper liners.
2. In a large bowl, whisk together flour, sugar, baking powder and salt. Drain pineapple (reserving 1/4 cup juice- also reserve about 2 Tablespoons of the pineapple to add to the tops of the muffins). Add bulk of pineapple, reserved juice, egg, milk, and butter to the dry ingredients; stir just until combined. Use an ice cream scoop to divide the batter among the 12 muffin cups (that's the easiest way to do it... or just spoon it in). Sprinkle a little bit of the reserved, crushed pineapple onto the tops of each one.
3. In a small bowl, combine topping ingredients. Sprinkle the crumbled topping onto each muffin.
4. Bake 25 to 30 minutes, or until a toothpick inserted into the center of a muffin comes out clean.
16 Responses to "Pineapple Muffins"
Leave a Comment