These Pineapple Muffins are one of my favorite muffin recipes. Spotting pineapple in a muffin isn't super ordinary, and that's what I love about them. They're perfectly sweet and tropical!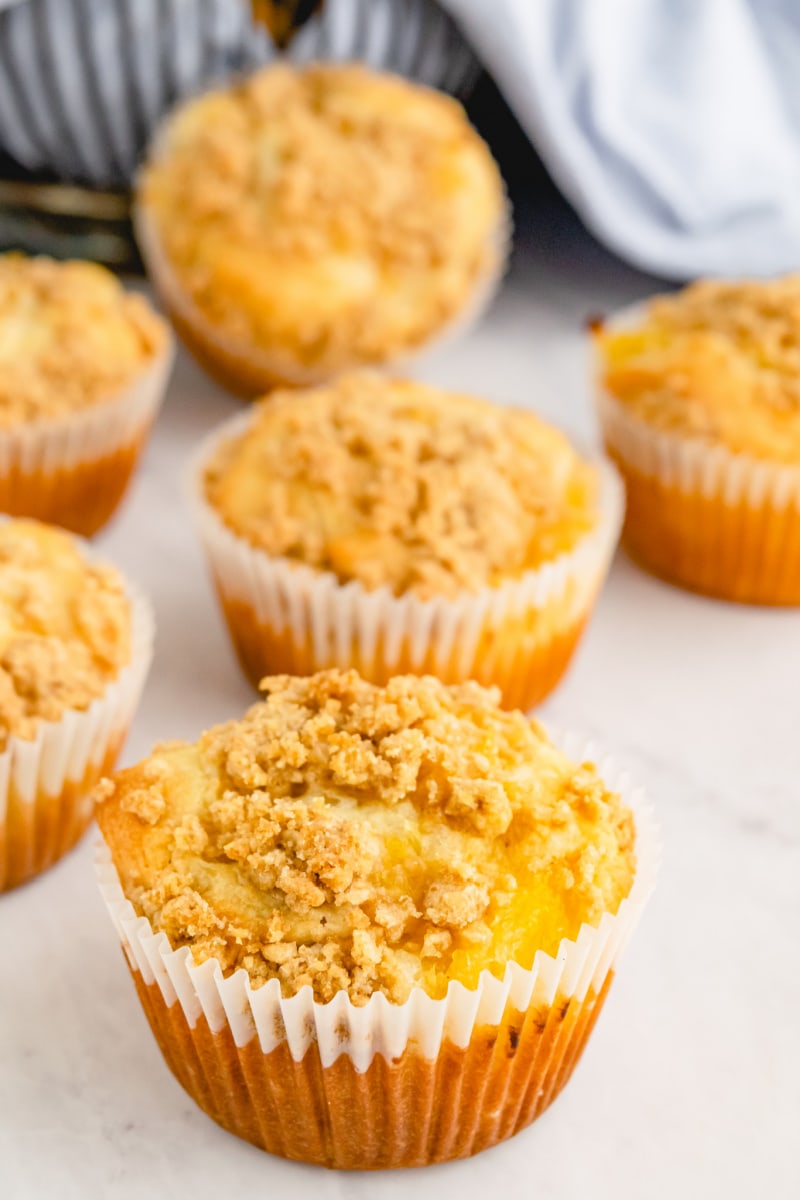 Muffins make the best sort of grab-and-go breakfast meal. And it's nice that they're individually proportioned so you're getting a treat but you don't overdo it. You don't see Pineapple Muffins for sale all that often unless you're in a tropical place. If you enjoy pineapple, you'll probably like having a little pineapple in this sweet muffin recipe.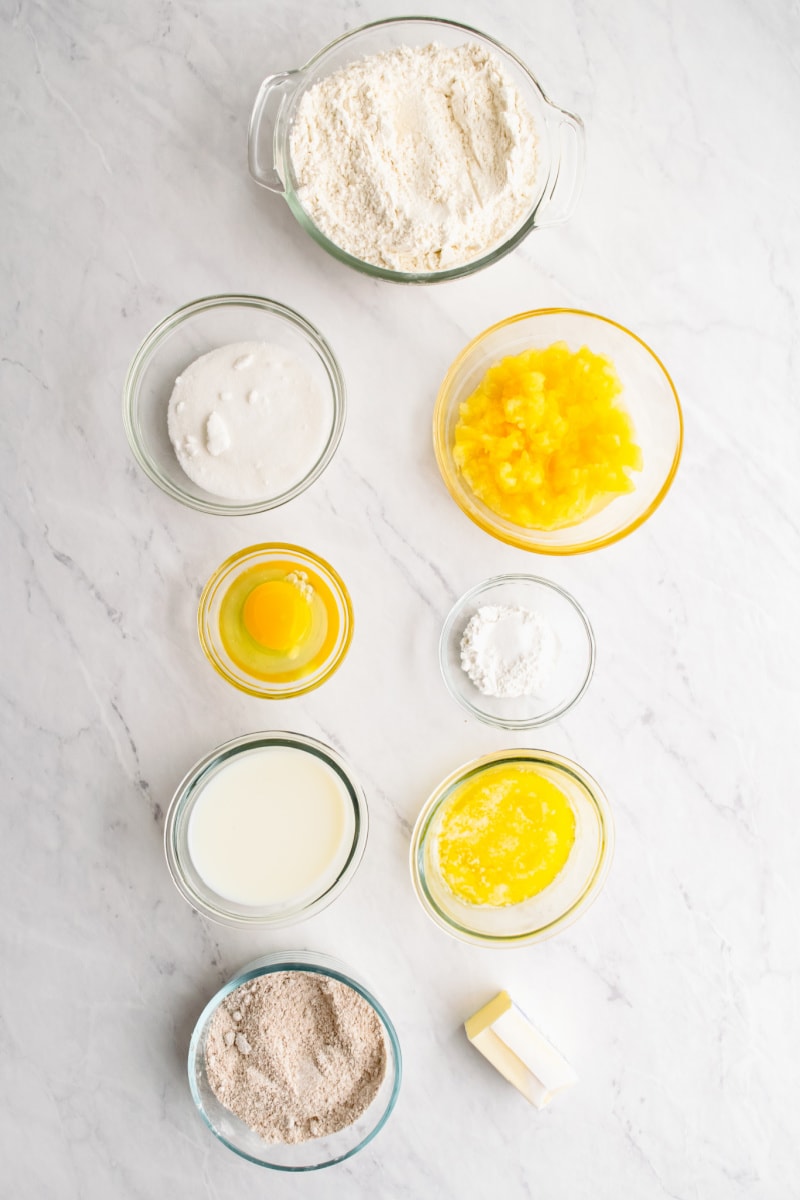 Ingredients needed:
all-purpose flour
granulated white sugar
brown sugar
baking powder
cinnamon
canned crushed pineapple
egg
milk
butter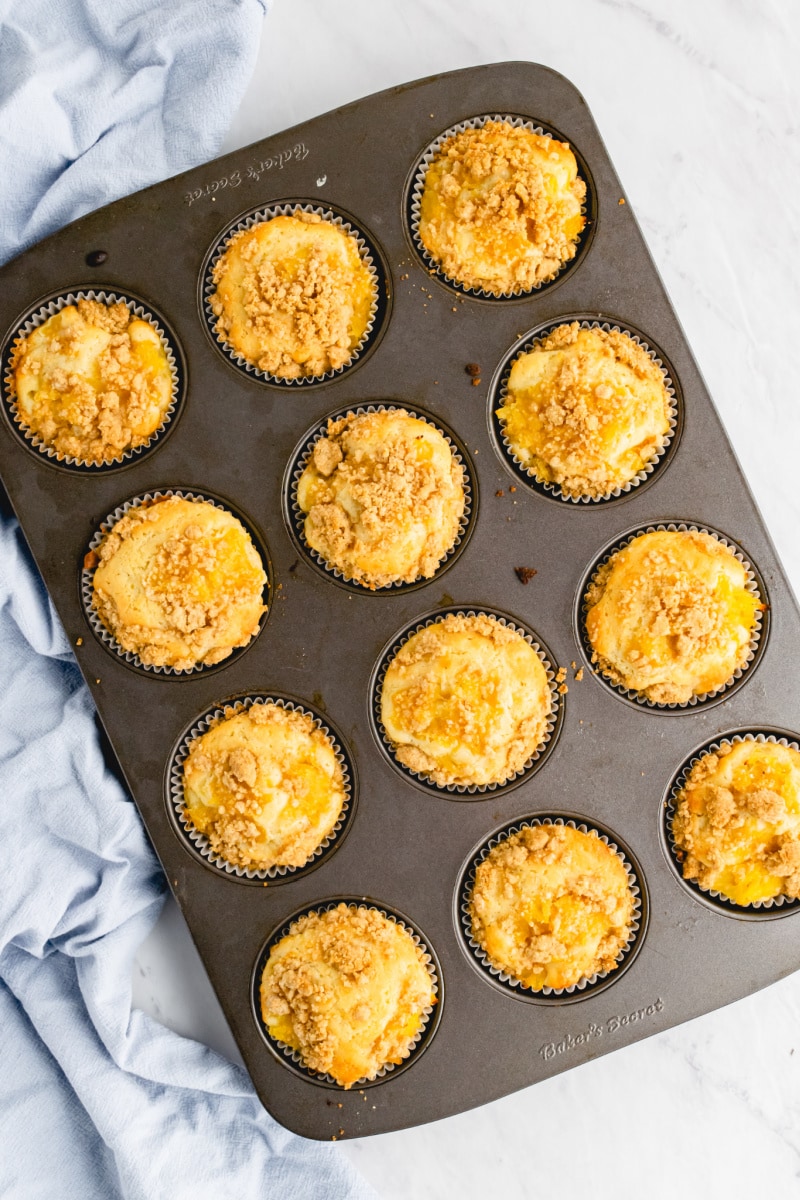 How to make Pineapple Muffins:
Drain an 8-ounce can of crushed pineapple, saving 1/4 cup of the juice and setting aside 2 tablespoons of the pineapple.
Whisk together the dry ingredients (flour, sugar, baking powder and salt) in one bowl. In another bowl, combine the bulk of the pineapple, the pineapple juice, milk, egg and melted butter. Stir the wet ingredients into the dry ingredients.
Scoop or spoon the batter into the muffin tin. Divide the batter evenly between 12 muffin cups. Spoon a little of the reserved pineapple on top of each cup of muffin batter.
Combine the topping ingredients, and cut the butter in to create a crumbly mixture. Spoon the topping on each muffin cup. Bake 25 to 30 minutes- until cooked through.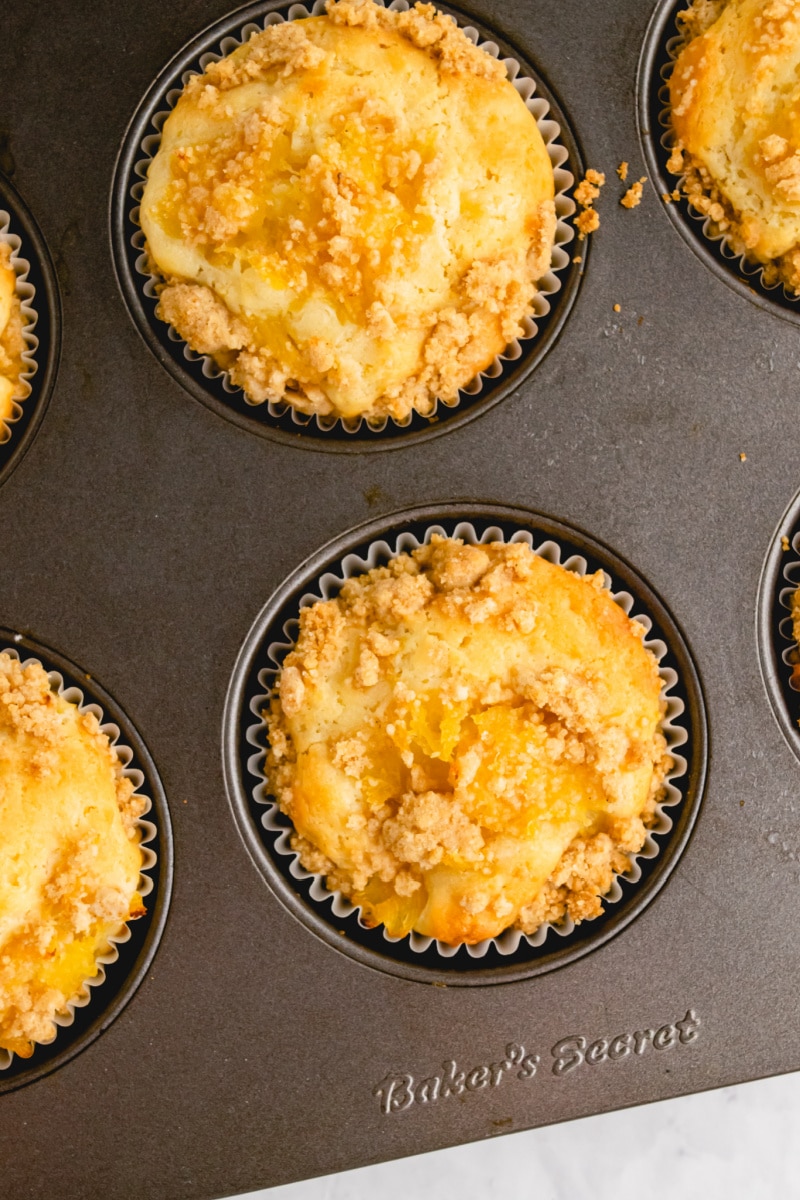 The Best Muffin Pans:
The Wilton Perfect Results Muffin Pans are my favorite. The muffins pop right out of the pans without sticking. I have two of them, which can make 24 muffins or cupcakes. It's completely up to you whether or not you'd like to use paper liners.
NOTE: I use a springform scoop to evenly distribute the Pineapple Muffins batter into the muffin pans. It's so easy to just scoop and release. There is less mess, and it's easier to scoop the batter in there evenly so all of the muffins will be similar in size.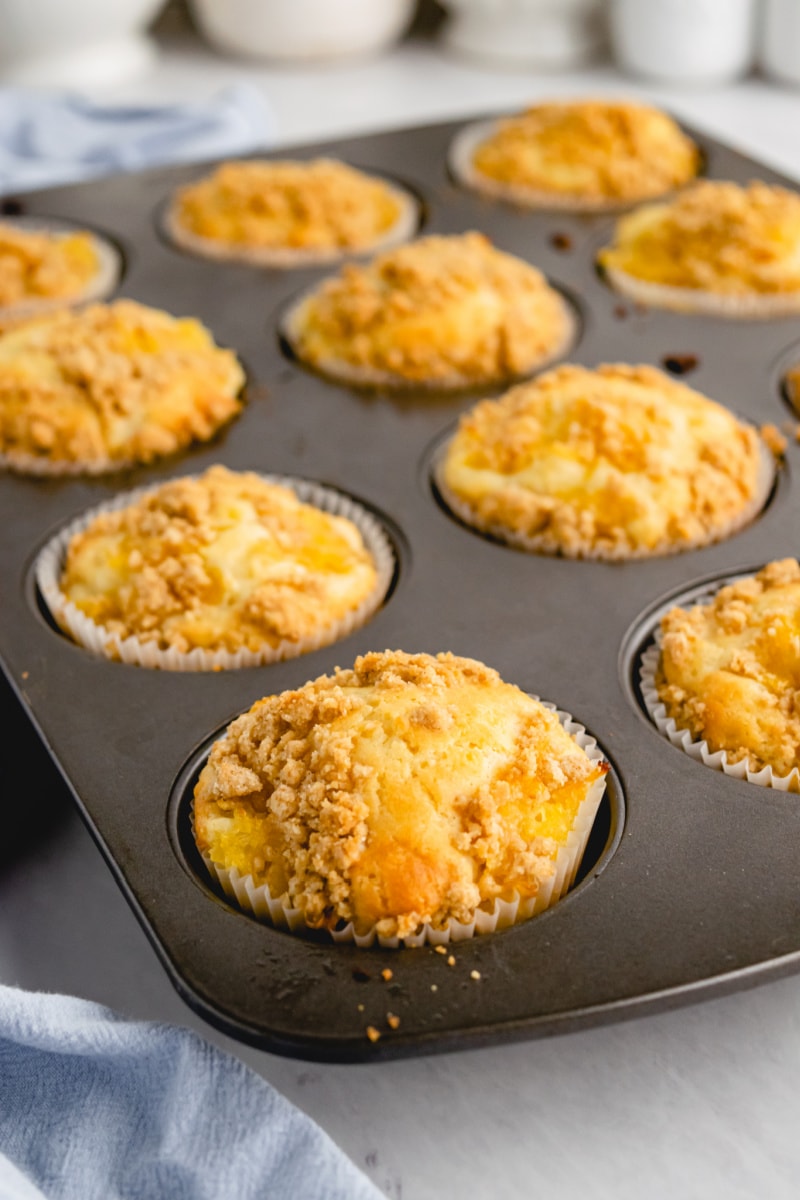 What's the best way to store muffins?
Cool your Pineapple Muffins completely before storing them. Store muffins in a single layer in a sealed container or large zip baggie. Line the container or baggie with a paper towel before adding the muffins, and then put another paper towel on top of the muffins. Breads and muffins tend to release moisture as they age, so paper towels help to absorb that excess moisture. You definitely don't want soggy muffins!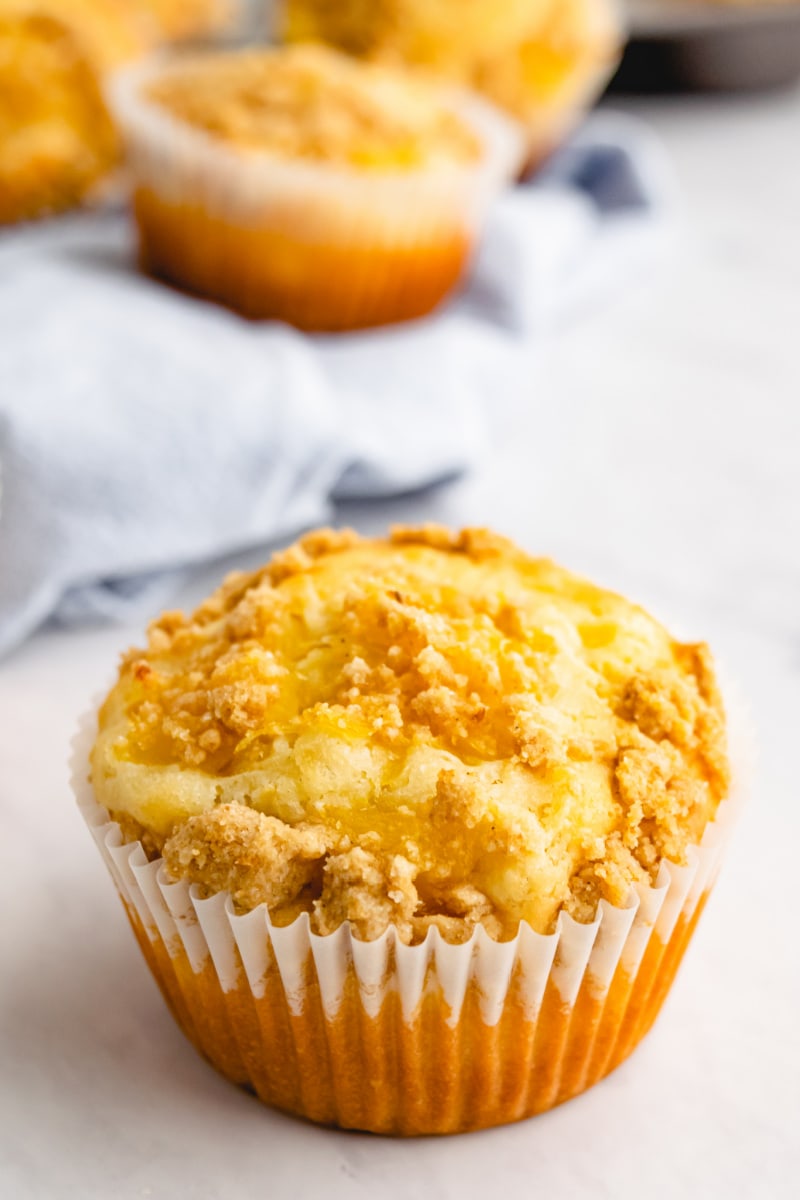 These Pineapple Muffins are delicious and tender muffins. The pineapple is such a delicious and different flavor for a muffin. They have a tropical vibe. You might also like to try my Orange Mini Muffins or my Lemon Pound Cake Muffins. Enjoy!
Pineapple Muffins
These are a fresh and wonderful breakfast muffin. The pineapple is not overwhelming. It adds a wonderful, sweet flavor with a delicious crumbly topping too.
Recipe Details
Ingredients
MUFFINS:
2

cups

all purpose flour

½

cup

granulated white sugar

1

tablespoon

baking powder

½

teaspoon

salt

One

8-ounce can

crushed pineapple

(save the juice)

¾

cup

milk

1

large

egg

¼

cup (½ stick)

butter,

melted
TOPPING:
½

cup

all purpose flour

⅓

cup

packed brown sugar

¼

cup (½ stick)

cold butter

¼

teaspoon

ground cinnamon
Instructions
Preheat the oven to 375 degrees F. Spray 12 muffin tins with nonstick spray, or line with paper liners.
PREPARE THE MUFFINS:
In a large bowl, whisk together the flour, sugar, baking powder and salt. Drain the pineapple (reserving ¼ cup juice- also reserve about 2 tablespoons of the pineapple to add to the tops of the muffins). Add the bulk of the pineapple, reserved ¼ cup juice, milk, egg and butter to the dry ingredients; stir just until combined. Use an ice cream scoop to divide the batter among the 12 muffin cups (that's the easiest way to do it... or just spoon it in). Sprinkle a little bit of the reserved, crushed pineapple onto the tops of each one.
PREPARE THE TOPPING:
In a small bowl, combine the topping ingredients- cutting the butter into the dry ingredients to create a crumbly mixture. Sprinkle the crumbled topping onto each muffin.

Bake 25 to 30 minutes, or until a toothpick inserted into the center of a muffin comes out clean.
Nutrition
Serving:
1
muffin
,
Calories:
245
kcal
,
Carbohydrates:
38
g
,
Protein:
4
g
,
Fat:
9
g
,
Saturated Fat:
5
g
,
Trans Fat:
1
g
,
Cholesterol:
37
mg
,
Sodium:
183
mg
,
Potassium:
193
mg
,
Fiber:
1
g
,
Sugar:
18
g
,
Vitamin A:
310
IU
,
Vitamin C:
2
mg
,
Calcium:
79
mg
,
Iron:
1
mg