Here's a quick loaf recipe that's a little bit different:  Pineapple Zucchini Bread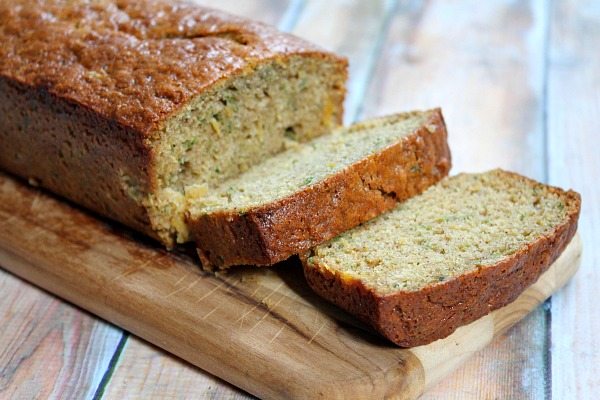 Every time I go to the store (which is pretty much every other day), I buy a large bunch of bananas.  The thought is that we'll eat them, naturally.  But in reality, 3 of the 6 bananas end up becoming brown-spotted.  One hint of brown on a banana, and no one in my family is going to eat it, so I end up using those browned bananas in banana bread or muffins.  Or I mash them up and store them in the freezer for later use.
As fabulous as it is, one can only eat so much banana bread.  So today's post is focused on trying something new.  I still have bananas on my counter becoming perfectly over-ripened, but I opted to make a Pineapple-Zucchini Bread instead.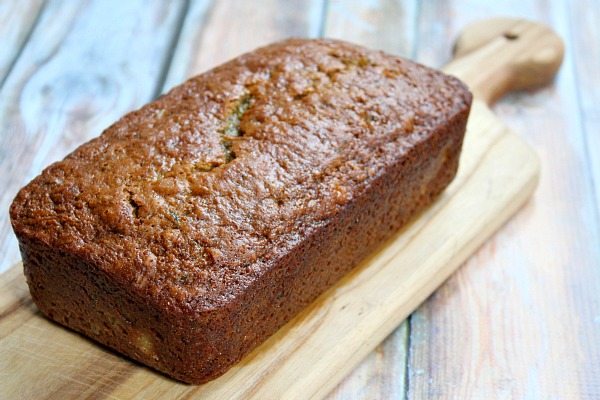 I must take a moment to note here that my 12-year old son absolutely HATES zucchini… with a passion.  When I put sauteed zucchini on his dinner plate, he protests greatly and has to hide it in his other food to get it down his throat.  The kid just does not like zucchini.
He watched me make this bread with major skepticism.  To my surprise, he wanted to taste it the next morning.  HE LOVED IT!  My zucchini-hating son loved this zucchini bread.  I thought that was pretty cool.  In fact, the kid could not stop eating it.  Good thing the recipe makes two loaves.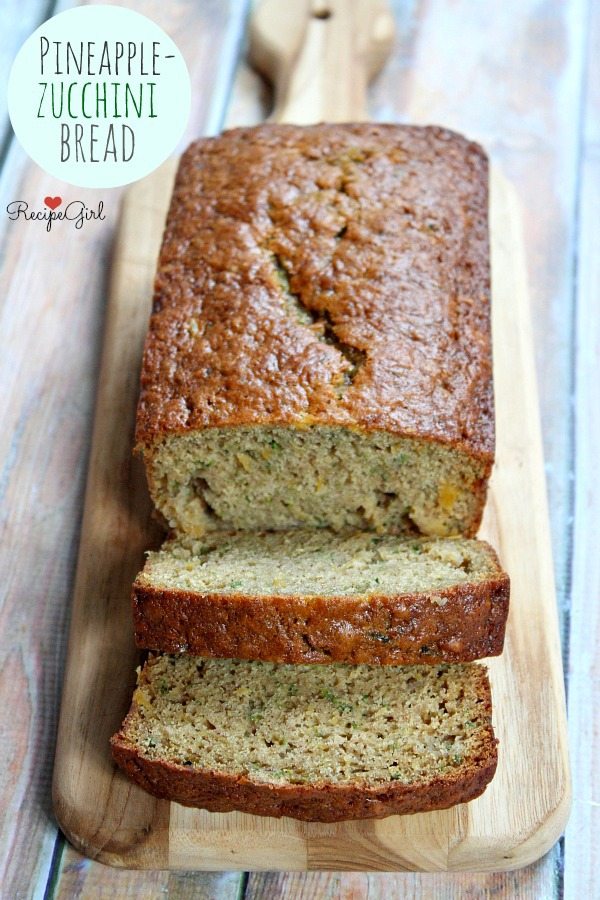 In this recipe, I opted to grate the zucchini finely- rather than use the regular cheese-grater size grate.  I thought that worked well.  Glaze was an option I considered, but really the bread is perfectly delicious on its own… especially when warmed slightly and smeared with real butter.
Set aside the ripe bananas and make this bread instead.  The kids might actually eat it!
Yield: Two 8x4-inch loaves
Prep Time: 15 minutes
Cook Time: 55 minutes
Pineapple Zucchini Bread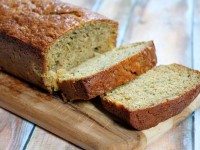 Ingredients:
3 cups all-purpose flour
2 teaspoons baking soda
1/2 teaspoon baking powder
1 1/2 teaspoons ground cinnamon
1 teaspoon ground allspice
1 teaspoon salt
3 large eggs
1/2 cup unsweetened applesauce
1/4 cup vegetable or canola oil
3/4 cup packed brown sugar
3/4 cup granulated white sugar
2 teaspoons vanilla extract
2 1/2 cups shredded zucchini
One 8.5-ounce can crushed, unsweetened pineapple in its own juice, drained
Directions:
Place the oven rack in the middle position and preheat the oven to 350 degrees F. Spray two 8x4-inch loaf pans with nonstick spray.
In a medium bowl, whisk together the flour, baking soda, baking powder, cinnamon, allspice and salt.
In a large bowl, whisk together the eggs, applesauce, oil, sugars, and vanilla. Stir in the zucchini and pineapple. Then stir in the dry ingredients, a little at a time, just until the batter is moistened and incorporated. Don't over-mix.
Divide the batter between the two prepared loaf pans. Bake 50 to 60 minutes, or until the edges pull away slightly from the sides of the pan and a toothpick inserted in the center comes out clean. Let the bread cool in the pans for at least 20 minutes before removing them to a wire rack to cool completely. This bread will keep well at room temperature for up to three days.
7 WEIGHT WATCHERS Freestyle SmartPoints per slice (each loaf cut into 8 slices).
Here are a few more zucchini bread recipes you might enjoy:
Comments