Chewy Molasses- Spice Cookies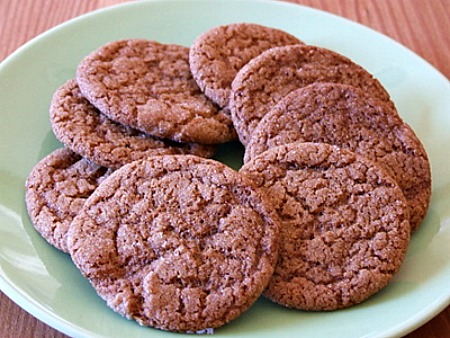 Yield: 3 dozen cookies
Prep Time: 25 min
Cook Time: 10 min
Chewy Molasses- Spice Cookies
I love these cookies and could easily eat them all myself!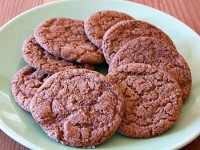 Ingredients:
2 cups all-purpose flour
1 1/2 teaspoons baking soda
1 teaspoon ground cinnamon
1/2 teaspoon ground nutmeg
1/2 teaspoon salt
1 1/2 cups granulated white sugar, divided
1 1/2 sticks unsalted butter, softened
1 large egg
1/4 cup molasses
Directions:
1. Preheat oven to 350°F. In a medium bowl, whisk flour, baking soda, cinnamon, nutmeg, and salt. In a shallow bowl, place 1/2 cup sugar; set aside.
2. With an electric mixer, beat butter and remaining cup of sugar until combined. Beat in egg and then molasses until combined. Reduce speed to low; gradually mix in dry ingredients, just until a dough forms.
3. Pinch off and roll dough into balls, each equal to 1 Tablespoon. Roll balls in reserved sugar to coat.
4. Arrange balls on baking sheets, about 3 inches apart. Bake, one sheet at a time, until edges are just firm, 10-15 minutes (cookies can be baked two sheets at a time, but they will not crackle uniformly). Cool 1 minute on baking sheets; transfer to racks to cool completely. Store in an airtight container, 3 to 4 days.
Source: RecipeGirl.com (via Everyday Food)
One Response to "Chewy Molasses- Spice Cookies"
Leave a Comment