Chocolate Chip Carrot Cake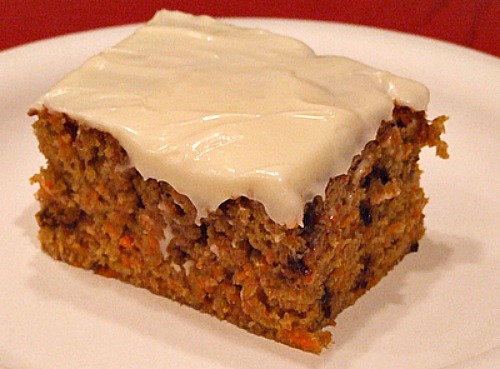 Yield: One 13x9-inch cake
Prep Time: 30 min
Cook Time: 35 min
Chocolate Chip Carrot Cake
Delicious combination of carrot cake with a bit of chocolate flavor. The mini-chips are key as they distribute the flavor throughout instead of taking over the flavor.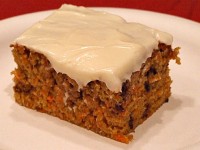 Ingredients:
CAKE:
2 1/2 cups all-purpose flour
1 1/2 teaspoons baking powder
1 teaspoon baking soda
1 1/2 teaspoons ground cinnamon
1/2 teaspoon ground nutmeg
1/4 teaspoon ground ginger
1 teaspoon salt
1 pound (about 6 medium) carrots
1 cup granulated white sugar
1 cup packed light brown sugar
4 large eggs
1 1/2 cups canola or vegetable oil
1/2 teaspoon vanilla extract
1/2 teaspoon almond extract
1 cup mini chocolate chips
1 cup chopped walnuts or sliced almonds, toasted (optional)
FROSTING:
One 8-ounce package cream cheese, at room temperature
1/4 cup (1/2 stick) salted butter, at room temperature
1 teaspoon vanilla extract
1 1/2 cups powdered sugar
Directions:
1. Preheat the oven to 350°F. Spray 13x9-inch pan with cooking spray.
2. Whisk together the flour, baking powder, baking soda, cinnamon, nutmeg, ginger and salt in a large bowl.
3. Shred the carrots in a food processor (or by hand). Add the carrots to the flour mixture.
4. In a large bowl, combine the white and brown sugars and eggs and use electric hand mixer to blend together. Add oil and extracts and mix until well blended and emulsified, about 30 seconds. Scrape into the bowl with the carrots and flour mixture. Stir by hand until well mixed. Fold in the chips and nuts, if using. Scrape into the prepared baking pan.
5. Bake 35 to 40 minutes, until a toothpick inserted in the center of the cake comes out clean. Cool in the pan on a rack.
6. To make frosting, combine cream cheese, butter and vanilla in a large bowl & mix with electric hand mixer until blended. Scrape down the work bowl, add the powdered sugar, and keep mixing until smooth. Spread on the cooled cake.
Leave a Comment