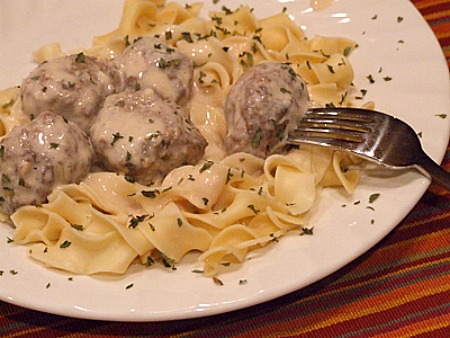 Yield: 6 servings
Prep Time: 40 min
Cook Time: 30 min
Swedish Meatballs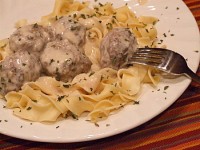 Ingredients:
1 pound ground beef (85% lean)
1/2 pound ground pork
3/4 cup breadcrumbs
1/4 cup milk
1 large egg
1 small onion, chopped
1/2 teaspoon salt
1/4 teaspoon ground nutmeg
1/4 teaspoon pepper
3 Tablespoons all-purpose flour
3/4 cup water
1 cup half and half cream
1 teaspoon beef bouillon
1/2 teaspoon salt
hot, cooked egg noodles (or boiled potatoes)
parsley for garnish
Directions:
1. Preheat oven to 350 degrees F.
2. In large bowl, mix beef, pork, breadcrumbs, milk, egg, onion, 1/2 teaspoon salt, nutmeg and pepper. Shape mixture into 1-inch balls. Place meatballs in ungreased jelly-roll pan. Bake, uncovered, for about 20 minutes (until light brown). Remove meatballs to serving dish; keep warm.
3. Place 3 Tablespoons of the meatball drippings into a saucepan. Stir in flour. Cook over low heat, stirring constantly, until mixture is smooth and bubbly; remove from heat. Stir in water, half and half, bouillon and 1/2 teaspoon salt. Heat to boiling, stirring constantly. Boil and stir for 1 minute.
4. Pour gravy over meatballs; sprinkle with fresh parsley.
5. Serve meatballs over hot, cooked noodles or alongside boiled potatoes.
Tips:
*When shaping meatballs, dip hands into cold water to prevent the meat from sticking to your hands.
6 Responses to "Swedish Meatballs"
Leave a Comment