Swedish Meatballs are made in a creamy, delicious sauce and are most often served over egg noodles.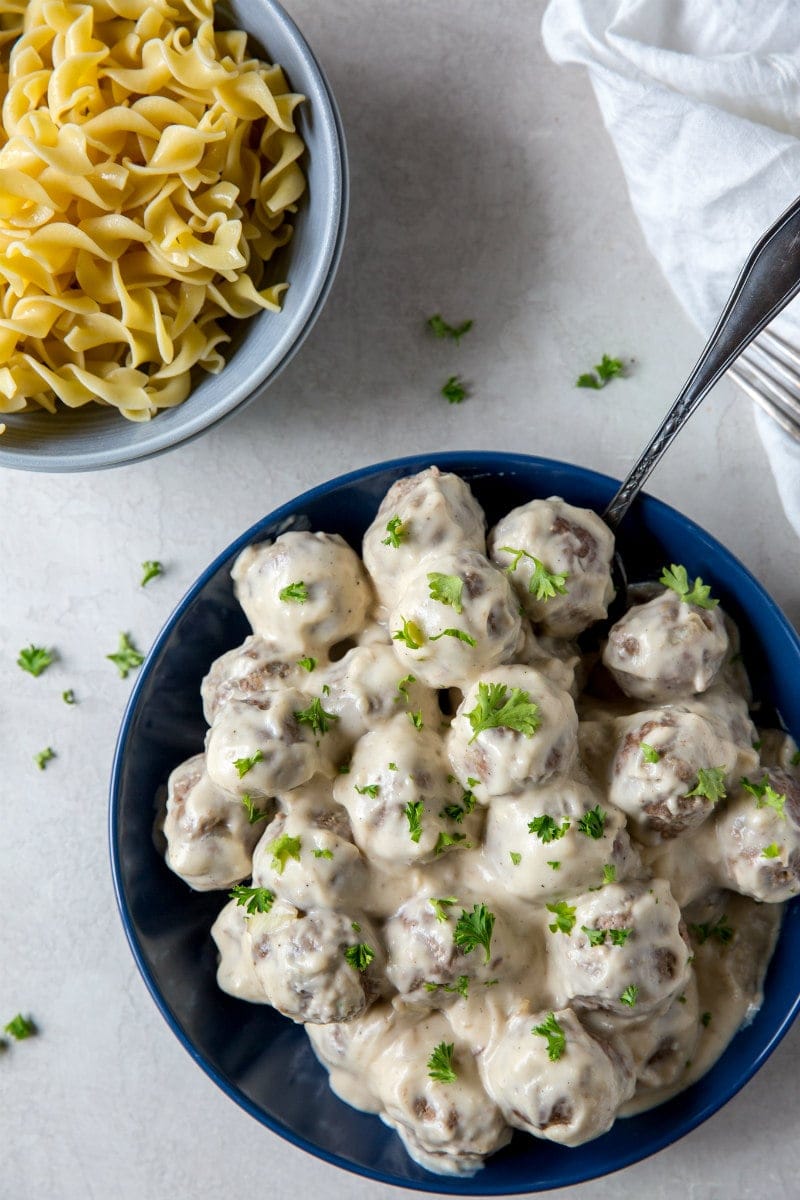 My Dad always claimed he was 100% Swedish. I think he was darn-near close to that, but when I did my DNA research on 23 and me… it appears that Dad may have been more Finnish than Swedish. Maybe my Swedish ancestors settled in Finland… or we were actually Finnish and settled in Sweden, and that's why the DNA is showing up that way? It's hard to know.
In any case, Dad embraced the Swedish culture in every way. He was stubborn (stubborn Swede), he threw out Swedish phrases now and then, he was an extremely hard worker and he played just as hard, and he loved good 'ol down-home comfort food like Swedish Meatballs. This is Dad's recipe for Swedish Meatballs, which I'm assuming he picked up from my Swedish grandmother. Grandma used to make the most awesome Swedish Butter Cookies too!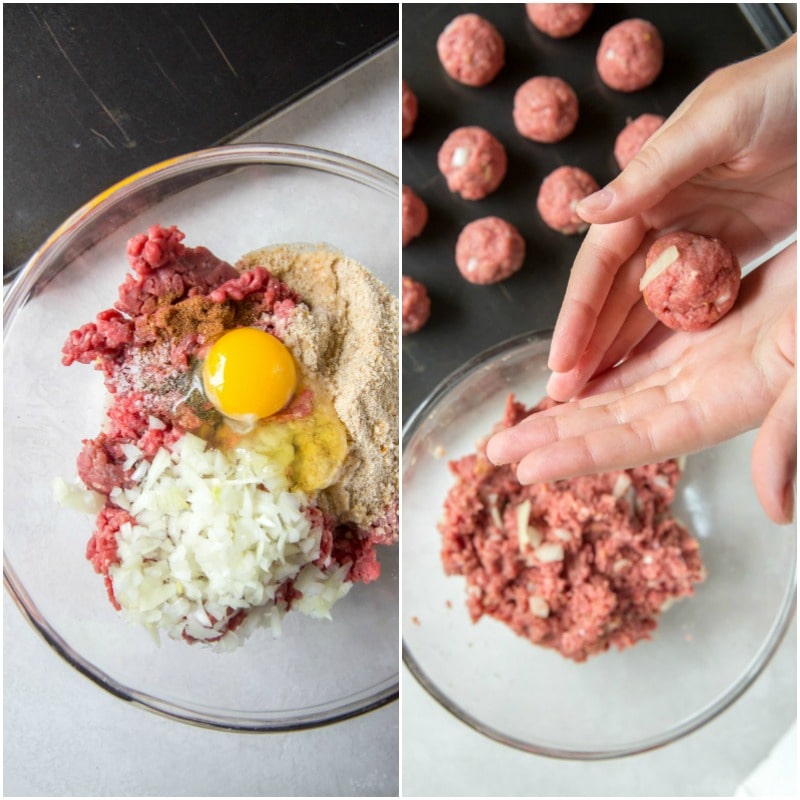 About Swedish Meatballs:
There is a saying that no dish is more typically Swedish than Swedish Meatballs. If you ask a Swede where you can get the best Swedish Meatballs, the answer is likely to be, "My Grandmother's house!" Everyone and their grandmother makes the best meatballs in Sweden!
In their most traditional form Swedish meatballs, known as köttbullar, are made of ground pork and beef, cream, egg and onion, and are served with creamy mashed potatoes, a thick, brown gravy, lingonberry jam and pickled cucumber. This recipe follows a pretty traditional way of making the meatballs, though I don't serve them in the traditional way.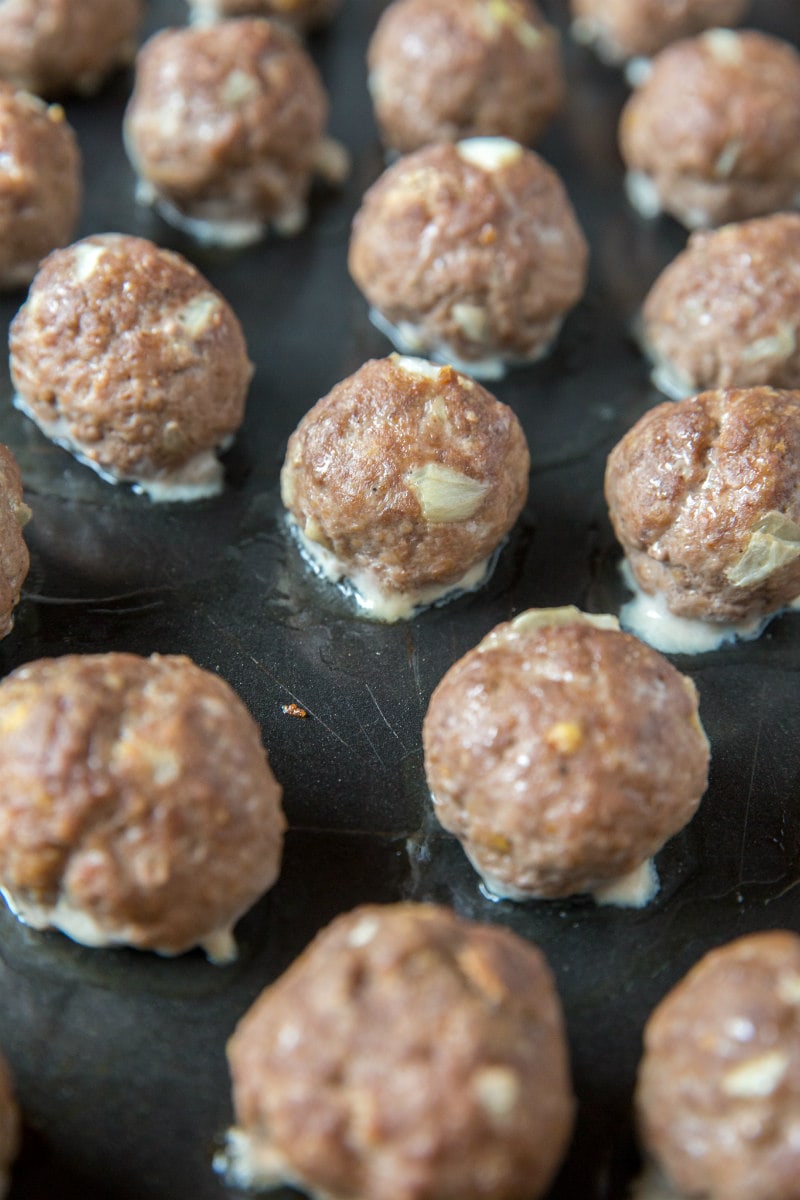 How to make Swedish Meatballs:
To prepare the meatballs, I use a combination of beef, pork, breadcrumbs, milk, egg, onion, salt, pepper and nutmeg. It's important not to use a leaner version of ground beef than 85% lean because you're going to want the drippings from the meatballs to use in the sauce. These ingredients are all combined and shaped into meatballs. The meatballs are baked until lightly browned and cooked through.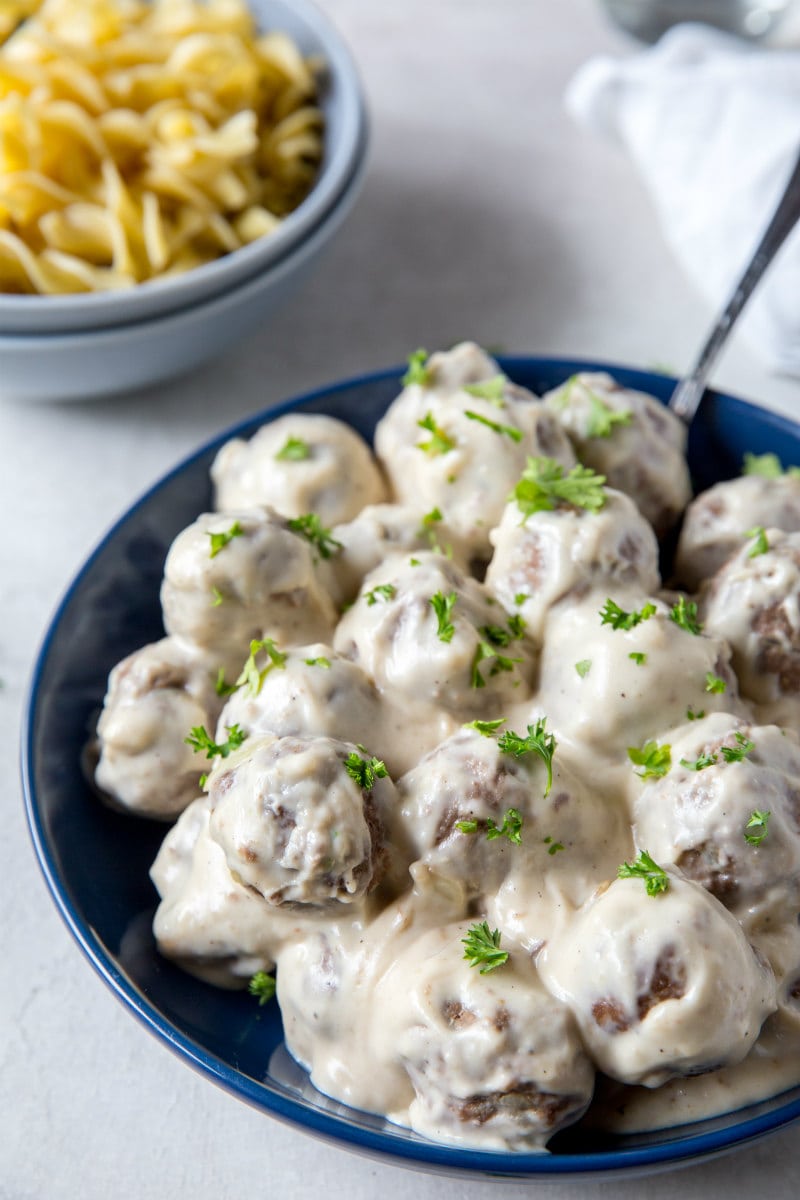 For the sauce, remove the meatballs from the baking sheet and scrape all meatball drippings into a saucepan. If you don't have enough drippings, you can use a little butter instead. Whisk in flour, cream, water, beef bouillon and salt. Stir and let simmer until the sauce has thickened.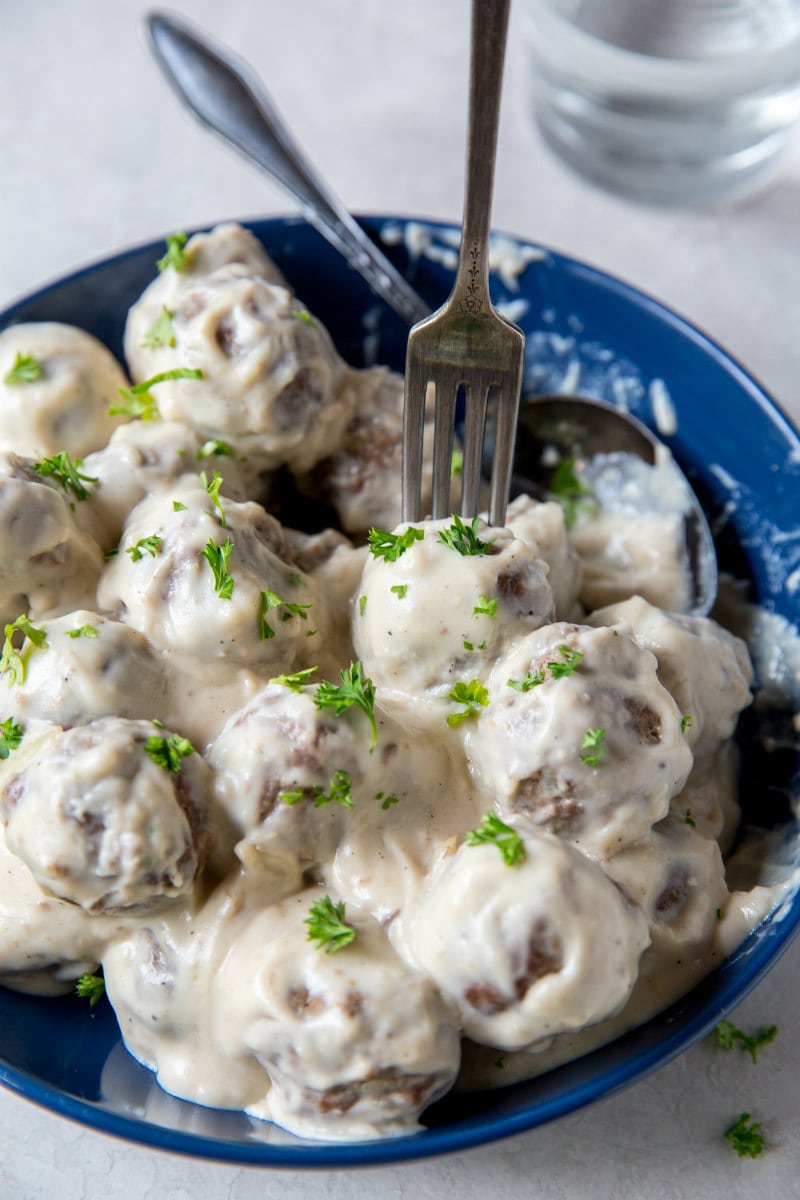 Add the sauce to the meatballs, and garnish with a little fresh parsley. These are Swedish Meatballs!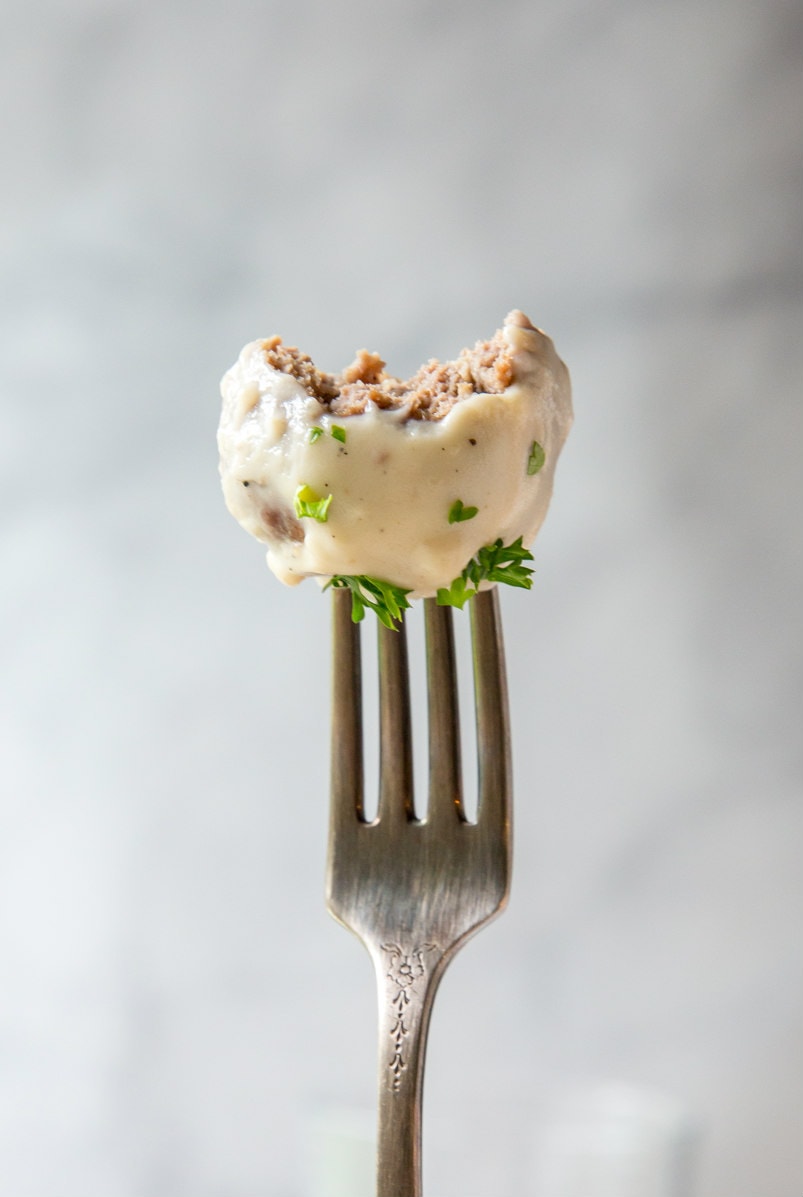 You can eat the meatballs on their own (delicious), or you can choose to serve them over hot cooked egg noodles. My Dad also liked eating them with boiled potatoes. Swedish Meatballs are the ultimate comfort food that everyone enjoys!
Here are a few more comfort food type dishes you might enjoy:
Swedish Meatballs
These Swedish Meatballs are a favorite family recipe!
Recipe Details
Ingredients
MEATBALLS:
16

ounces

ground beef

(85% lean)

8

ounces

ground pork

3/4

cup

breadcrumbs

1/4

cup

milk

1

large

egg

1

small

onion,

finely chopped

1/2

teaspoon

salt

1/4

teaspoon

pepper

1/4

teaspoon

ground nutmeg
SAUCE:
3

tablespoons

flour

1

cup

half and half cream

3/4

cup

water

1

teaspoon

beef bouillon

1/2

teaspoon

salt
FOR SERVING:
cooked egg noodles

chopped parsley for garnish,

if desired
Instructions
Preheat oven to 350 degrees F.

In a large bowl, combine the beef, pork, breadcrumbs, milk, egg, onion, salt, pepper and nutmeg. Shape the mixture into 1-inch balls. Place the meatballs on an rimmed sheet pan. Bake, uncovered, for about 30 minutes (until light brown and cooked through). Remove the meatballs to a serving dish; keep warm.

Place 3 tablespoons of the meatball drippings into a saucepan. If you don't have enough drippings, add some butter in to replace what's missing. Whisk in the flour. Cook over low heat, stirring constantly, until the mixture is smooth and bubbly; remove from heat. Whisk in the half and half, water, bouillon and salt. Heat to boiling, stirring constantly. Boil and stir for 1 minute. Reduce to simmer and continue to heat and stir until the sauce has thickened.

Serve meatballs on their own, over egg noodles or alongside boiled potatoes. Garnish with parsley, if desired.
Notes
Nutritional information is for meatballs and sauce only (count any noodles or potatoes as extra).
Nutrition
Serving:
1
serving
,
Calories:
433
kcal
,
Carbohydrates:
16
g
,
Protein:
24
g
,
Fat:
29
g
,
Saturated Fat:
12
g
,
Cholesterol:
131
mg
,
Sodium:
597
mg
,
Potassium:
437
mg
,
Sugar:
1
g
,
Vitamin A:
215
IU
,
Vitamin C:
1.5
mg
,
Calcium:
106
mg
,
Iron:
2.8
mg