Chocolate Chip- Toffee Scones
This recipe has been featured in a post on The Recipe Girl blog: Chocolate Chip Toffee Scones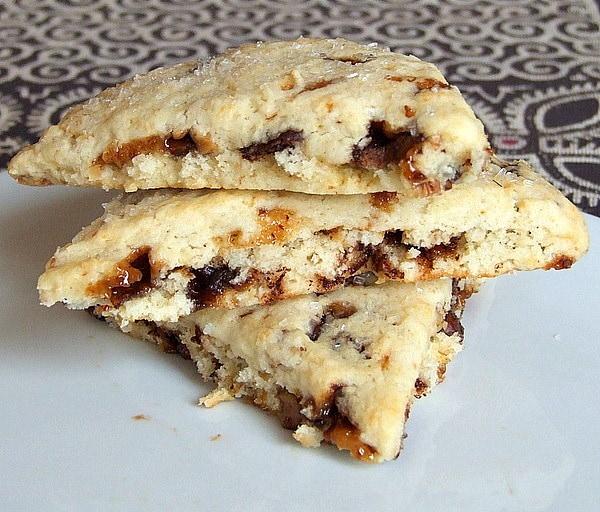 Yield: 16 small scones or 12 big ones
Prep Time: 25 min
Cook Time: 18 min
Chocolate Chip- Toffee Scones
I'd have to say that these are among the best scones I've ever eaten. I'm a toffee fanatic so I loved those melted little bits within these scones. Delicious!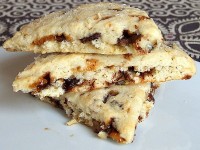 Ingredients:
SCONES:
3 1/4 cups all-purpose flour
1/2 cup granulated white sugar
1 tablespoon plus 1/4 teaspoon baking powder
1/4 teaspoon salt
1 cup semisweet, milk or dark chocolate chips
1/2 cup walnuts, toasted and then chopped into small pieces
1 cup chopped Heath or Skor bars (or use toffee bits)
2 cups chilled heavy whipping cream
TOPPING:
2 tablespoons (1/4 stick) unsalted butter, melted
granulated or coarse white sugar
Directions:
1. Preheat oven to 375°F. Lightly butter two heavy large baking sheets.
2. For the scones: In a large mixing bowl, whisk together the flour, sugar, baking powder and salt. Stir in the chocolate chips, nuts and toffee bits.
3. In a large, chilled mixing bowl (chill bowl and beaters in freezer for 15 minutes- or in fridge for an hour), whip the cream until stiff peaks form. Gently fold whipped cream into dry ingredients; combine well. It will be sticky.
4. Turn dough out onto a lightly floured work surface. Knead gently until a soft dough forms; about 2 minutes. Form dough into 2 balls. Pat each ball out into a circle. Place each on a cookie sheet, and cut pie-like into 8 wedges. Pull each wedge out a little bit to create about 1-inch space between each wedge.
5. For the topping: Brush the scones with melted butter. Sprinkle each scone with a bit of granulated or coarse white sugar.
6. Bake until golden brown, about 18 to 20 minutes. Serve warm or at room temperature. Store in airtight container at room temperature.
Tips:
*To toast the walnuts, preheat oven to 350 degrees. Place whole walnuts in a single layer on a rimmed baking sheet. Bake 5 to 10 minutes or until they are golden. Stir once or twice or shake the pan during toasting to ensure even toasting. Remove from pan to cool; chop into smaller pieces. You can also pan toast them in a dry skillet. Keep an eye on them... they burn easily.
*If you prefer to make large scones, form one ball from the dough and pat out to 1 1/4-inch thickness. Cut dough into 12 wedges.
*Unlike most scone recipes, this one is terrific the following day. They stay moist and delicious for a couple of days when stored in an airtight container.
One Response to "Chocolate Chip- Toffee Scones"
Leave a Comment