A lovely scone recipe:  Dorie Greenspan's Cream Scones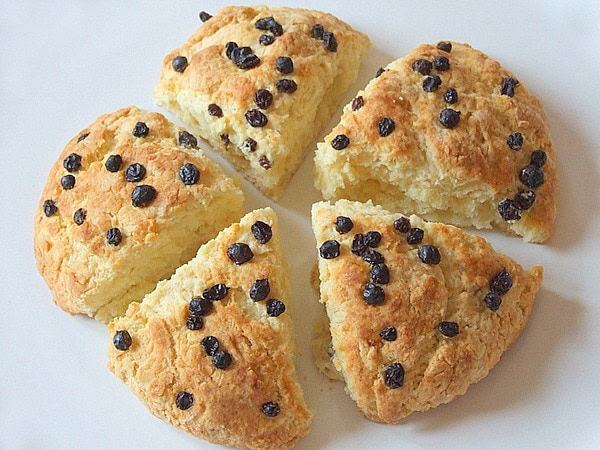 Cream Scones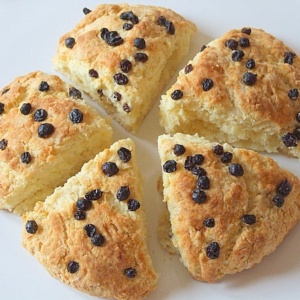 Simple to make, not dry, and terrific with lemon curd too.
Yield:
12 scones
Prep Time:25 min
Cook Time:20 min
Ingredients:
1 large egg
2/3 cup heavy whipping cream
2 cups all-purpose flour
2 Tablespoons granulated white sugar
1 Tablespoon baking powder
1/4 teaspoon salt
5 Tablespoons unsalted butter, chilled & cut into small pieces
3/4 cup currants
Directions:
1. Center a rack in the oven and preheat the oven to 400°F. Line a baking sheet with parchment or a silicone mat.
2. In a small bowl, stir the egg and cream together.
3. Whisk the flour, sugar, baking powder and salt together in a large bowl. Drop in the butter and, using your fingers, toss to coat the pieces of butter with flour. Quickly, working with your fingertips or a pastry blender, cut and rub the butter into the dry ingredients until the mixture is pebbly.
4. Pour the egg, cream and currants over the dry ingredients and stir with a fork just until the dough, which will be wet and sticky, come together. Don't overdo it. Still in the bowl, gently knead the dough by hand, or turn it with a rubber spatula 8 to 10 times.
5. Lightly dust a work surface with flour and turn out the dough. Divide it in half. Working with one piece at a time, pat the dough into a rough circle that's about 5 inches in diameter, cut it into 6 wedges and place it on the baking sheet. (At this point, the scones can be frozen on the baking sheet, then wrapped airtight. Don't defrost before baking- just add about 2 minutes to the baking time.)
6. Bake the scones for 20 to 22 minutes, or until their tops are golden and firm. Transfer them to a rack and cool for 10 minutes before serving, or wait for them to cool to room temperature.
Tips:
*It's best to use currants that are fresh out of the box- a little more moist and plump than those that may be have lying around for a while. *If the currants you've purchased are rather dried out and hard, put them in a bowl with hot tap water for a few minutes and then drain thoroughly before adding to the scone dough.