Orange- Ginger Grilled Chicken Thighs
This dish is gluten-free adaptable– seep tips below the recipe…
Yield: 8 servings (1 chicken thigh per serving)
Prep Time: 15 min + marinating time
Cook Time: 10 min
Orange- Ginger Grilled Chicken Thighs
Really easy recipe with great flavor too. The chicken turns out very moist.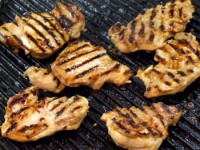 Ingredients:
1/3 cup orange juice
3 Tablespoons rice wine vinegar
3 Tablespoons light soy sauce
1 Tablespoon minced garlic
1 Tablespoon minced fresh ginger
1 Tablespoon sesame oil
Eight 4-ounce skinned and boned chicken thighs
fresh cilantro sprigs and orange slices for garnish
Directions:
1. Combine orange juice and next 5 ingredients in a shallow dish or large zip-top freezer bag; add chicken. Cover or seal, and chill at least 1 hour, turning occasionally.
2. Remove chicken thighs from marinade, and discard marinade.
3. Grill, covered with grill lid, over medium-high heat (350° to 400°) 4 minutes on each side or until done. Garnish, if desired.
Tips:
*If you're preparing this recipe as gluten free, just be sure to use a brand of soy sauce that is known to be GF.
Nutritional Information per serving:
Serving size: 1 chicken thigh
Calories per serving: 109
Fat per serving: 4.5g
Saturated Fat per serving: 1g
Sugar per serving: 1g
Fiber per serving: .12g
Protein per serving: 14g
Cholesterol per serving: 57.25mg
Carbohydrates per serving: 4.5g
WW POINTS per serving:
Points Plus Program: 3 Old Points Program: 2.5
One Response to "Orange- Ginger Grilled Chicken Thighs"
Leave a Comment