Big Apple Pancake (for two)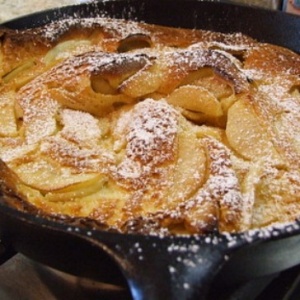 This is a quick and delicious treat for a weekend breakfast...
Yield:
2 servings
Prep Time: 15 min
Cook Time: 20 min
Ingredients:
1/4 cup butter, unsalted
1 large apple, peeled, cored & cut into 1/4-inch-wide wedges
1/2 cup whole milk
1/2 cup all-purpose flour
4 large eggs
3 Tablespoons granulated white sugar
1/2 teaspoon vanilla extract
1/4 teaspoon salt
powdered sugar for dusting
Directions:
1. Place oven rack in the middle of the oven. Preheat oven to 450°F.
2. Melt butter in 10 to 11-inch ovenproof skillet over moderate heat, then transfer 2 Tablespoons of the butter to a blender. Add apple wedges to skillet and cook, turning over once, until beginning to soften, 3 to 5 minutes.
3. While apple is cooking, add milk, flour, eggs, sugar, vanilla and salt to butter in blender and blend until smooth.
4. Pour batter over apple and transfer skillet to oven. Bake until pancake is puffed and golden, about 15 minutes. Dust with powdered sugar and serve immediately.
Tips:
*Recommended sweet apples: Gala or Golden Delicious.
*Watch for pancake to puff up a lot in the oven and sink down when removed from the heat.
Source: RecipeGirl.com (Adapted slightly from Gourmet)