This soup can be prepared gluten free- see tips below the recipe…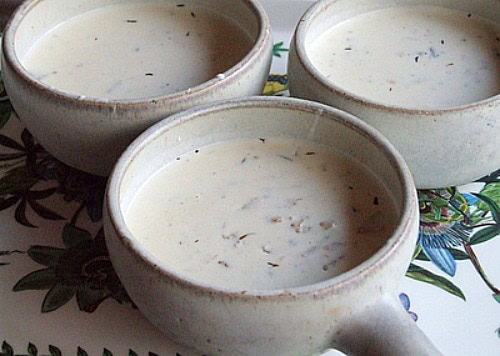 Black Dog Quahog Chowder
Definitely a decadent and creamy clam chowder. There won't be a drop left!
Yield:
8 servings
Prep Time: 30 min
Cook Time: 45 min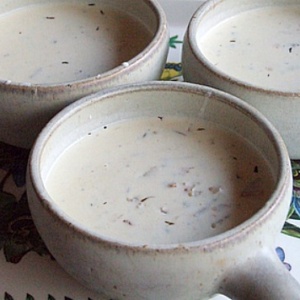 Ingredients:

2 ounces salt pork, rind removed (or bacon) & diced
2 cups diced onion
1 cup diced celery
3 cups diced red potatoes (keep skin on)
1 teaspoon dried thyme
1 teaspoon ground black pepper
4 cups shelled quahogs with juice (about 6 pounds in shell) - or sub 4 cans chopped clams
1/2 cup salted butter
1/2 cup all-purpose flour
1 1/2 quarts whipping cream

Instructions:

1. Sauté salt pork or bacon in a large pot until translucent.

2. Add the onions and celery and sauté for 5 minutes.

3. Pour in about 1 1/2 cups of the juice from the quahogs (or clams) and add potatoes and seasonings. If using canned clams, purchase extra clam juice to supplement for needed juice.

4. Simmer this mixture until potatoes are tender. This should take about 10 minutes.

5. Melt the butter in a small saucepan. When it is bubbling, add the flour and cook for about 5 minutes, stirring often. This is called a roux, prounced "rue."

6. Roughly chop the quahogs, reserving any liquid (or just use fresh or canned chopped clams).

7. When the potatoes are tender, add quahogs (or clams) to the large pot and simmer for 2 minutes.

8. Stir in the roux and continue simmering for another 5 minutes, stirring frequently. This is your chowder base.

9. In a separate saucepan, scald the cream by heating it until small bubble appear around the edges of the pan. Do not boil.

10. Stir the hot scalded cream into the chowder base, mix together, and remove from heat.

11. At The Black Dog, they serve this soup with a dollop of butter, accompanied by oyster crackers or crusty bread.

Tips:

*You may sub clams for quahogs.
*To prepare this soup as GLUTEN FREE, just make sure that you use a brand of bacon that is designated as GF, and sub GF flour for the all-purpose.