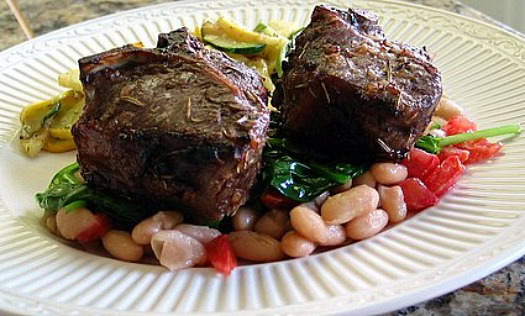 Broiled Lamb Chops w/ White Beans & Spinach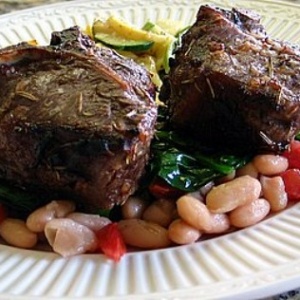 Really love this simple recipe of seasoned & broiled lamb chops served on a bed of delicious veggies...
Yield:
2 servings
Prep Time:25 min
Cook Time:20 min
Ingredients:
1/2 cup finely chopped shallots
1/4 cup + 1 Tablespoon olive oil
3 large cloves of garlic, minced
1 1/2 teaspoons minced fresh rosemary
pepper to taste
6 small lamb loin chops
1 (15 ounce) can cannellini (white kidney beans), drained
2 plum tomatoes, chopped
salt & pepper to taste
1/2 fresh spinach bunch, stems removed
Directions:
1. Mix shallots, 1/4 cup olive oil, garlic and rosemary in a small bowl. Season with pepper. Arrange chops in single layer in glass baking dish. Spoon shallot mixture over. Turn to coat both sides. Cover and refrigerate for 2 hours.
2. Preheat broiler. Remove lamb from broiler mixture and place on baking sheet. Transfer shallot mixture to heavy medium saucepan and bring to a simmer. Add beans and chopped tomatoes and stir to heat through. Season to taste with salt and pepper. Cover bean mixture and keep warm.
3. Broil chops about 5 minutes per side for medium-rare.
4. Meanwhile, heat remaining 1 Tablespoon olive oil in heavy large skillet over high heat. Add spinach and sauté until wilted, about 3 minutes. Season to taste with salt and pepper.
5. Spoon bean mixture onto plates. Top with sautéed spinach and lamb chops and serve.