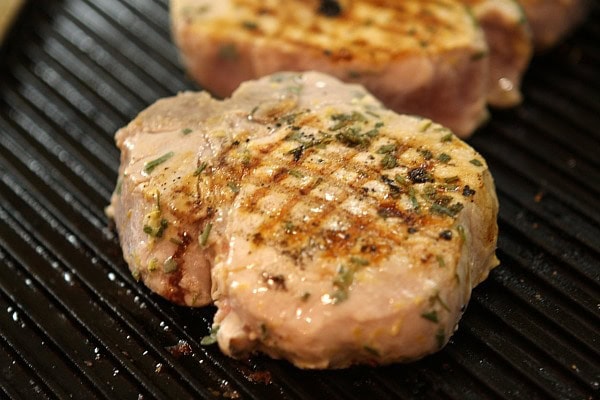 Buttermilk- Brined Pork Chops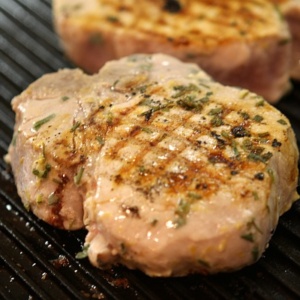 Soaking these pork chops in a buttermilk brine for several hours allows them to absorb all kinds of moisture. Moist and tender pork chops are what you'll find here...
Yield:
4 servings
Prep Time: 15 minutes + brining time
Cook Time: 10 to 15 minutes
Ingredients:
3/4 cup fat-free or reduced fat buttermilk
2 Tablespoons kosher salt
2 Tablespoons sugar
1 Tablespoon grated lemon peel
1 teaspoon chopped fresh rosemary
1 teaspoon chopped fresh sage
4 (4-ounce) bone-in center-cut pork chops (about 1/2-inch thick)
2 teaspoons freshly ground black pepper
Directions:
1. Combine first 6 ingredients in a large zip-top plastic bag; shake well to dissolve salt and sugar. Add pork; seal and refrigerate overnight, turning bag occasionally. Remove pork from bag; discard brine. Pat pork dry with a paper towel. Sprinkle pork with pepper.
2. Heat a large nonstick grill pan over medium-high heat. Coat the pan with cooking spray. Add pork; cook 3 to 5 minutes on each side or until desired degree of doneness.
Nutrition:
Nutrition Facts-Amount Per Serving:
Calories 202, Calories From Fat (32%) 64.11, Total Fat 7g, Sat Fat 2.44g, Cholesterol 72.67mg, Sodium 2910.54mg, Potassium 485.45mg, Carbohydrates 9g, Dietary Fiber 0.32g, Sugar 7.86g, Net Carbs 8.5g, Protein 25g
WW POINTS per serving:
Points Plus Program: 5 Old Points Program: 4.5