Pan Seared Pork Chops with Pear Mostarda is the very next way you should prepare your pork chops!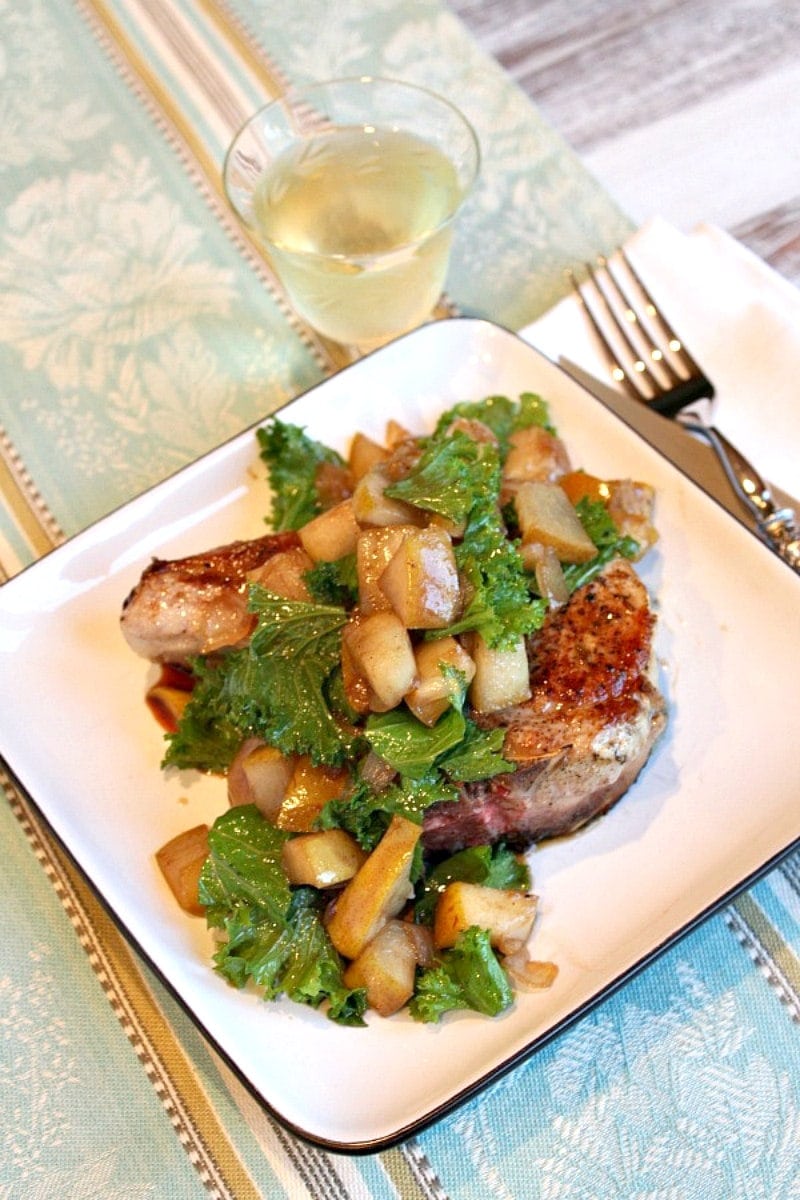 I think I just need to tell you just right up front here that my husband claimed these Pan Seared Pork Chops with Pear Mostarda as the best dinner I've made him in months. I cook for my guys pretty often- as you know, so this was quite the huge compliment. And I must say that I am most definitely in agreement on the awesome dinner assessment.
When I'm making pork chops, I like to purchase the best I can find. The thick, bone-in chops from Whole Foods are perfect for this recipe.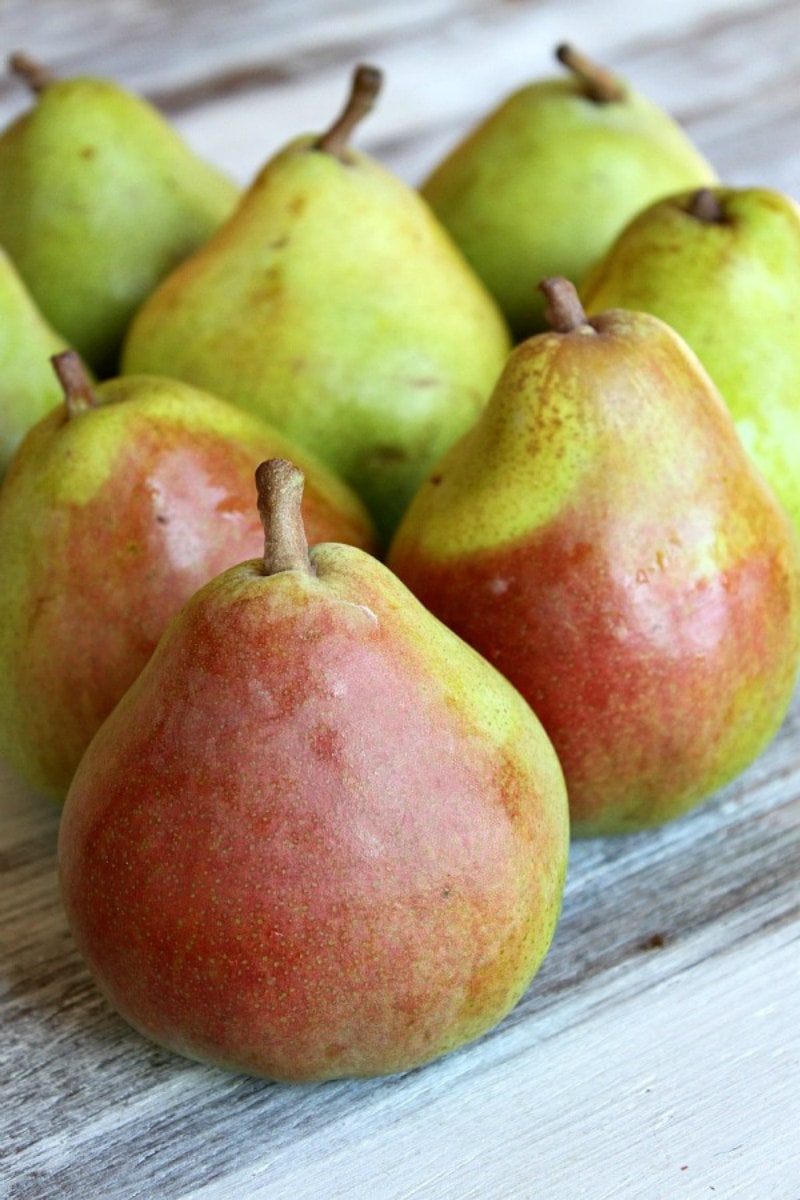 Ironically, this isn't even a recipe I created myself. It comes from Chef Elizabeth Falkner, and she created it for Harry & David using their amazing Royal Riviera® Pears. If you don't have those special pears, use Bosc or Anjou pears. Those varieties will be most likely to hold their shape while cooking and won't break down into mush.
I have to tell you- this recipe may sound fancy and all using the term "Mostarda," but it's extremely easy to make at home. "Mostarda" is technically candied fruit cooked in a mustard-infused syrup (in this case- pears sautéed in honey and balsamic vinegar and mixed with mustard greens).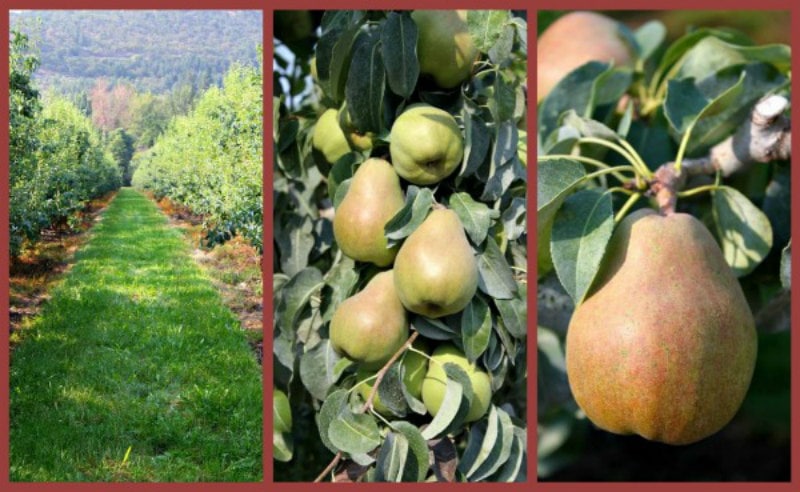 Harry & David:
I once had the opportunity to visit Harry & David and their pear orchards in person. They have quite the operation going with acres upon acres of well-tended, beautiful orchards. Their pears are watched closely and treasured and cared-for until they are just right for picking and shipping. I had a chance to meet someone in just about every part of the company- orchard workers, marketing execs, bow makers, basket packers, public relations reps, Moose Munch makers, and Charlie the Chocolate Scientist. I love the company and how they run things around there. These are good people.
It's a wonderful thing to get a box of these pears from Harry & David in the mail (they've been gifted to me a few times on surprise from friends and relatives over the years). They're the sort of pear that will make you the pear lover you never realized you would be. SO perfectly sweet and crisp and delicious in every way. My favorite way to eat pears: chop them up and add them to a salad along with some blue cheese. And my new favorite way to eat them: in these Pan Seared Pork Chops with Pear Mostarda!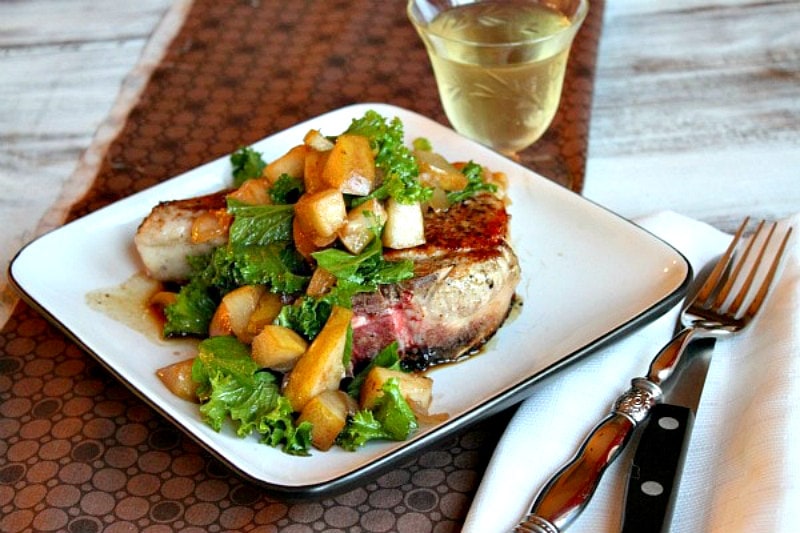 It's not often that I really gush about a recipe and am excited to make it again and again, but this is one of those recipes. Pork is so often paired with apples, so it's refreshing to see that it works wonderfully with pears too. These chops are lightly seasoned and quickly pan-seared before finishing off in the oven and topping with the pear mostarda. The sauteed pears are mixed with torn mustard greens, also a nice complement to the dish. Try this recipe- enjoy!
Here are a few more pear-themed recipes you might like to try:
Pan Seared Pork Chops with Pear Mostarda
This is an OMG restaurant-quality dinner recipe!
Recipe Details
Ingredients
PORK CHOPS:
1/2

teaspoon

fennel seeds

1/2

teaspoon

black peppercorns

2

teaspoons

kosher salt

1

teaspoon

light brown sugar

2

(about 20 ounces)

bone-in center cut pork chops

1

tablespoon

olive oil
PEAR MOSTARDA:
2

tablespoons

olive oil

1/2

medium

sweet onion,

diced

2

medium

Bosc or Anjou pears,

diced into ½-inch cubes

1/4

cup

honey

1

teaspoon

mustard powder

2

tablespoons

balsamic vinegar

1

teaspoon

salt

freshly ground black pepper

1

cup

torn mustard greens,

for serving
Instructions
Grind together the fennel, peppercorns, salt and sugar. Use a coffee grinder or mortar and pestle. In a pinch you can place the spices into a freezer zip and crush them with a mallet. Rub the spice mixture all over pork chops and let them sit at room temperature for 15 minutes.
PREPARE THE PORK CHOPS:
Preheat the oven to 375 degrees. Preheat a cast iron skillet to medium-high heat on the stove. Add 1 tablespoon olive oil. Add the chops to the skillet and sear 4 to 5 minutes on each side, turning down heat to medium if necessary. Flip again and transfer to the oven for 4 to 5 minutes, until cooked to desired doneness (145 degrees is considered safe for serving, but the temperature will continue to rise 5 or so degrees as the chops rest so keep this in mind). It might take longer, depending on the thickness of your chops, so keep baking in the oven until they come to temperature. Let the chops rest while you prepare the mostarda.
PREPARE THE MOSTARDA:
In a large skillet (I used nonstick) on medium heat, add the olive oil and then the onion. Cook the onions until they begin to soften (4 to 5 minutes), then add the pears along with the honey, mustard, vinegar, salt and pepper. Turn heat to low and let simmer for about 5 minutes. Add a splash of water if the pan becomes too dehydrated. Set aside to cool a bit.
SERVE:
Toss the mostarda with the mustard greens. Set a pork chop on each plate and top with the mostarda. Serve immediately.
Notes
*Try grilling the chops in warmer weather.

*I like to use bone-in pork chops found at more quality markets like Whole Foods.
*Mustard greens are easiest to find at specialty markets (like Whole Foods). The recipe can be made without them, but I recommend picking some up if you can- they're good!
Nutrition
Serving:
1
serving
,
Calories:
483
kcal
,
Carbohydrates:
76
g
,
Protein:
3
g
,
Fat:
22
g
,
Saturated Fat:
3
g
,
Cholesterol:
1
mg
,
Sodium:
3510
mg
,
Potassium:
452
mg
,
Fiber:
8
g
,
Sugar:
61
g
,
Vitamin A:
891
IU
,
Vitamin C:
31
mg
,
Calcium:
71
mg
,
Iron:
2
mg