These Cheese Popovers are simple to make, and they are wonderful with soup!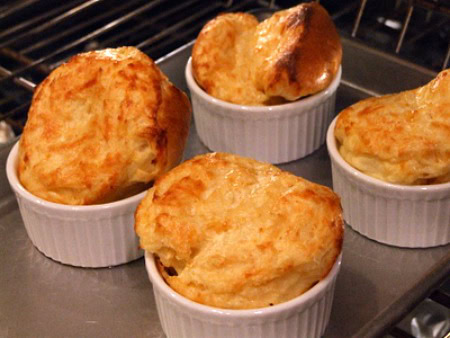 Cheese Popovers
Simple to make and wonderful with soup!
Yield:
12 popovers
Prep Time: 15 minutes
Cook Time: 20 minutes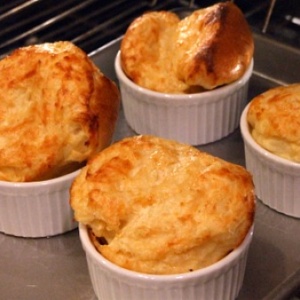 Ingredients:

1 1/2 tablespoons salted butter
3 large eggs
1 cup milk
2/3 cup all-purpose flour
pinch of salt
1/4 teaspoon paprika
1 cup freshly grated Parmesan cheese

Instructions:

Preheat oven to 425°F. Grease 12 small ramekins or popover tins.
Melt butter in small glass bowl in microwave.
Beat eggs with electric mixer until blended, then beat in milk and melted butter.
Sift together flour, salt and paprika, then beat into egg mixture. Stir in the cheese.
Fill prepared pans half-full with batter. Bake 20 to 25 minutes until golden. Do not open the oven door during baking or the popovers will fall.

Tips:

For drier popovers, pierce each one with a knife after 30 minutes baking time and bake for a further 5 minutes. Serve hot.