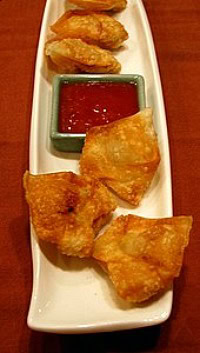 Chicken and Shrimp Won Tons with Chili- Sweet & Sour Sauce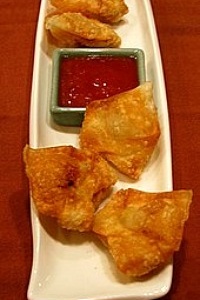 These are restaurant quality ALL THE WAY!! Although time consuming, they are not too difficult to make. My husband's poker party friends labeled me as a 'goddess' for serving these to them during their game.
Yield:
Serves 15 to 20 (50 to 60 appetizers)
Prep Time: 1 hour + time for refrigeration
Cook Time: 20 minutes
Ingredients:
WONTON FILLING INGREDIENTS:
3/4 pound raw chicken, diced
3/4 pound shrimp, diced
2 Tablespoons diced green onions
1 Tablespoon minced fresh cilantro
1 teaspoon minced garlic
1 teaspoon fresh ginger, minced
1 whole serrano chili, seeded & minced
1 1/2 Tablespoons soy sauce
1 Tablespoon sherry
1 teaspoon cornstarch
1 teaspoon sesame oil
1 teaspoon crushed red pepper
dash of salt & pepper
pinch of granulated sugar
2 packages square won ton wrappers
oil for deep-frying
SAUCE:
1/2 cup ketchup
1/2 cup water
1/4 cup distilled vinegar
1/4 cup granulated sugar
1 Tablespoon chili garlic sauce
dash of soy sauce
1/2 teaspoon sesame oil
1 teaspoon garlic, minced
1 teaspoon fresh ginger, minced
Directions:
1. Mix together all won ton filling ingredients. Refrigerate at least 1 hour or overnight.
2. When ready to prepare, place 1 heaping teaspoon of filling in the center of each won ton wrapper. Tuck in the sides to seal in filling. Place on lined baking tray. Place in refrigerator for 1 hour.
[donotprint]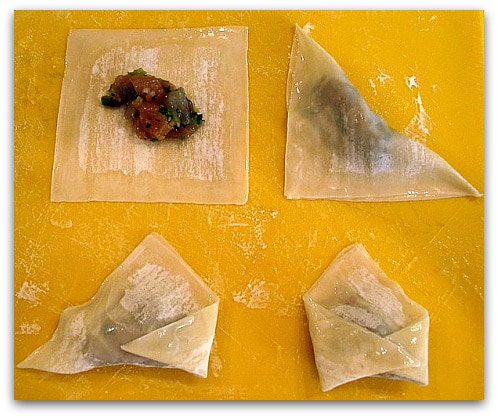 [/donotprint]
3. Prepare sauce: In food processor, puree all sauce ingredients. Pour into a heavy saucepan and bring to a boil, stirring constantly until thickened. Keep warm until ready to use.
4. Deep fry won tons in oil until golden and serve with prepared Chili Sweet and Sour Sauce.