This recipe has been featured in a post on The Recipe Girl blog: Chocolate Toffee Wedges from The Weekend Baker.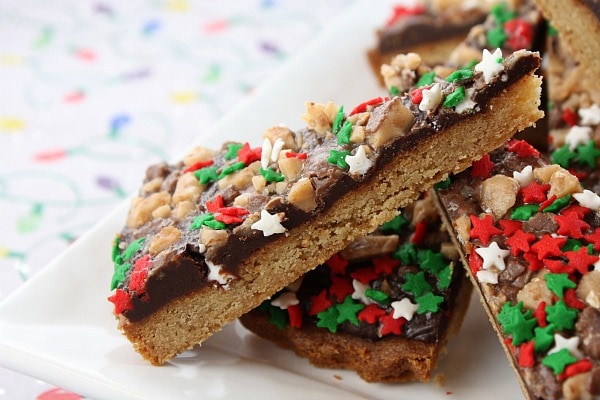 Chocolate Toffee Wedges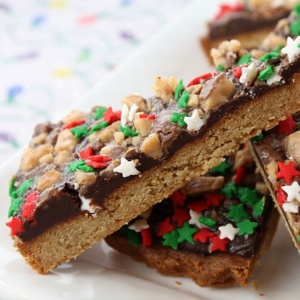 Festive, delicious, and a mighty good coffee dunker...
Yield:
16 wedges
Prep Time:25 min + cooling time
Cook Time:25 min
Ingredients:
1 stick (or 8 Tablespoons ) unsalted butter, at room temperature
1/2 cup firmly packed brown sugar
1/4 teaspoon salt
1 large egg yolk
1/2 teaspoon pure vanilla extract
1 cup all-purpose flour
5 ounces bittersweet or semisweet chocolate, chopped
3 Tablespoons heavy whipping cream
1/2 cup packaged toffee pieces (or chopped Heath or Skor bar)
festive sprinkles, optional
Directions:
1. Position an oven rack on the middle rung. Heat the oven to 350 degrees F. Lightly grease the bottom and sides of a 9 1/2-inch tart pan with a removable bottom.
2. In a large bowl, combine butter, dark brown sugar and salt. Beat with an electric mixer on medium speed until well-blended. Add the egg yolk and vanilla and beat just until combined. Pour in the flour and beat on low speed until the dough begins to clump together. Scrape the dough into the prepared pan, scattering the pieces evenly. Using your fingertips (lightly floured, if necessary), pat the dough onto the bottom (not up the sides) of the prepared pan to form an even layer. Bake until the top looks dry and the dough begins to pull away from the sides of the pan, 25 to 27 minutes.
3. Meanwhile, melt the chocolate with the cream in a double boiler or in the microwave (30 second bursts, keep stirring after each burst, until smooth). When the crust is baked, transfer the pan to the rack. Pour the warm chocolate ganache over the warm crust and spread evenly to within 1/2-inch of the edge (an offset spatula is a good tool to use for this). Scatter the toffee pieces evenly over the ganache and gently press them into the chocolate. If you're using festive sprinkles, sprinkle those on top and gently press into the chocolate too.
4. Let cool completely until the chocolate is completely set, about 4 hours at room temperature or about 2 hours in the refrigerator. Remove the outer ring of the tart pan and cut the "cookie tart" into 16 wedges. Serve the wedges chilled or at room temperature.
Tips:
*The wedges freeze well. Store in an airtight container and divide layers with wax paper.