This dish is gluten free adaptable- please see tips below the recipe…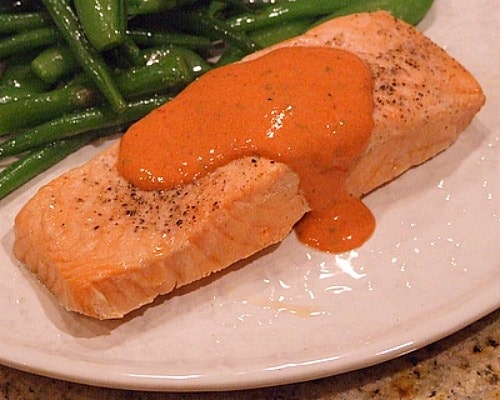 Cold Poached Salmon w/ Provencal Mustard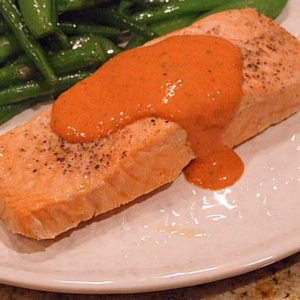 This is perfect for the hot days of summer. I poach the salmon in the morning and then let it chill all day. For dinner, we have a nice, cold meal accompanied by a mixed salad.
Yield:
4 servings
Prep Time:20 min
Cook Time:20 min
Ingredients:
4 (6-ounce) salmon fillets
sea salt & freshly ground black pepper
3 cups low-sodium, fat-free chicken broth
MUSTARD:
1 large roasted red pepper, jarred or homemade
1/2 cup Dijon mustard
1 Tablespoon white wine
1/2 Tablespoon chopped fresh tarragon
1/2 Tablespoon chopped fresh flat-leaf parsley
freshly ground black pepper
Directions:
1. Preheat oven to 350°F.
2. Season salmon fillets with salt and pepper. Place in a large ovenproof sauté pan with the chicken broth and heat over medium heat just to a simmer.
3. Place pan in the oven and poach the salmon until the flesh is opaque, but still medium rare, 12 to 15 minutes.
4. Transfer the fillets to a platter and cool to room temperature, or cover and refrigerate until ready to serve.
5. Prepare mustard: Place roasted peppers in a blender or food processor and process until smooth. In a medium bowl, combine purée, mustard, wine and herbs. Season with black pepper to taste. Chill until ready to use.
6. Drizzle mustard sauce over poached salmon to serve.
Tips:
*If you are preparing this recipe as GLUTEN FREE, just be sure to use a brand of chicken broth that is designated as GF.
Nutrition:
Nutritional Information per serving:
Serving size: 1 fillet w/ drizzle of sauce
Calories per serving: 236
Fat per serving: 8.82g
Saturated Fat per serving: 1.67g
Sugar per serving: 1.75g
Fiber per serving: 1.64g
Protein per serving: 33g
Cholesterol per serving: 39mg
Carbohydrates per serving: 4.5g
WW POINTS per serving:
Points Plus Program: 6 Old Points Program: 5