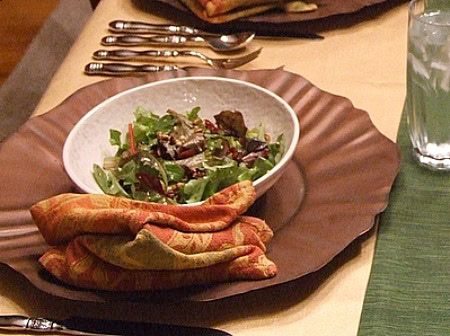 Cranberry Spinach Salad w/ Gorgonzola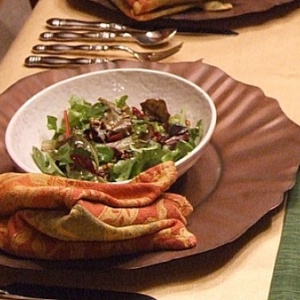 Yield:
6 servings
Prep Time: 15 min
Cook Time: 8 min
Ingredients:
3/4 cup pecan halves or pieces
8 ounces baby spinach leaves, rinsed and dried
1/2 cup dried cranberries
3/4 cup crumbled Gorgonzola or other blue cheese (4 ounces)
3 Tablespoons extra virgin olive oil
1/2 teaspoon grated lemon peel
1 Tablespoon balsamic vinegar
salt and pepper to taste
Directions:
1. In a shallow baking pan, bake pecans in a 350° F. oven until golden in the center (break one to check), 8-10 minutes. Let cool.
2. In a large bowl, gently mix spinach, pecans, cranberries and Gorgonzola.
3. In a small bowl, whisk together olive oil, lemon peel and balsamic vinegar. Drizzle onto salad and lightly toss. Season salad to taste with salt and pepper.
Tips:
*To save time, buy the pre-packaged spinach bags. Be sure to re-wash the spinach.
Source : RecipeGirl.com (via Sunset)