Spotted in an old Bon Appetit magazine, there's a fun explanation for this Crazy Goat Cheese Salad with French origins.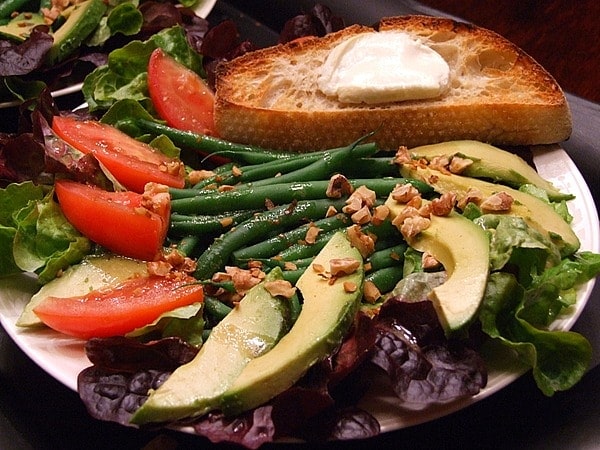 In France a salad is usually simple mixed greens with a vinaigrette. The addition of green beans, avocados and goat cheese is apparently what makes this one "crazy."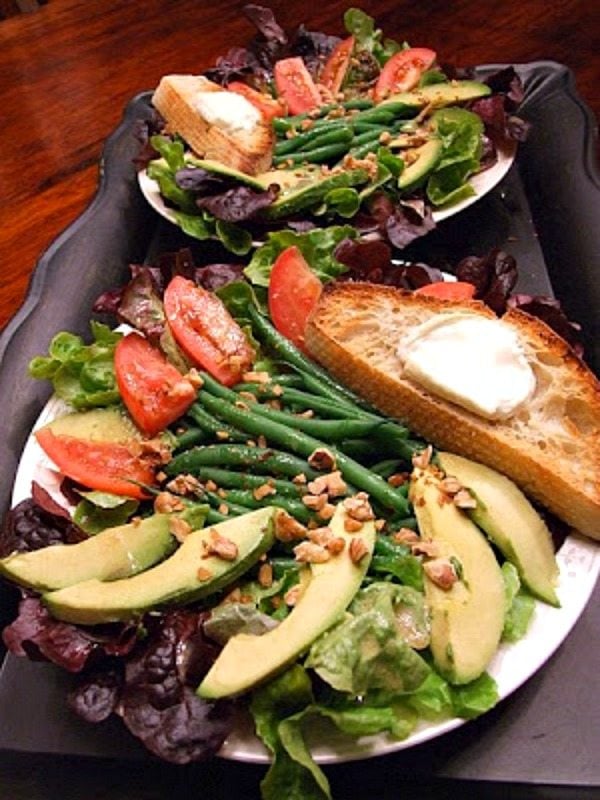 This here is no average salad. My family thinks it's crazy-good! It would make a nice main-dish salad with all of these great additions. I serve it with some grilled chicken, and we are perfectly satisfied… and stuffed.  The dressing is a simple one- a sherry vinaigrette with lemon and dijon. It works.
Crazy Goat Cheese Salad
Lots of great flavors in one salad. The simple dressing works. I felt the salad was very filling. It would be a great main dish salad for me but my husband would beg to differ. He wants a whole meal besides the salad!
Yield:
4 servings
Prep Time: 30 min
Cook Time: 20 min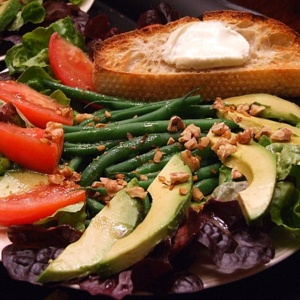 Ingredients:

DRESSING:
2 Tablespoons sherry vinegar
1 Tablespoon fresh lemon juice
1 teaspoon Dijon mustard
2 Tablespoons walnut oil or olive oil
2 Tablespoons vegetable oil or canola oil

SALAD:
1 pound haricot verts or slender green beans, trimmed
4 (3/4-inch-thick) French bread slices
3 ounce goat cheese log, cut into 1/2-inch slices
1 head Boston lettuce
1 head red leaf lettuce
2 medium avocados, peeled & pitted
2 medium tomatoes, cut into wedges
1/2 cup toasted chopped walnuts

Instructions:

1. Prepare dressing: Combine vinegar, fresh lemon juice and Dijon mustard in bowl. Gradually whisk in oils. Season salad dressing to taste with salt and pepper. (Can be prepared 1 day ahead- cover and refrigerate.)

2. Prepare salad: Bring a pot of salted water to boil. Add green beans and cook until just tender, about 4 minutes. Drain. Refresh with cold water. Drain. (Can be prepared 1 day ahead- cover and refrigerate.)

3. Preheat oven to 400°F. Place bread slices on cookie sheet and bake until golden, about 5 minutes. Top bread with cheese. Bake until cheese softens and is heated through, about 10 minutes.

4. Meanwhile line plates with alternating Boston and red lettuce leaves. Mound green beans in center of leaves. Cut avocado into thin slices and fan around beans. Place cheese croutes on one side of salad. Garnish with tomato wedges. Drizzle with vinaigrette and sprinkle with walnuts.